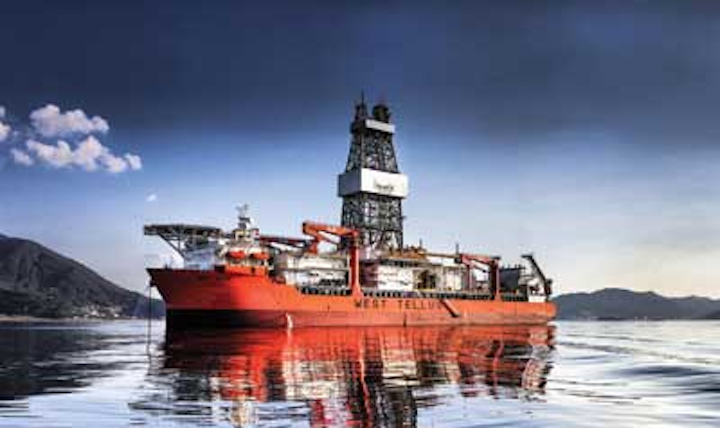 Displaying 2/3 Page 1, 2, 3Next>
View Article as Single page
Frontier areas beckon
Libra may have gotten its own bidding round in 2013, but it was not the only recent lease sale. The ANP's 11th Licensing Round, the first such bid round held in five years, earned record revenue with signing bonuses in the amount of $2.8 billion. Of the 289 blocks that were offered across 11 sedimentary basins both onshore and offshore, 142 were sold.
Presalt areas were not the focus of that sale, which instead favored mature and frontier areas. Blocks located in the frontier regions of the country, primarily those around the north and northeast coasts, garnered serious attention from international operators. In fact, the largest signing bonus during the sale, which was approximately $171.4 million, was offered for block FZA-M-57 in the Foz do Amazonas basin by a consortium operated by Total (40% interest) with partners Petrobras (30%) and BP (30%). That consortium beat five other bidders to secure the block.
At least one operator has already started making moves to explore the frontier areas it won in that sale. In July, Premier Oil released a request for information for a floater capable of working in at least 2,100 m (6,870 ft) of water to undertake an exploration program in the Ciara and Potiguar basins. The 400-day firm program, for which a tender should be launched soon, is scheduled to begin in late 2016 or 1Q 2017, and could be made into a rig-share. It is understood that the requirement covers seven firm wells plus four optional wells, with work involving at least two wells for Premier Oil and the rest to be divvied up among its rig-share partners.
However, it should be noted that obtaining drilling permits, and even seismic permits, in Brazil's frontier areas is becoming a lengthy process. Operators are looking at roughly two years to get an environmental permit to drill in these relatively unexplored areas, although that period could shrink somewhat over time. The odds of numerous operators using one rig to fulfill all of their drilling requirements on those blocks before the deadline, which is 2018 in most of the cases, would be a tall order considering permitting issues alone could prevent them from starting much prior to 2017. With that in mind, it is likely at least a few rigs will be needed to meet the demand in these areas.
In the long term, the ANP is looking to hold its next licensing round, the 13th overall, probably in June 2015. ANP Director Helder Queiroz said the regulator plans to include a diverse set of blocks in both mature and frontier regions in the offering. According to local media reports, Queiroz also indicated that future lease sales for standard concessions, like the planned 13th round as well as the 11th round held in 2013, could take place annually, while presalt lease sales, for the time being, will still be held once every two years.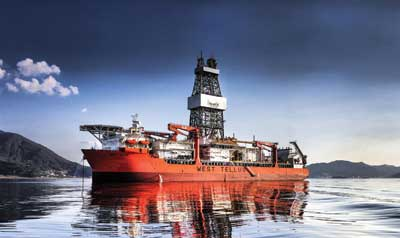 West Tellus will work for Petrobras at the Libra oil field in the Santos basin presalt layer. (Photo courtesy Seadrill)">
The deepwater drillshipWest Tellus will work for Petrobras at the Libra oil field in the Santos basin presalt layer. (Photo courtesy Seadrill)
Petrobras returns to the rig market
While it is good for Brazil to have a diverse group of operators working in country, Petrobras has been and will continue to be the overwhelming juggernaut there, so when the state operator decided to take an almost complete hiatus from rig contracting for over two years, it did not go unnoticed.
Petrobras signed a plethora of long-term contracts for Sete Brasil's newbuild units in February 2012, but since then, the operator signed only seven charters for floating rigs through April 2014, all of which were extensions for rigs already in the country, and only two of those were for more than a year (five-year jobs for semisubmersibles ENSCO 6001 and ENSCO 6002). In fact, of those seven charters, two went to semi ENSCO 6000, a unit that has since completed both gigs and left the country. From February 2012 until now, the number of drillships in the country has only seen a small decline of a couple units to 23, according to IHS Petrodata's online database RigPoint, but the number of semis in Brazil has tumbled from 56 to 39, with at least two more scheduled to depart soon.
In the meantime, Petrobras started and stopped several tenders and renewal programs for deepwater rigs. Finally, in May 2014, the company signed contracts for two ultra-deepwater drillships based on offers contractors made during the previous tender, which had actually been canceled. Petrobras awarded three-year charters to Transocean drillship Dhirubhai Deepwater KG1 and QGOG Constellation newbuild drillship Brava Star, with day rates of $440,000 and $530,000, respectively. Dhirubhai Deepwater KG1 arrived in Brazil in December, while Brava Star is scheduled to commence its contract in late 1Q or early 2Q 2015.