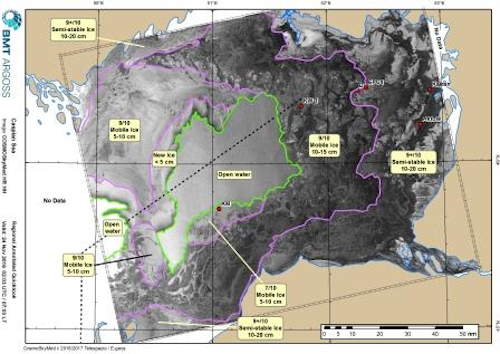 Offshore staff
AMERSFOORT, the Netherlands – BMT ARGOSS (BMT) has developed a new ice charting service capability to complement its weather forecasting capability.
Jean-Paul Lindeboom, director of Metocean Weather Forecasting atBMT ARGOSS, said: "More and more of our clients are looking at these new, harsher environments, therefore having both a comprehensive understanding of the weather and the ice regime makes sense as a complete package, providing cost efficiencies and a more progressive service for our customers."
Various BMT meteorologists have undergone preparatory training at the Danish Meteorological Institute.
Mark van der Putte said: "The training has allowed us to better understand the ice regime, i.e. how ice builds up, how it moves and reacts and how it evolves during the season.
"Interpreting satellite images is also a key requirement for delivering an effective output. The ice build-up and movement is very dependent on the weather therefore our extensive meteorological knowledge and experience will help us to further improve the service we provide."
BMT ARGOSS has provided metocean modeling, meteorology, and weather forecasting and remote sensing data to support offshore projects in the Baltic Sea,Caspian Sea, and Sakhalin region. 
01/13/2017