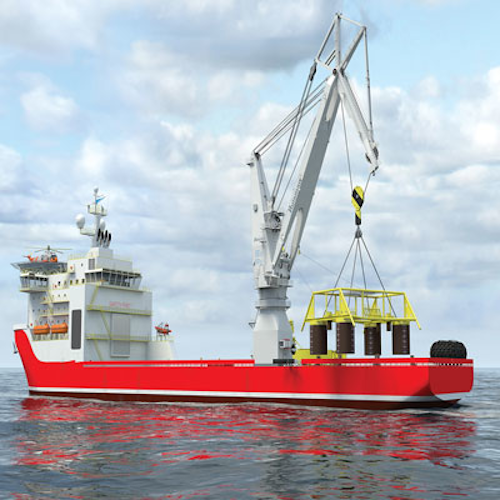 Offshore staff
HOUSTON– Huisman is unveiling a new patented crane type during this year's OTC. The rope luffing knuckle boom crane is an active heave compensated crane that combines the benefits of a normal rope luffing crane and a traditional knuckle boom crane.
The capacities of the newcranes range from 400 to 1,200 tons and up to 5,000 m (16,400 ft) water depth. The first crane of this type, a 900-ton rope luffing knuckle boom crane for Subsea 7's Seven Arctic, is scheduled for delivery in 2016. A model of this vessel including the crane will be displayed at the OTC Huisman booth #2327.
By incorporating a knuckle in the design of the crane it is possible to reduce the pendulum of the hook and, if extended, it can allow for high lifting heights. The company says the boom of the crane can be stored vertically saving valuable deck space. The main hoisting system comprises a traction and storage winch system and a separate heave compensation system. This means both lifting/lowering and heave compensation can occur simultaneously with no performance interdependency, which results in a better overall system performance and increased safety.
Because the crane is fully electrically driven, the power consumption, noise levels, and the number of components are reduced. The main hoist system can be equipped with a double fall reeve system instead of a single fall reeve system, improving the life span of the wire and thus reducing operational expenditure. In addition, the lifetime of the wire rope is extended by the combined active and passive heave compensation system on the main hoist, since the number of sheave bends is minimized and there is no drum crushing or wire rope cut-ins on the winch.