Online exclusive: Mexico's 2015 Round 1 auction bid is approaching
Mexico is slated to host its first public auction bid, Round 1 in 1Q 2015, and expects to see international and private oil firms vie for rights to 109 blocks.
Oct 3rd, 2014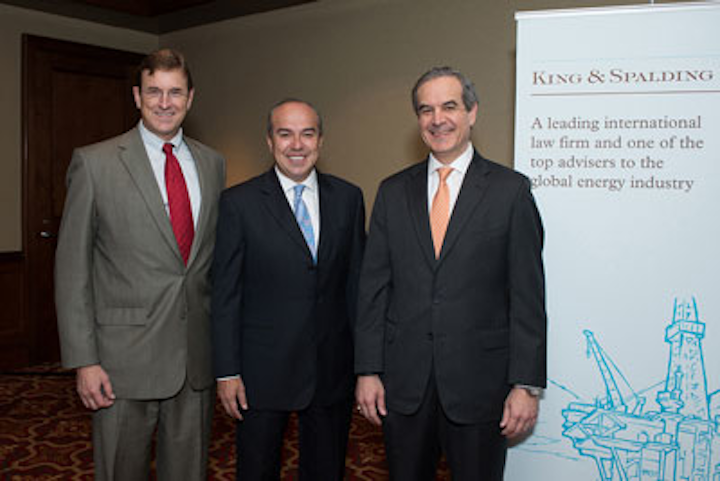 Robin Dupre * Houston
HOUSTON – Mexico is slated to host its first public auction bid, Round 1 in 1Q 2015, and expects to see international and private oil firms vie for rights to 109 blocks. This sale will cover more than 14 Bbbl of prospective reserves, including a mix of both onshore and offshore areas, totaling 11,004 sq mi (28,500 sq km). The sale will also include rights to 60 fields of proven and probable reserves equaling nearly 4 Bbbl.
As the country opens the oil and gas market to private, international, and local investors for the first time since 1938, more than 27 Bbbl of deepwater oil reserves in Mexico's Gulf of Mexico – a largely unexplored area – will be available to the oil and gas industry.
Mexico recently detailed its redrawn distribution of energy assets, known as Round Zero, with PEMEX given the right to pick areas to explore and produce. The national oil company (NOC) had its assets trimmed but still maintains 83% of the country'sproven and possible reserves (26 Bbbl, of which 12.5 Bbbl are proven).
PEMEX requested for the Comisión Nacional de Hidrocarburos (CNH), the country's petroleum industry regulator, to allow it to hold 31% ofprospective reserves, but a 21% stake (estimated to tally 23 Bbbl more) was allocated instead, stated Rogelio Lopez-Velarde, an attorney and counselor-at-large, at King & Spalding's Mexican Energy Forum in Houston, recently.
"As of the first or second quarter of next year, we'll be ready to listen to investment proposals," stated PEMEX CEO Emilio Lozoya in theWall Street Journal, adding that the first barrel of oil coming from a partnership with a private firm could be out of the ground as soon as late 2014 or early 2015. The areas with the greatest potential are technologically challenging and will require PEMEX, which has not invested sufficiently in new technology recently, to partner with more technologically advanced companies, added Deloitte in in its Mexican energy reform paper, "Opportunity Knocks."
The ability to tap into this resource may lure as much as $20 billion per year to Mexico in direct and indirect investments, or $50.5 billion by 2018, as estimated by Mexico's president, Enrique Pena Nieto. This amount is expected to derive from investments in exploring, producing, and refining oil in Mexico. The standard 30% corporate tax rate will be maintained and paid to the Ministry of Finance, and there will be a sliding scale for royalties paid to the Mexican Petroleum Fund, remarked Lopez-Velarde.
SENER, the Secretariate of Energy, and the National Hydrocarbon Commission will control the bidding process, which should provide transparency and drive decisions that are primarily driven by economics. The National Hydrocarbon Commission could launch as early as May 2015.
The reform
PEMEX's oil production has tailed off in the past decade, and the national output has fallen to tenth globally, according to the US Energy Information Agency. It is estimated that the drop-off has bottomed to about 2.4 MMb/d, according to the International Energy Agency; this is compared to 3.4 MMb/d in 2004.
Mexico's president aspires to ensure that Mexico stays a gross oil exporter, and he predicted that the reforms will boost production from 2.5 MMb/d to 3 MMb/d in 2018 and 3.5 MMb/d by 2025 – an increase of 40%.
"These goals may seem far-fetched, but recent similar reforms in Colombia and Brazil have proven profitable," observed Joe Amador, managing director, Tudor Pickering Holt & Co. at King & Spalding's Mexican Energy Reform.
In an effort to uncap this potential and to stop the production decline, the Mexican Congress approved an energy reform package in November 2008. The legislation established the legal framework for the new integrated E&P contracts (IECs). Although the Mexican Constitution and legislation still bans the private ownership of hydrocarbons (and thus, oil and gas concessions, production-sharing agreements, and reserve booking), the IECs feature a compensation provision with production incentives for contractors, which materially improves the economic terms for contractors.
The term of the proposed contracts extends 25 to 30 years, generally, but varies per block, Lopez-Velarde commented. PEMEX has the option to acquire a 10% working interest in the blocks, the purpose of which is to gain technological and operational knowledge.
With PEMEX unable to exploit its resources in the Gulf of Mexico due to capital and technical constraints, Deloitte states that the NOC will be looking to partner with companies, such as super majors, national oil companies, and independents that have the technical expertise and balance sheets needed to fully exploit the play.
"US Gulf of Mexico (operators) will be able to leverage their vast reservoir and drilling experience to select the most promising blocks while maximizing operational efficiencies along the exploration and production value chain," Deloitte noted.
Furthermore, existing fields in Mexico can now benefit from the newest innovations in oil and gas exploration and drilling that have allowed for new techniques to further exploit existing conventional oil and gas assets. By deploying new technologies, these older fields may benefit and become more productive. Deloitte added that successful partners for these plays will either have superior recovery technologies or the right operating margins to be profitable with brownfield economics.
"With these reforms, PEMEX must become a profitable corporation and will have to stand on its own. The reforms establish some other important changes to how PEMEX operates, giving them autonomy, which will allow for greater reinvestment of profits that are critical to fund increased production and infrastructure. PEMEX's contribution to government revenues is expected to decrease as it transitions to being taxed like a private company, though the level of impact is not clear," Deloitte notes.
For PEMEX to become stronger, "the company will need to change its operating model, leverage improved technologies, and increase transparency in the bidding process."
Last, as noted by Deloitte, the potential growth in North American production will further alter the global energy landscape. If Mexico's production increases as expected and is coupled with production increases in the US and Canada, North America's production will be greater than all OPEC nations combined.