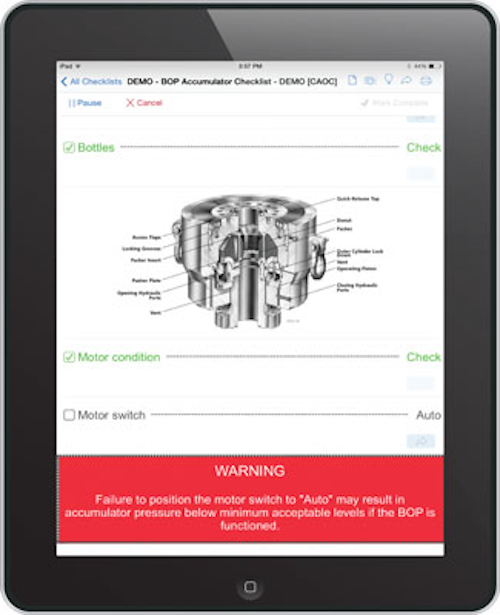 Offshore staff
HOUSTON – Check-6 has announced the launch of the company's revolutionary Checklist Ops with RIGOR, a culture-driven initiative with an intuitive checklist-based mobile app that puts procedural discipline and verifiable compliance in the palm of the user's hand.
The company says that the new application can be integrated into an organization's existing Crew Resource Management strategy, giving end users a higher level of reliability and human error mitigation. Based on an aviation-style checklist development structure, Checklist Ops with RIGOR ensures every critical checklist step has an action, so that supervisors and workers find a reliable and consistent workflow during high-risk operations.
Checklist Ops is the company's scalable consulting service that helps operators and drilling contractors identify and develop checklists for critical tasks most susceptible to lost time incidents (LTIs), total reportable incident rates (TRIR), downtime, flat time, and non-productive time (NPT).
Complementing Checklist Ops is RIGOR, a digital checklist and compliance system that gives crews the tools to respond with methodical actions and reactions in both normal and emergency situations. With RIGOR, critical steps are simplified, actions are deliberate, and all checklist execution data is captured and tracked for reporting purposes.
For crew members, the pressure to memorize each step of a procedure is minimized, while management's confidence in their crews is maximized. Checklists are executed in a predetermined sequence with a deliberate swipe from a stylus pen or finger.
"Check-6 is delivering to the oil and gas industry the capability to solve the experience gap," said Yarko "JJ" Sos, CEO of Check-6 International Inc. "Built around an operation's most critical tasks, checklists become the heartbeat of any healthy organization helping competent crews perform with step-by-step precision. Checklists make the manner in which tasks are performed predictable, and management's ability to verify compliance is a game changer in crew safety and productivity."
10/16/2014