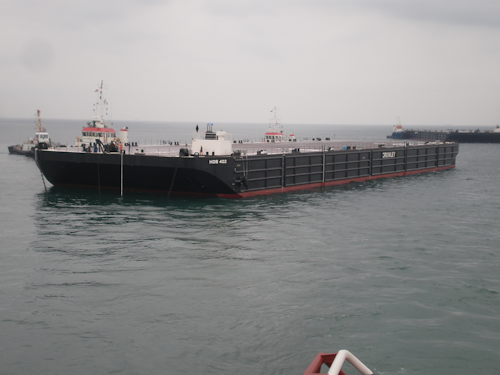 Offshore staff
SINGAPORE – Crowley Maritime Corp. has received the first two of potentially four new heavy-lift, ballastable deck barges (HDBs) for use in the Asia/Pacific region. These new barges, which will be contracted and managed from the company's new Singapore office, allow Crowley to better support regional customers on larger-scale projects.
These new 400-ft-long (122-m-long), 120-ft-wide (36.5- m-wide) HDBs, namedHDB 01 and HDB 02, are moored in Batam, Indonesia. They have 25-ft (7.6-m) side shells that provide both the capacity and deck strength needed to accommodate larger drilling and production units used in deepwater. They are designed with more robust ballast systems to deal with high tidal ranges found in the region's load and discharge ports, and have higher internal strength tolerance when ballasting, fully loaded, to the seabed, where tidal movement can be problematic.
"Customers in this region require locally available and tailored assets for their project needs," says William Hill, director of business development in Singapore. "The industry has expressed the need for available equipment to support larger construction and topside moves along with complex deck loads. These HDBs were designed to do just that."
The barges are ABS classed, with an approximate deadweight capacity of 20,000 metric tons (22,046 tons). Both were designed by Crowley's Seattle-based, naval architecture and marine engineering subsidiary Jensen Maritime, and were constructed in China by Seabridge Marine Contractors Ltd./Jiangsu Yangzijang Shipbuilding Co. Ltd.
09/30/2014