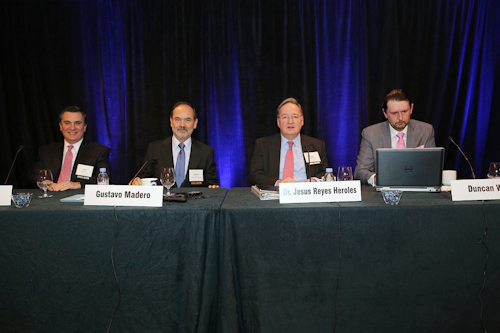 Offshore staff
HOUSTON –In December, the Mexican government approved an amendment to its constitution designed to open the country to operating company participation in its petroleum activities. How that amendmentactually works will depend upon the content and implementation of secondary laws and regulations. This was one of the main points made at a review of Mexico's energy reform, hosted by the law firm Mayer Brown on Jan. 21 in Houston.
Gustavo Madero, president of the Partido Acción Nacional (PAN), said his party decided to accept the political risks of working with the ruling Partido Revolucionario Institucional (PRI) party to bring about this profound change to Mexico's system of petroleum operations. "The political system is the largest economic problem in Mexico," Madero commented. But he added that he was "optimistic about the future" following the passage of the constitutional amendment.
The PAN is concerned that spirit of the amendment might come undone in the transitory and secondary laws that will manage the implementation of the new system.
One key to making the new system work for Pemex will be how the government, particularly the Treasury, reacts. Pemex is the only national oil company to lose money, pointed out Dr. Jesus Reyes Heroles, former Secretary of Energy for Mexico and former CEO of Pemex. This is a particularly important point for Mexico, said Heroles, because the state oil entity provides about 40% of the total government income.
Pemex's ultimate reaction will depend on its ability to compete fairly with any incoming NOCs and IOCs; and to do that will require easing the tax burden on Pemex, Heroles added.
One of the main areas where Pemex needs joint-venture support from outside the country is in access to deepwater exploration and production technology, Heroles said.
He also suggested that Pemex needs to eliminate its drilling division to concentrate on exploration and production.
"I am thrilled with the scope and depth of the reforms, but we have to see it work under the secondary legislation," he concluded.
The political odds against the reform were huge, said Duncan Wood, director of the Mexico Institute at the Woodrow Wilson International Center for Scholars. Now that it has passed, the work begins on new regulations, terms, and the role of Pemex within the new system, Wood pointed out. This might not be as big a task as it sounds, he noted, because those secondary moves were well discussed during the lead-in to the reform vote. There is a 120-day deadline on passing secondary legislation related to the amendment; that deadline started on Jan. 1, 2014.
Wood questioned whether the government could find people to staff the federal institutions charged with administering the new rules and regulations, and also implementing the results. Getting those rules and regulations done right is one risk within the new reforms.
"They need to establish contract terms, especially the royalty rates," Wood said. "Mexico needs to learn from Brazil's recent bid offering. What if you have a bid round and nobody bids?"
1/24/14