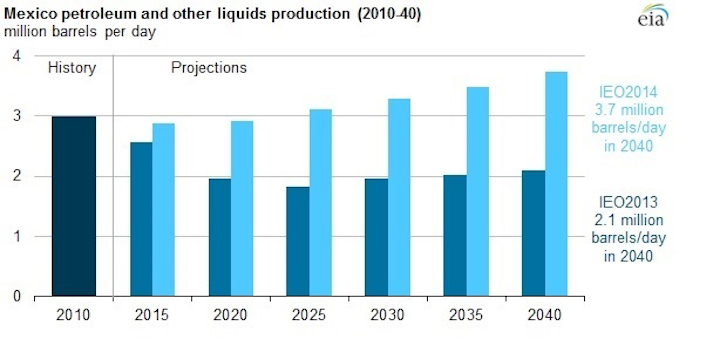 Offshore staff
MEXICO CITY –Optimism regarding Mexico's oil and gas future continues to grow as new rules and operating procedures are rolling out subsequent to last year's constitutional amendment and the more recent passage of secondary laws by the legislature.
EnriquePeña Nieto, Mexico's president, expects to see important gains in production starting in 2018, according to an editorial in the Financial Times. His estimates call for oil production of 3 MMb/d and gas production of 8 bcf/d, up from the current 2.5 MMb/d and 5.7 bcf/d.
Looking offshore, Peña Nieto says the major operators could be the big winners because PEMEX does not have the capital necessary to produce reserves from deepwater.
The US Energy Information Administration also expects to see production increases as a result of the new operating parameters. Even though there remain lots of details to be defined about the new system, EIA has revised its long-term projections and now says Mexico's oil production could stabilize at 2.9 MMb/d through 2020 and then to rise to 3.7 MMb/d by 2040. EIA estimates as recently as last year called for continuing production declines from 3 MMb/d in 2010 to 1.8 MMb/d in 2025.
In itsInternational Energy Outlook 2014,the EIA says it expects different contract types will likely be applied according to the degree of risk associated with specific projects. For instance, licenses will likely be used for projects that are very capital intensive and high-risk, requiring advanced technology, like ultra-deepwater projects. Less risky onshore and shallow offshore projects would more likely use profit-sharing arrangements.
PEMEX is affected by the new direction, too. Reuters reports that the national oil company has started a corporate restructuring in response to the regulatory changes. Pemex apparently plans to keep its exploration and production unit intact, but consolidate divisions with poorer performance, including natural gas, refining, and petrochemicals.
Pemex plans to sign its first-ever joint ventures with oil companies in 2015 covering 10 blocks offering a geological mix of oil and gas fields both onshore and offshore. Pemex estimates that the partnerships will result in investments of about $32.3 billion.
8/25/14