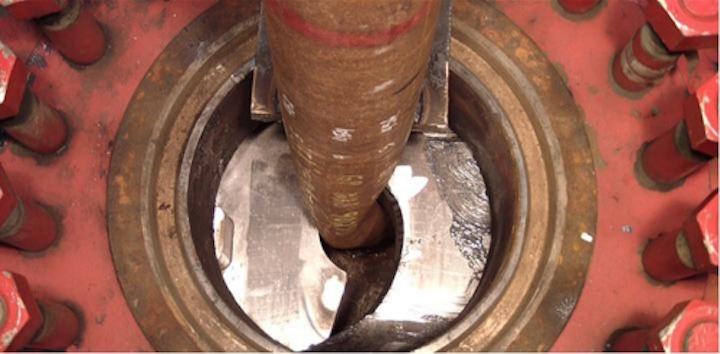 Offshore staff

HOUSTON– Advances in drill pipe metallurgy – particularly increased material strength and ductility – coupled with today's demanding drilling conditions have pushed conventional shear ram designs to the limit. These conditions have led drillers and operators worldwide to ask whether existing BOP equipment can shear the type of drill pipe used in today's drilling programs, at the most demanding conditions anticipated, and at all pressures.

Recognizing global industry demand for more robust and reliable shear rams, T3 Energy Services, a Unit of Robbins & Myers, Inc., embarked on a program to design a new shear all ram system. The pressure-control design engineers were tasked with creating a totally new system that would dependably shear all drill pipe and casing in the most demanding drilling conditions and at all pressures.

The result of their efforts resulted in a step-change BOP technology, the new T3 SAR Shear All Ram system. It addresses the challenges presented by the continuing evolution in drill pipe and extreme drilling programs. The revolutionary SAR was designed to shear virtually all drill pipe and casing in the absolute toughest drilling environments. The SAR blade geometry has been successfully tested against a broad range of drill pipe and casing sizes, regardless of pipe position in the wellbore.

Key features include: shears all sizes and diameters of drill pipe and casing; enables multiple shear and sealing sequences without damaging blades; reduces closing force from 30-50%; fully closes and contains regardless of fixed offset position in wellbore; and optimizes shearing function. T3 Energy Services says that the T3 SAR Shear All Ram system will be available by 3Q 2011.