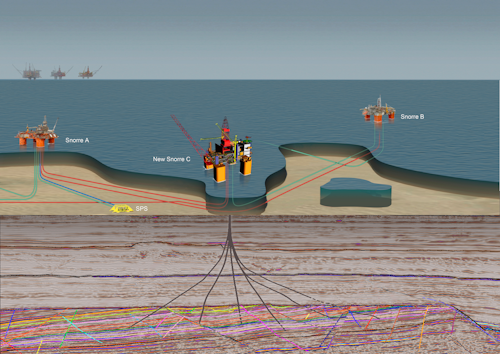 Offshore staff
STAVANGER, Norway --Statoil wants to construct a new drilling and processing platform to maximize reserves recovery from the Snorre field in the Norwegian North Sea.
The company and partners Petoro, ExxonMobil, Idemitsu, RWE Dea, and Core Energy are looking for theoptimum solution to maintain production through 2040.
They scrutinized two concepts for the "Snorre 2040" project – one was a subsea development involving continued use of the existing Snorre A and B platforms; the other, which Statoil has recommended, was a new platform connected to the existing facilities.
Snorre's reserves are currently estimated at 1.55 Bbbl. This is more than twice the original assessment in the 1989 plan for development and operation (PDO) of around 760 MMbbl.
The increase comes from numerous IOR measures and use of new technology, Statoil says. At the time the PDO was submitted, Statoil foresaw a recovery rate of 25%. That has risen to 47% currently, with plans for further IOR programs to lift the rate to 55%.
Other factors that boosted recovery were the decision to install a second platform, Snorre B, on the northern part of the field, and to start reinjection of produced gas from the mid-1990s.
Statoil's executive VP for the Norwegian shelf, Øystein Michelsen, said more time would be needed to mature the development solution and make the decision basis more financially sound. "Snorre 2040 is a huge project with significant investments…we are also seeing marked rising costs in our industry and we must ensure that value creation is optimal..
"The change in [Norway's] petroleum tax rules that was adopted in May also undermines the financial conditions of Snorre 2040, which means that we have to spend more time on maturing the project."
The partners expect to take a final development concept decision during Q1 2015. A new platform could also be used to tie in satellite accumulations in the area, Statoil adds.
10/28/2013