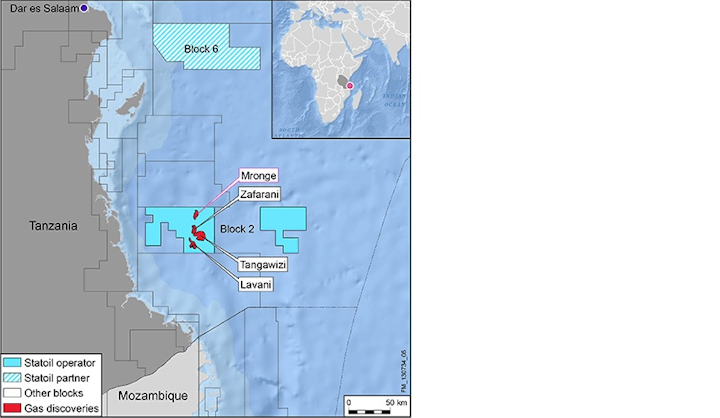 Offshore staff
OSLO, Norway –Statoil, with co-venturer ExxonMobil, has made its fifth natural gas discovery in block 2 offshore Tanzania.The discovery of an additional 2-3 tcf of natural gas in place in the Mronge-1 well brings the total of in-place volumes up to 17-20 tcf in block 2.
Mronge-1 is drilled by the drillshipDiscoverer Americas, and the site is located 20 km (13 mi) north of the Zafarani discovery, and at 2,500-m (8,202-ft) water depth.
The Mronge-1 well discovered gas at two separate levels. The main accumulation is at the same stratigraphic level as proven in the Zafarani-1 well in block 2. The Zafarani-1 discovery was made in 2012 and was a play opener for the block. The secondary accumulation was encountered in a separate, younger gas-bearing reservoir, in a play that had previously not been tested.
Previous related gas discoveries include the Tangawizi-1, Zafarani-1, and Lavani-1 wells, and a deeper discovery in a separate reservoir in Lavani-2.
12/06/2013