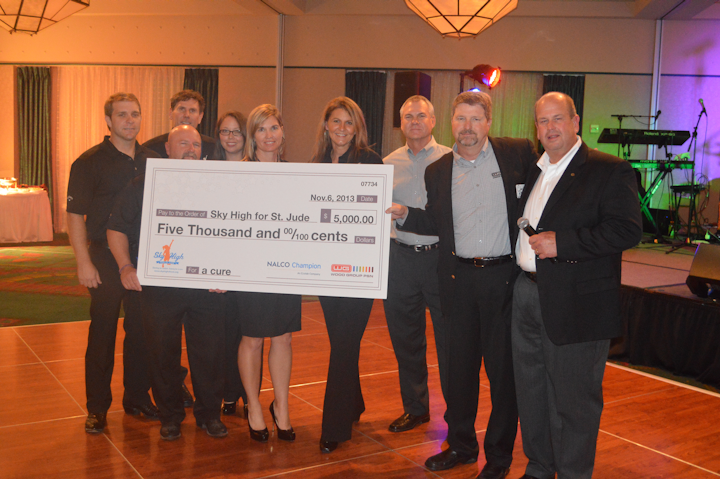 Offshore staff
GALVESTON, Texas --During the Deepwater Operations Conference in Galveston, Texas, Nalco Champion and Wood Group PSN furthered their support of Sky High for St. Jude, an organization dedicated both to funding pediatric research and treatment of catastrophic diseases and to supporting the Ronald McDonald House of Memphis.
Chuck Roan and John Glithero of Wood Group PSN and Mike Knippers of Nalco Champion presented the organization with a $5,000 check at the Casino Night customer celebration co-hosted by the two companies.
"The Deepwater Operations Conference has always been a place for us to show our appreciation to our customers, but we realized it could be even more. We could also serve the greater good," explained Mike Knippers.
Wood Group PSN's Chuck Roan continued by stating, "Sky High for St. Jude is an amazing cause. We've participated in their events for years and are happy to help share their story with the participants at the Deepwater Operations Conference."
Representatives from each company, including three generations of Mike Knippers' family, have volunteered onsite St. Jude's and Ronald McDonald House in Memphis, and all look forward to supporting Sky High's work into the future.
Sky High for St. Jude is a 501 (c)(3) non-profit organization consisting of seven board members working year round to raise funds for the children and families of St. Jude Children's Research Hospital and the Ronald McDonald House of Memphis, Tennessee. To learn more about Sky High for St. Jude, visitwww.skyhighshoot.org.
11/21/13