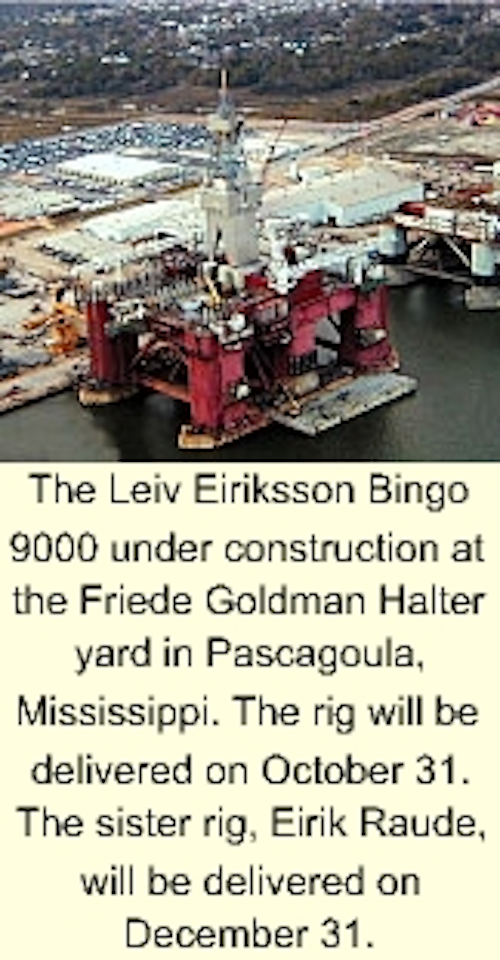 Bingo drillship dispute settled
Ocean Rig and Friede Goldman Halter (FGH) have settled the dispute over the completion of Ocean Rig's two Bingo 9000 vessels, the Leiv Eriksson and the Eirik Raude. The dispute evolved because of delays in the outfitting of the vessels.
The two companies have agreed that the Leiv Eriksson (Bingo 9000-1) will be delivered on October 31, 2000 and the Eirik Raude (Bingo 9000-2) will be delivered on December 31, 2000. FGH has committed to meeting these dates with an agreement to pay liquidated damages for any delays. Consequently, Ocean Rig has agreed to pay bonuses to FGH if the rigs are delivered early.
In addition, the companies have agreed to appoint a mutually acceptable independent organization, Umoe Olje og Gass AS, to plan and schedule the projects until completion. Also, The two parties have agreed to freeze design of the rigs, and retain an independent company, Moduspec, to organize and manage the commissioning of the rigs.
Ocean Rig will increase the contract price of each rig by $21.5 million. The additional amounts to be paid per rig will be $5 million up front, $5 million on delivery of the rig to Ocean Rig, and the remaining $11.5 million spread over twice-monthly installments linked directly to the progress achieved. Monthly progress will be assessed and verified by the independent planning team engaged as part of the settlement between the companies.
In addition, Ocean Rig has signed a memorandum of understanding with Sonangol, the state oil company of Angola, to establish a joint venture to build, own, and market drilling rigs for ultra-deepwater operations off Angola and internationally.
The companies are reviewing alternatives for constructing new drilling rigs capable of ultra-deepwater drilling, including utilizing Ocean Rig's two bare-deck units (Bingo 9000-3 and Bingo 9000-4). In the interim, the joint venture will also market either the Leiv Eiriksson or the Eirik Raude for work off Angola. Ocean Rig will own 51% of the joint venture, while Sonangol will hold 49%. The companies plan to establish the joint venture by spring.
SCORE survey indicates drilling not far off
Bob Rose and his team at Global Marine see life improving for the drilling industry. Rose presented the company's annual SCORE (Summary of Current Offshore Rig Economics) report in January and said that the market indicator closed on a strong note for the past year.
In December 1999, the SCORE rose 3.5% from the previous month, but still lagged 50.9% from December 1998, and 32.5% from the same period five years ago. Rose attributed the recent increase in the SCORE to the improving markets in the Gulf of Mexico and West Africa, offsetting continued weakness in the North Sea.
Regionally, the SCORE for the Gulf of Mexico was 6.6% over the November figure, and marked the sixth consecutive month of improvement for the region. In addition, rigs are beginning to steadily land contracts that surpass the cash break-even point.
West Africa also rose 7.2%, and Southeast Asia gained a modest 0.2%. But the North Sea is still experiencing rough times. Contractors such as Global and Rowan have mobilized several rigs out of the area in recent months. Rose said that it was at a break-even point, while the Gulf of Mexico and West Africa were on the rise.
As for attractive exploration areas, Rose said this was Brazil's year. He said he had received a report that state oil company, Petrobras, might be in the market to contract every available dynamically positioned rig. While Brazil does have a limited demand, such an event would be good news for the drilling industry.
Beyond the numbers, Rose said that conditions were beginning to improve. He said that mega-merger companies are beginning to rationalize their portfolios and this will eventually translate into increased drilling. The problem has been, he said, that while the mergers were underway, activity stalled as companies began their re-organization. In turn, this paralyzed lease partners and prevented them from doing work.
Rose said that oil prices were in a good range. He said that at the current level, everyone can make money. Despite this, Rose said that operators were still budgeting on conservative oil prices ($16-$19/bbl), but added that as oil remains above $20, most operators will revisit their budgets.
Another reason for a drilling upturn, Rose stated, was that OPEC was nearing production capacity and that industry needed to begin drilling in order to increase pro duction. "Supply and demand are almost in equilibrium - building a wedge that has to be met by drilling," he explained.
Not a merger - but close
Offshore drillers have suffered from low day rates, decreased utilization, and a smaller customer base. In order to remain active, they have cut rates and done almost everything short of giving rigs away to keep fleets active. Two of Norway's big players have come up with a new solution to work through the tough times. Smedvig and Maersk have entered into a cooperative agreement they hope will keep their fleets afloat as conditions slowly improve.
The goal of the agreement is to develop enhanced services at a competitive cost and reduce overall operating costs. The two said that they will cooperate in purchasing, procurement of services, sharing of technical and operational experience and personnel, development of maintenance procedures and practices, and coordinating operational activities in Norway and internationally.
While this may sound like a merger, it is not. Both companies will continue as independent entities. There will be no ownership integration nor the sale or purchase of any assets. The companies said the agreement will allow the companies to realize the benefits of consolidation, while remaining separate.
Colluding was suggested by drillers in the past as a way to make it through the tough times when mergers weren't practical. But as activity to improve in most areas, such suggestions are being pushed aside, and so is discussion of mergers. However, in the North Sea, activity has yet to really begin to improve, and agreements such as this one may be just the thing to ensure the survival of companies until conditions do improve.