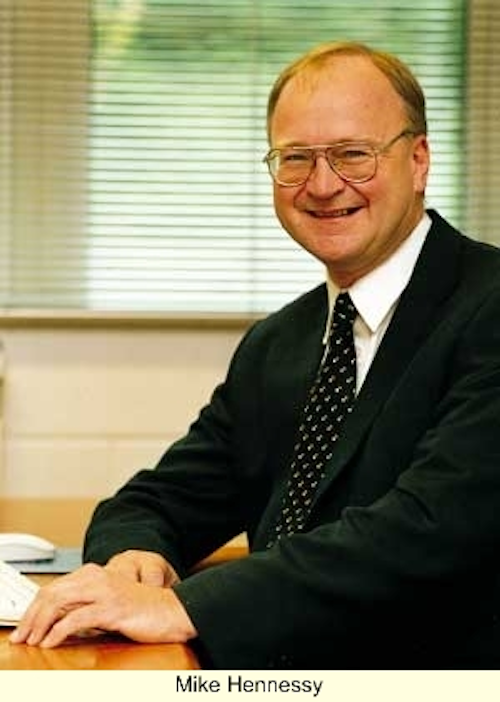 People
Thomas A. Fry III was promoted to president of National Ocean Industries Association (NOIA - US). The association's former president, Robert Stewart, retired Nov. 30.
BG Technology (Loughbo-rough, UK) appointed Mike Hennessy as Operations Dir-ector of its new Pipeline and Engineering Services business.
ShipIQ (Boston), the on-line site providing shipping logistics to the oil industry, named Hans Peter Westfal-Larsen vice-pres- ident of Chartering Services.
Shell Exploration & Production Company named J rn Berget vice president of production.
Crowley Marine Services promoted Alex Sweeney to vice president, Valdez business unit.
Benton Oil and Gas Company elected five new board members: Stephen D. Chesebro', John U. Clarke, Byron Dunn, H.H. (Will) Hardee, and Patrick M. Murray.
GeoNet Services.com Inc named Eric Déliac as President and Chief Operating Officer (COO) and Robert Aydelotte as Director of Data Management Services.
Sonsub Inc. named Giorgio Martelli as Chief Operating Officer for their Houston facility and Gary Milner as Commercial Manager.
GX Technology named Nick Bernitsas as Senior Geophysical Advisor; Ian Jones as Senior Geophysical Advisor for its London-based European oper-ations; and Lawrence M. Gochioco as Senior Marketing Geophysicist.
PMCC Inc. named Milton H. Jones as a Senior Project Consultant.
Steven R. Bohlen was named President of the Joint Oceanographic Institutions and executive director of the Ocean Drilling Program.
Coflexip replaced two board of directors - Patrick Picard and Lucien Sajus with Michel Lévêque and Rolf E. Rolfsen.
Contracts
Brown & Root Energy Services (Halliburton) was awarded an engineering and project management services contract (EPMSC) by Kerr-McGee North Sea (U.K.) Ltd at a value of US$18 million.
BJ Tubular Services was awarded a two-year contract by PTT Exploration and Production Public Company Ltd to provide casing and tubing running services in Thailand, beginning with the Bongkot field.
BP awarded a four-year contract to CGG worth about $10 million to process 4D field seismic data, in which 3D data is tuned for hydrocarbons, water, and pressure recognition.
Norsk Hydro awarded Aker Verdal an NOK670 million fabrication contract for the Grane platform jacket, covering engineering, procurement, fabrication and commissioning of the jacket and piles.
Aker Maritime will sell its US-based deepwater company to Coflexip Stena Offshore for $513 million, plus assumption of net debt estimated at $112 million.
Repsol YPF signed a three-year contract to license GeoQuest's suite of geophysical, geologic, mapping, engineering, and economic analysis.
FMC Energy Systems and Shell Exploration and Production Company signed a contract to supply subsea systems for FMC Oregano an Serrano subsea developments in the Gulf of Mexico.
Petrobras and Baker Oil Tools signed a contract for Petrobras' first-ever intelligent and completion system.
Mergers & Acquisitions
John Wood Group PLC signed an agreement to purchase 80% of Mustang Engineering, Inc. of Houston for $112 million, with the remaining 20% to be acquired over the next six years.
Amerada Hess Corp. agreed to buy Lasmo PLC, British oil exploration and production company, for $3.5 billion.
Chevron Corp. and Schlumberger Oilfield Services launched a multiyear research project to develop reservoir optimization software and intell-ectual property.
Coflexip Stena Offshore entered a conditional agreement to acquire Aker Maritme ASA deepwater operations in Houston, Texas.
Shell Chemical Company, BASF Corporation, and ATOFINA Petrochemicals, Inc. formed Sabina Petrochemicals LLC, to build and operate a C-4 olefins complex.
Aker Maritime agreed to sell its US deepwater company to Coflexip Stena Offshore for $625 million.
Oil & Gas Journal Exchange entered a joint initiative with Robert W. Hunt Company for quality assurance and to facilitate through the Global Equipment Exchange.
PennNET acquired Madison Energy Advisors, specialists in the negotiated sales of oil and gas properties.
Conoco Inc. bought one-half of the 80% interest held by Royal Dutch/Shell Group in two exploration and production blocks offshore Malaysia.
Norske Conoco will acquire 6.4% interest in the Grane Field.
Heerema Group will acquire 100% of share capital of Intec Engineering.
Bouygues Offshore has made an indirect 20% equity investment in Rosetti Marino Spa.
Stabil Drill acquired Drilling Logistics, Inc., adding to Stabil's inventory of stabilizers, non-magnetic drill collars, and subs.
Company News
M-I L.L.C. and Smith Services completed the development of the C-Port Two deepwater facility and EnviroCenter at Port Fourchon, Louisiana, a tubular inspection and repair facility.
Emerson Electric Co. formed Emerson Valve Automation, a new operating division that consolidates the company's valve automation products.
BP will invest up to 300 million pounds sterling in the China Petroleum and Chemical Corporation (Sinopec), China's largest integrated petroleum/ petrochemical company.
Schlumberger GeoQuest won the 11th annual Software Technical Assistance Recognition (STAR) Award for the second consecutive year.
Aker Maritime sold two seismic ships for NOK900 million and entered a lease-back arrangement, freeing up NOK750 million in capital to purchase 49% of the Aker Gulf Marine.
Expro Americas Inc. changed its Houston location to 580 West Lake Park Blvd, Suite 1500.
Fakespace Systems Inc. opened its first European development office in Leicestershire, United Kingdom.
Veritas Geophysical Integrity opened a new Veritas campus-style corporate headquarters in Houston, Texas.
DOT awards
Awards were presented to three individuals for outstanding papers at the 12th annual Deep Offshore Technology Conference in New Orleans. They are:
Technology Leadership: Joe Verghese, Vice President Technology, Oil & Gas, ABB Lummus Global Oil & Gas, for "Assimilating Technology into Ultra-Deepwater Developments-Balancing Risks and Benefits at the Project Front End."
Technology Leadership: Mamdouh M. Salama, Conoco, Inc., for "Applications and Remaining Challenges of Advanced Composites for Water Depth Sensitive Systems."
Innovation and Partnering: David Clarke, BP Amoco, for "Canyon Express - a Deepwater Multi-Field Affair in the Gulf of Mexico."
Youthful Involvement: Jeroen Remery, Pipeline Engineer, Ultra Deepwater Group Coflexip Stena Offshore, for "The Hybrid Catenary Riser (HCR): A New Optimized Riser Configuration for Ultra Deepwater."