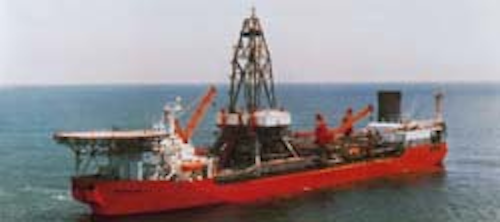 Luis Canada, Eduardo Lopez, Javier Garate
Vicinay Cadenas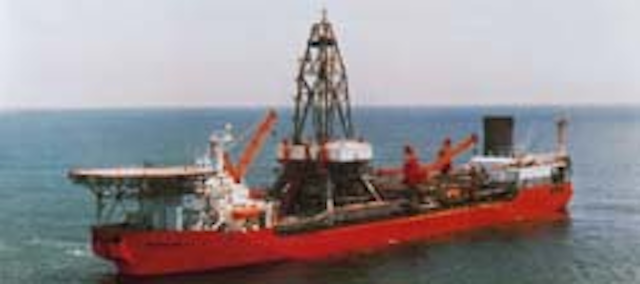 Vicinay studless chain was first used on the Petrojarl 1.
Never has the challenge for mooring systems been greater than for those to be used in the new harsh and deepwater fields West of Shetlands and Norway.
Vicinay Cadenas took up this challenge some years ago and the results have put them in the forefront of the mooring chain industry. Presently the company is progressing in-depth research and development work on mooring systems and can highlight the following major advances:
Studless Chain. The key factors in the design of this chain were:
Compatibility with studlink chain of the same size, both in geometrical shape and design loads
The ability to replace studlink chain of the same size
Ability to use accessories and connectors designed for studlink chain
Increased stable fatigue life by avoiding problems with functional design such as loose studs.
This particular product was first delivered to the Veslefrikk Field in 1989. Since then Vicinay Cadenas has delivered or is in the process of manufacturing over 25,000 tonnes of studless chain. These chain orders range from 87mm to 152mm, in NV K4 Rig and NV K3 Rig. Customers include Statoil, APL, BP, Smedvig and Golar-Nor. The chain will be used in catenaries, seabed lines and with fairlead and winch equipment.
VGW Chain, an acronym for Variable Geometry and Weight. originally conceived at the end of the 1980s when Vicinay Cadenas was considering the future requirements of the offshore industry.
An internal document was published and submitted to DnV on an unofficial basis, receiving their conceptual approval. The project became reality when this chain was manufactured in 1994. Design parameters for this chain were to optimize its use in mooring lines, as regards:
Break Load requirements
Weight per meter factors
Link geometry requirements, taking into account:
Use of wildcat/fairlead systems if installed
Chain stopper systems if installed
Connectability to other components
and the possibilities in chain manufacture, including:
Bar diameter
Resistance of steel
Use or not of a stud.
First use of this chain was on the Petrojarl 1 where the customer specified:
Studless chain
Same weight as the 84mm K4 Rig studlink chain in service
Higher break load than the 84mm K4 Rig studlink chain
Better fatigue life
Chain which could be used with the wildcats and fairleads on board.
LSC stud
This is a stud specially designed by Vicinay to reduce stress concentration at the stud footprint should studs become loose. They reduce stress concentration by approximately 50% so that loose studs occurring due to the working circumstances of the chain or the passage of time do not affect fatigue life nearly as dramatically compared with standard studlink chain.
The first project to use this stud was the 140mm RQ3 and 120mm RQ4 chains supplied to the Amoco Liuhua Field. It was later decided to incorporate this design into all chains where it is known they will be used in the offshore industry.
For some years Vicinay has been collaborating with the University of the Basque Country in Spain and with steel suppliers to develop and optimize steels to be used in the chain industry, with particular attention paid to the flash-butt welding and heat treatment processes.
This co-operation enabled the company to develop the product variously known as 1,000 MPAS, K4 Plus or Grade 5 chain. In this chain, the proof and break loads are significantly increased, allowing the design team to choose whether to increase the safety factor of the mooring line, or reduce the weight of the catenary. This type of chain has been delivered for BHP's Dai Hung Field.
Full-scale fatigue tests are another important area where Vicinay has conducted in-depth research. In co-operation with the Labein Technological Centre in Bilbao with their chain fatigue machines of 500 ton dynamic capacity and 1,000 ton static capacity, they are testing chains from 76mm diameter, in Grades 3 and 4, both standard studlink and studless.
With data collected and analyzed from these tests, Vicinay Cadenas is able to improve the design of its products and increase their fatigue life. These new advances in mooring technology have been designed for use on floating production systems located in ever deeper and more hostile environments.
Copyright 1995 Offshore. All Rights Reserved.