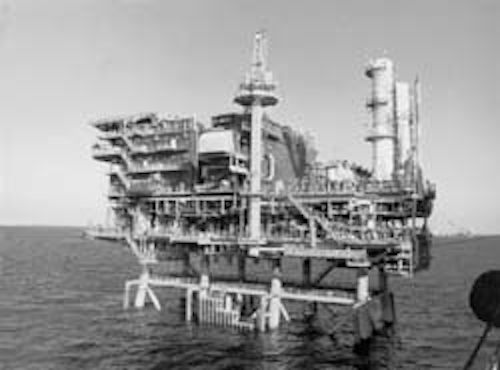 ONGC anticipates joint venture E & P of both frontier areas and deepwater prospects
S.M. Singh Gandhi
Contributing Editor - Bombay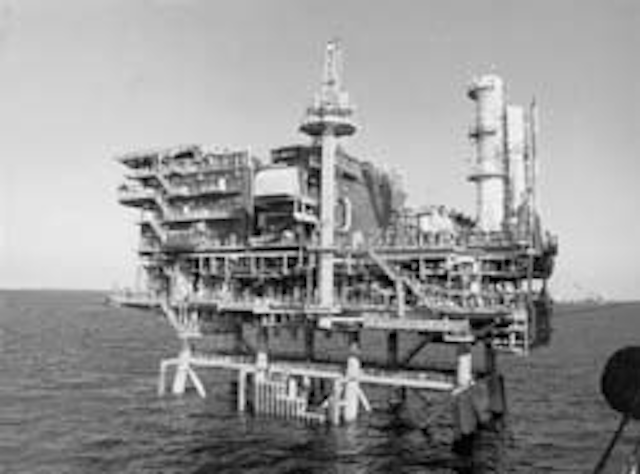 The new NLW processing platform installed on the Neelam Field.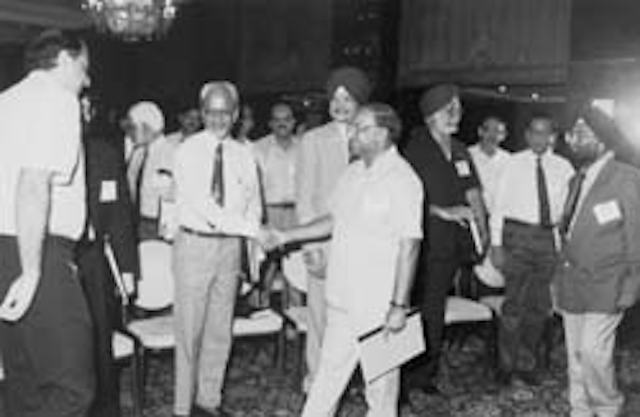 ONGC's Chairman S.K. Manglik (center) meeting with industry officials at an oil & gas symposium in Bombay.
The oil sector, on the backburner of India's political realm for some time, is being forced to the forefront by the privatization of India's leading oil exploration organization, the Oil & Natural Gas Corporation. Also prompting interest is the enhancement of production on the Bombay High oil fields as the result of a Rs.150 billion development investment.
One of Asia's largest oil exploration companies, Oil & Natural Gas Corp. of India (ONGC), became a publicly held company as of February 1994, following the Indian government's decision to privatize. Eighty percent of ONGC assets are now owned by the government, the other 20% is being sold to the public.
ONGC employs 48,000 people and has reserves and surpluses worth Rs.104.34 billion, in addition to its intangible assets. The corporation's net worth of Rs.107.77 billion is the largest of any Indian company. After its initial privatization, it has authorized capital of Rs.150 billion. Paid-up capital has not been decided as yet.
The government plans to raise funds for public sector companies facing financial crunch by turning them into public companies. Hence, ONGC is in a position to raise resources in the capital market by selling equity. It needs to raise Rs.35 billion to invest in present oil and gas projects.
ONGC initially planned to divide the 20% public offering between domestic and international markets, but decided to first disinvest 2% of Rs.342,850 , and follow the response to its private placement with public issue.
The Asian Development Bank (ADB) had set a deadline for privatizing and restructuring at 30 June 1994, if loans were to be granted for development of two ONGC projects. As a consequence, the loans were granted - US$267 million for development of Gandhar Field, and $300 million for the gas flaring reduction project in the Bombay Basin.
The company plans to raise another Rs.3 million by diluting its equity in the domestic market, and these funds will be used for setting up joint ventures with private companies for developing newly discovered oil fields, in which ONGC will hold 40-49% stakes.
The government's strategy in privatizing ONGC is to put the corporation on par with other large multinational and domestic oil companies. When the government offers 24 blocks for joint exploration this month, ONGC will share the costs and returns based on its 10% optional working interest in any blocks it chooses. ONGC participation is an integral part of the offer.
New licensing round
ONGC has offered 34 blocks to Indian and foreign companies for oil and gas exploration in the eighth round of bidding. Features of the round are:
No royalty payments
Progressive fiscal regime with shared profit oil/profit gas tied to post tax profitability of the venture as undertaken.
Provision for encouraging production and marketing of gas.
International arbitration and assignment.
Possibility of a seismic option in the first phase of exploration.
No ring fencing of the blocks for corporate tax purposes.
Purchase of company's share of oil at international market prices.
No minimum expenditure commitment during exploration period.
No signature or production bonuses.
Globally, 15 offshore companies were invited to bid for blocks singly or in collaboration with others. Those bidding were provided detailed information regarding the blocks, terms, locations, etc. in order to have bids in by the end of this month.
ONGC is now involved in an ambitious Rs.6.5 million accelerated exploration program established by the petroleum ministry, with the participation of Oil India Limited (OIL) and the Director General Hydrocarbons. Under the program, ONGC and OIL are to explore frontier (virgin) and deepwater areas such as the offshore Kutch, Vindhyan and Gondwans Basins.
International role
ONGC also hopes to participate in exploration of other offshore venues including China, Africa, the CIS, Southeast Asia, and Latin America, putting special emphasis on use of frontier technologies such as exploration of oil shales, enhanced oil recovery projects, use of horizontal drilling, and production of coal-bed methane.
ONGC has received offers for farm-ins from several foreign oil companies. ONGC Videsh, a branch of ONGC, will be strengthened for increased exploration and drilling activities abroad. A national seismic program is being drawn up for enhancing exploration in frontier territories, and the government plans to invest Rs.6.5 million to halt the declining trend in reserves over the next three years.
The ONGC disinvestment of a 2% stake is a government strategy to raise money in the market while not losing its 51% holding in public sector undertakings. The company decided not to enter the US bond market, but to opt for a Euro issue this month. In addition, the Samurai series of bonds, floated in the Japanese market in 1988, 1989, and 1990, worth a total of ¥ 70 billion, has been upgraded after receiving a formal government guarantee.
In 1993-94, ONGC recorded a profit of Rs.2 million, 153% higher than for the 1992-93 period. A net profit of Rs.2.046 million is anticipated for 1994-95. Profits rose last year as a result of the rise in crude oil prices. A production target of 29.349 million tons of crude, or a 20% increase over last year, has been set. To achieve this, three new platforms are to be commissioned in 1994-95, and eight projects valued at Rs.16 million will be undertaken as the company enters the international market.
Copyright 1995 Offshore. All Rights Reserved.