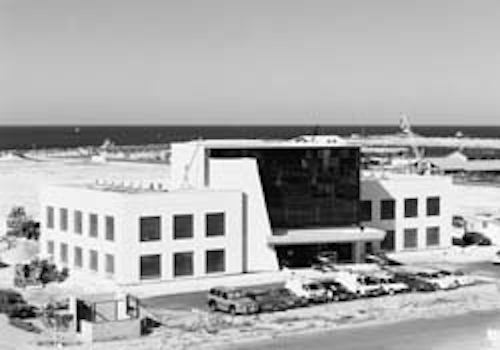 Larger company continues focus on subsea and floating production solutions
Jeremy Beckman
Europe Editor
Last year brought a number of mergers or would-be mergers between offshore engineering contractors. One which did hold tight involved Coflexip and Stena Offshore. The new operation is called Coflexip Stena Offshore.
The two companies announced their unification plan in July and formally confirmed it in December. However, the idea of joining forces was first raised years ago, according to Christophe Pettenati-Auziere, vice president of international operations for the new company. Increasingly since then, both companies had been working for each other on projects as contractor or sub-contractor.
Both companies were seeking to expand the scope of their services, in line with oil industry client requests. Despite the spread of their individual activities, the majority of Coflexip's turnover was still coming from the manufacture of pipes, and much of Stena's from installing pipes.
The newly merged entity considers itself one of the world's ten largest oilfield service groups. However, it is not pretending to be all things to all oil companies. Areas of expertise will remain focused on the installation of flexible and rigid pipes, subsea construction services, and innovative solutions for subsea and floating production developments.
Share issue
Merging was a complex exercise. Stena International sold its interests in Stena Offshore to Coflexip in exchange for 18% of the new group, plus convertible bonds for another 13%. Existing French shareholders reduced their stake to 32% (now held by ISIS, Elf, and SCOR). Most of the rest has been floated on the Paris and New York stock markets, leading to an initial capital increase of $60 million.
The combined operation is now led by Coflexip's Christian Marbach who remains president, CEO, and chairman of the board of directors. Chief operating officer is Tom Ehret, formerly president and CEO of Stena Offshore.
When companies merge, redundancies and closures spring to the onlooker's mind. But this is not the case here, according to Pettenati-Auziere. "There is so little overlap between the companies' activities," he says. "Rather, the scope of their service is very complementary. So we need all our resources - in fact, we may need to recruit people."
"You mustn't forget that we are in a growth business," says Ehret, "and both companies were already on a growth path. I believe we're both short and long in resources, and the process of optimization will take a further six months to a year. But we're not looking to get rid of X number of people because of the merger."
However, some overlaps had to be urgently addressed. There was little sense in maintaining two sets of offices in the major offshore centers. Houston was easy. Stena's one-man operation was comfortably integrated into Coflexip's base. Physical consolidation of employees in Norway and Rio de Janeiro is currently being tackled.
Asia-Pacific is trickier. The directors are reluctant to treat this vast area as one region. Currently the merged company has offices in Bombay, Kuala Lumpur, Singapore and Australia, where last year Coflexip invested $35 million in a further flexible pipe plant in Freemantle, Western Australia.
Worldwide operations will be directed out of Paris, with a North Sea (Aberdeen), Brazil, and rest of the world operational split typically representing 50%, 25%, and 25% of the revenues. The merged company operates an international fleet of 17 vessels.
Other ventures
Clients and employees aren't the only ones impacted by the merger. Coflexip and Stena Offshore had involved themselves in a number of joint ventures. One of these is Ugland-Coflexip.
For years, Ugland vessels have been installing Coflexip's flexible pipes, flowlines, and risers in Norway, a market where Stena has lately scored a number of successes. Chief among these was a NKr380 million deal for Saga's Vigdis development.
Coflexip Stena Offshore will install a steel pipeline and control bundle between the Vigdis subsea templates and Saga's Snorre tension leg platform, connecting to the TLP with flexible risers and to the templates via flexible pipeline jumpers. This contract also persuaded Stena to open a new spoolbase near Trondheim for making and coating large diameter steel pipes.
However, Pettenati-Auziere claims the status quo can be maintained, with the Stena and Ugland entities continuing to operate separately in Norway. Ehret points out that the two companies "had excellent relations" before the merger: for instance, Stena recently chartered the Ugland-owned DP shuttle tanker Savonita for an early production test on BP's Machar Field in the UK.
The future of Clough/Stena, the Asia-Pacific installation venture, is less certain. Most of its projects have involved installing Coflexip pipe, says Pettenati-Auziere, such as Griffin, Challis, and Skua off northwest Australia. "But we will have to redefine the mechanisms, because there are three players now instead of two."
Merits of the merger are better appreciated elsewhere. On Machar, Stena is part of an integrated services team including Schlumberger and ABB Vetco Gray, otherwise known as the TAP alliance. According to Ehret, "TAP is over the moon about this merger.
"The alliance's objective is to offer small turnkey subsea, integrated solutions. With Coflexip, we can now offer the missing bits such as flexible pipes, robotics, and risers. We also see Asia-Pacific going the turnkey package route. There have been TAP meetings in Kuala Lumpur."
Stena also formed an alliance last year with UK engineer/fabricator Trafalgar House Offshore Services. The added value of Coflexip here isn't estimable, as this alliance has no publicized contracts. It was formed to service multi-field developments, involving a combination of topsides (Trafalgar House) and subsea (Stena) solutions.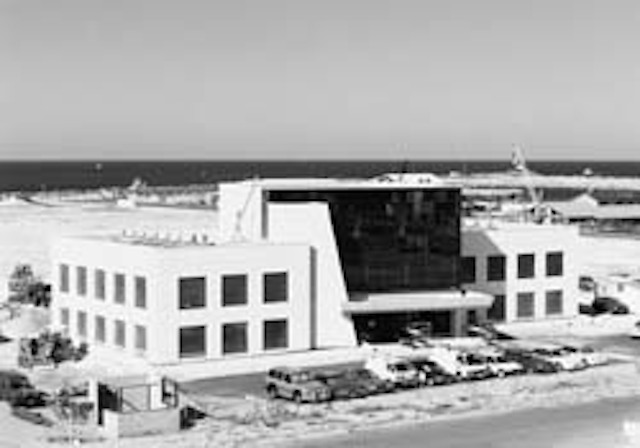 The new $35 million flexible pipe factory in Fremantle, Australia.
Floater alliance
Hardly a second passes these days without some announcement of a new floating production scheme or partnership. Coflexip Stena Offshore took center stage recently, announcing a venture with DeepTech International to supply floating production systems (FPS) to operate on the Flextrend and deepwater areas of the US Gulf of Mexico.
DeepFlex Production Partners will operate under a production-sharing or charter-type arrangement with clients. Initially it will acquire two second generation semisubmersibles for conversion into FPSs. The first unit should be installed early next year: ultimately, DeepFlex may own six units.
The move is a response to a worldwide trend. As Ehret points out, "There were more calls for tenders in floating production storage offloading (FPSO) systems in 1994 than in the previous ten years. The biggest growth demand is in the North Sea. At the moment, our floating production division in Aberdeen is operating three projects: Machar, Texaco's Captain, and BP's Clair." Clair is a heavy oil structure west of the Shetlands.
Elsewhere in the world, Coflexip Stena Offshore was involved in the supplying of the tanker Stena Contender as the floating storage offloading unit for Elf's N'Kossa Field offshore the Congo, under a joint venture with Single Buoy Moorings. The tanker is being converted to accommodate a single point mooring system, associated swivels, and a metering unit.
Ehret claims that his merged company "has more in-house capabilities for FPSs in West Africa than anyone else. No one else makes flexible risers. We also offer flowlines, flexible or rigid, subsea work, and project management. And the Stena Group is one of the largest owners of VLCCs in the world."
In Brazil, the group will look to maintain its currently unassailable grip on the flexible and rigid steel pipelay market. Recently, it won an $85 million contract from Petrobras to install over 450 km of pipelines and bundles in the Campos and Santos basins, in water depths down to 1,000 meters. Partly in preparation for this job, the reelship Apache has undergone a refit in Portugal which included widening of the hull with one meter wide sponsons to increase the main reel capacity from 1,815 tons to 2,000 tons. The sponsons will also allow three reels to be fully laden with pipe. Apache already holds the world record for rigid steel pipelay, set last year in 886 meters water depth in the Marlim Field.
In Houston next month, Coflexip is to be honored by the OTC board, beyond its role for developing flexible steel pipe, for developing its vessel-mounted vertical lay system (VLS), which permits safe and efficient installation of flexible pipes in deep waters. The system will be operated on the group's new Sunrise 2000 pipelayer, which has a five-year charter from Petrobras for laying in projected depths down to 2,000 meters in the Campos Basin.
Last year, Coflexip broke the record for water depth and length of installed flexible pipe, when its Flexservice 1 vessel installed two flexible lines and one control umbilical, with a total length 19.3 km, between a production platform in 610 meters water depth and the Marlim 4 subsea wellhead in 1,027 meters.
The $90 million Sunrise 2000 was converted by Hyundai in Korea. It has a storage capacity of 3,775 tons, employs three flowline baskets and two umbilical winches and can lay three lines simultaneously. Flexible pipe will be supplied by the group's Flexibras plant in Vitoria, Brazil and by the Le Trait plant in Normandy, France. Here $20 million is being invested for a new production technique to increase lengths of flexible pipes with diameters of 8 in. or more.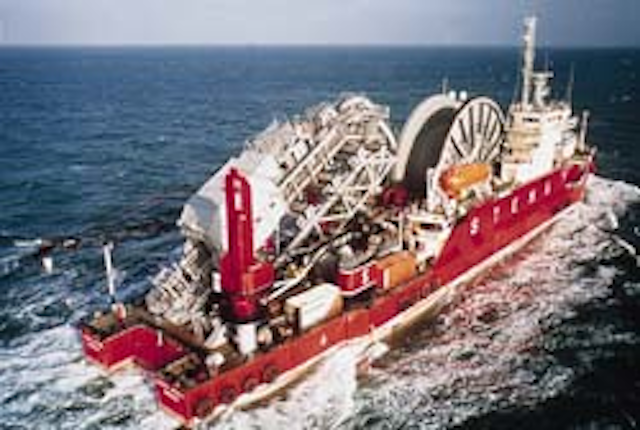 Sunrise 2000, the new deepwater pipelaying vessel, is booked by Petrobras to work down to 2,000-meter water depths.
Well intervention
In the North Sea last year, Elf Enterprise used a multi-functional dynamic positioning support vessel for the first time to perform subsea well intervention, when the Stena Seawell entered a Saltire Field water injection well to perform wireline operations. Normally, semisubmersible drilling rigs are used for this type of work.
"Well intervention from dynamically positioned multi-service vessels has been very slow to develop," says Ehret. "Stena had made a major investment, building the Seawell and the Well Servicer specifically for this purpose. Slowly, oil companies are finding it more acceptable to use a monohull class vessel for intervention." Taken on its own, this market may not appear big, he says, but the picture changes when the potential for well abandonment is taken into account. Stena Seawell was used for Hamilton's Argyll abandonment program in the UK a couple of years ago.
The merged group can also see opportunities in the rough waters and rocky seabeds of Norway's Haltenbanken. Vessels from Coflexip and Stena have been involved in studies of the area, where a major development is likely to be confirmed this summer involving the Smorbukk and Midgard Fields.
They missed out, however, on BP's Foinaven floater development west of the Shetlands. Main engineer John Brown was told to work on a fast-track basis. According to Ehret, that meant it had to go for a company that could offer all the necessary equipment and services, which turned out to be McDermott.
As a merged contracting force, Coflexip and Stena Offshore are better equipped now to handle more aspects of development projects. However, Ehret says he would be against taking a stake in a field, a risk which some contractors seem to be contemplating.
At Stena, Ehret and company maintained a core of skilled technicians, rather than hire and fire during cyclical downturns. "There are two ways an oil company can look at contracting," he says.
"The stupid way is effectively to get the large contractors to do what they did before the UK's cost-cutting CRINE initiative - dump specialists and technicians at times of low demand, then re-employ them. That way reduces fixed costs, but the design solutions stay the same, so at the end the company finds it hasn't saved any money.
"Another solution I'm in favor of is when the oil company truly accepts the need to decentralize the process and delegate it to specialists with something to offer. We have positioned ourselves here. When BP said in December 1993 it wanted to produce oil from Machar at 30,000 b/d the following June, we did it."
At the same time, however, a certain respect for the hierarchy needs to be maintained. "The unspoken message from the oil companies is, don't get too smart or too big."
For the time being, Coflexip Stena Offshore looks like toeing this line. Further acquisitions of small companies are possible, says Pettenati-Auziere, but according to Ehret, "There's still a certain amount of digestion to do. We don't want to gobble things up too quickly and end up with a tummy ache."
Copyright 1995 Offshore. All Rights Reserved.