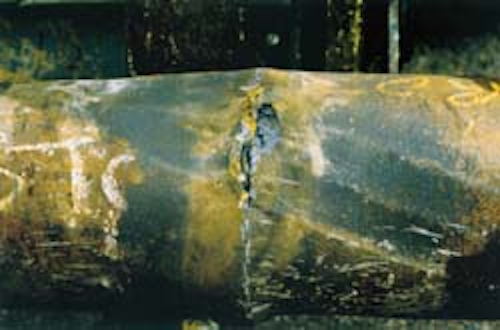 Explosives expert also aiming for more efficient tubing tools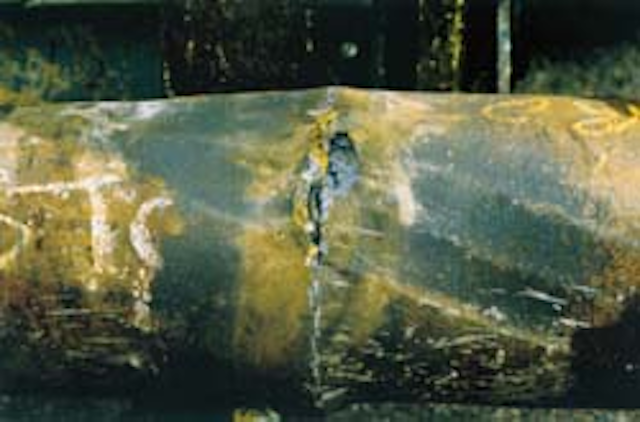 A 9 1/2-in. OD drill collar cut by SwETech's upgraded CDC type I.
SwETech - Swedish Explosives Technology - is going through a period of intense development work to extend the capability of its products.
These consist of colliding detonation drill collar cutters (CDCs) and tubing cutters. Business is still expanding, with some 200 CDCs delivered to customers in some 20 countries in 1994, according to managing director Staffan Karlsson. And recently, a leading Norwegian operator specified the use of its CDCs in a contract.
Earlier this year SwETech, an offshoot of the Bofors group, was working on an order for six different sizes of tubing cutter for a major offshore company. One of its leading customers is Schlumberger, with which it carries out much of its development work.
To cope with cutting a 9 1/2-in. OD, 3in. ID drill collar, SwETech has increased the density of the main charge adding an extra 10% to the detonation energy without changing the initiation sensitivity.
In tests in which a drill collar of the same dimensions was placed in a vertical position and filled with water, and the CDC centralised, the collar was cut round its whole circumference.
Successful results were also obtained in tests of an upgraded type II CDC on a 6 1/2-in. OD collar. Here the charge was increased so as to yield a 10% increase in energy content. Both types of cutter were also shown to function correctly when filled with water.
The company now plans to demonstrate the CDC type III which it is now developing at Schlumberger's request. This is for very heavy collars with ODs of 9 1/2-in. or more. The new cutter, which contains about one kg of explosive, is based on the same design principle and the same initiation system as the existing types. The explosive is octogen, the same as is used in type I.
Meanwhile, development work continues on a tubing cutter. This is a difficult task which calls for the tubing to be cut without damage being caused to the casing outside it.
The tubing often consists of modern grades of steel which, due to their high mechanical strength, are more resistant to the effects of the explosive charges than older grades. The inside of the tubing is filled with mud and water which dampens the force of the explosion. But the outer diameter of the charge cannot be increased beyond 4 1/2-in. as it would not be able to enter the tubing.
At present cutters are limited in their application to very specific combinations of outer and inner diameters, with the result that a company may have to stock up to 60 different types to cover its needs.
SwETech is now looking to develop its existing tubing cutter, which uses shaped charges and is available in sizes from 1 13/16-in. upwards, so that a reduced number will cover all the requirements. "If companies could reduce their stocks to just 10 types, that would be very advantageous for them, says Karlsson.
SwETech will retain the existing initiation system, which displays good resistance to mechanical damage and heat. However, by making changes to the geometry of the charge, and of the copper cone which forms the lining, and also by increasing the amount of explosive, it is looking to make greater use of the energy content of the charge to achieve a better cutting effect. Previously it investigated using the CDC as a tubing cutter, but concluded that this would only work in a limited number of applications.
"There is a huge market for tubing cutters as well as drill pipe cutters," says Karlsson. "We may eventually decide that we have to develop a completely new type of cutter."
For more information contact Staffan Karlsson, SwETech: telephone and fax +46 586 85831.
Copyright 1995 Offshore. All Rights Reserved.