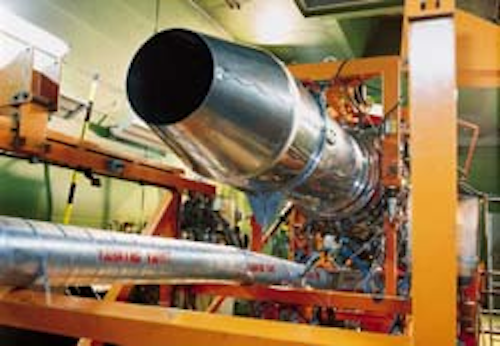 Timing is convenient, as turbine makes North Sea debut with NAM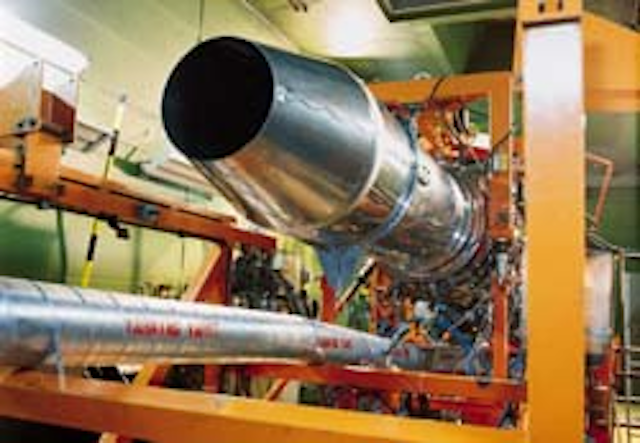 An LM1600 gas generator installed at Volvo's test cell early this year. By completing the cell correlation test, the company became a GE-authorized heavy overhaul facility for the LM1600.
Volvo Aero Support, the overhaul and repairs division of the Volvo Aero Corporation, has extended its capability in the field of repair and maintenance of gas turbines, an area of relevance to offshore operators.
The Arboga-based company recently received approval from General Electric for the test cell it has built for the LM1600 gas turbine, reports Martin Appelfeldt, director for gas turbines. The LM1600 test cell is the first in Europe and only the second in the world - the other is GE's own in- house facility.
The calibration test was run using a turbine supplied by GE itself. In addition to having an approved test cell for the LM1600, which forms part of level four of the manufacturer's overhaul and repair programme, Volvo is also approved at the fifth and highest level, which includes components repairs.
"This means we can develop our own repair schemes, or suggest modifications to the manufacturer's own programs," says Appelfeldt. "In either case our proposals have to be approved by GE or by the operator, if it is willing to accept responsibility."
Considerable savings can be made by repairing worn or damaged parts instead of replacing them, and Appelfeldt is keen to stress the importance given by the company to providing a high-quality repair service. By having this capability in-house, the company can also minimise turn-around times.
The test cell was due to be brought into commercial operation in June, testing the first of two 14.5MW LM1600 generators for a Spanish operator. Together with European Gas Turbines of the UK, Volvo has six separate maintenance contracts with Spanish clients, all involved in land-based operations.
The Swedish company which has opened an office in Zaragoza to support these contracts, provide an availability guarantee of 95%, and Appelfeldt says it is willing to offer the same terms to offshore clients.
The first LM1600 turbine for offshore duty in the North Sea has now been installed by the Dutch operator NAM. Others can be found on Shell's Champion 7 Field in Brunei and on the SANA semisubmersible production rig, which has four units.
The LM1600 has a power range well suited to gas pumping, according to Appelfeldt, who expects to see more units installed offshore. The model is already widely used on US and Canadian gas pipelines.
Meanwhile the company was pleased to see Statoil renew for five years its contract with Kvaerner Energy for maintaining the LM2500 gas turbines on its North Sea platforms. Volvo has a subcontract for the repair of components for these units.
It was also interested to see that Phillips has ordered two low-NOx LM2500 PJ turbines as part of the generator sets for its Ekofisk re-development project - this will be the first offshore use of this model.
Volvo has the Previously overhauled all three Allison 570 turbines already installed on the Ekofisk Field. The company is preparing to bid for the new contract where scheduled by Phillips.
It is an authorized overhaul and repair centre for the Allison 501, 570 and 571, as well as the LM1600. Its experience with gas turbines came originally from its engagement in the military sector, where it has more than 50 years' experience in engine maintenance and testing.
Together with its parent company, Volvo has full responsibility for engine maintenance for the Swedish Air Force, and also provides maintenance for the gas turbines used in the Swedish Navy's coastal corvettes and missile vessels.
It is also playing a part in the development of new gas turbines, providing maintenance expertise to the Eurodyn project in which Volvo Aero Corp is partnered by France's Turbomeca and Norway's Ulstein.
The 2-6 MW Eurodyn turbine is intended to challenge the dominance of diesel engines in a number of market sectors, notably fast transport on land and sea, and small-scale power generation. It will have a number of attractions for the offshore sector compared with diesel units, says Appelfeldt. These include low emissions, lighter weight and less frequent maintenance needs.
Gas turbines can already match diesels on efficiency, he says, but because of the small scale of production, tend to lose out on price.
Long-term prospects for gas turbines are bright, and Volvo AS is keen to play a leading role in providing efficient and proactive maintenance services.
For more information contact Martin Appelfeldt, Volvo Aero Support: telephone +46 589 816 95 or fax +46 589 126 72.
Copyright 1995 Offshore. All Rights Reserved.