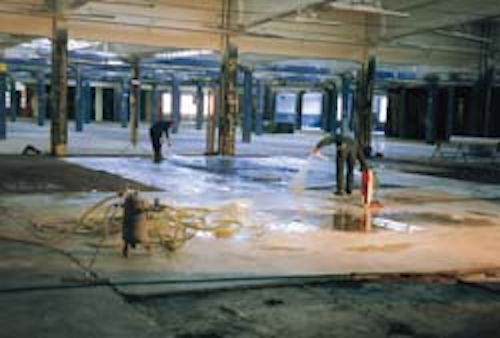 (Left) Cyvac technicians removed 20 cu litres of oil from the concrete floor of a disused factory. The oil had penetrated through the whole 42cm thickness of the floor.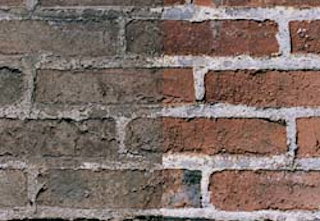 (Right) Before and after: the Cyvac effect on a brick wall.
Cyvac's cyclic vacuum method for treating concrete and other building materials is arousing much interest among potential offshore users.
The method offers the operators of concrete structures offshore the possibility of removing harmful agents which have penetrated the concrete and treating it to prevent new contamination. New structures can be sealed so that the problem never arises.
The method, for which a patent was expected to be granted around mid-year, works by creating a vacuum over the surface of the concrete which causes substances lying beneath the surface to vaporise. The vacuum can be controlled in such a way as to draw out substances or make them enter the concrete.
Last year Cyvac won the Skapa prize which is awarded annually in Sweden to companies with the best technical developments.
In addition to moving into new premises at Hoganas where it is installing a laboratory and test facilities, Cyvac has entered into a cooperation agreement with Stabilator, a subsidiary of the Skanska construction group, for which it is working as a concrete maintenance group. Cyvac is also cooperating with Norway's Rogalands Consultants.
According to marketing manager Kjell Karlsson, "Now we have learned how to remove oil from concrete and put in silane or alkylsilane as a deep working protection against water penetration. This helps to seal it off and improve its impregnability."
One of the jobs Cyvac has completed involved removing 20,000 litres of oil and other contaminants from the floor of a disused factory due to be converted into an indoor athletics arena. The oil had penetrated through to the underside of the floor, which Cyvac cleaned through its whole 42cm thickness, Karlsson says. It also tackled a problem of cracking in the parking decks of the Stockholm Globe Arena, which it impregnated with a special fine powder cement to create a seal.
The company sees opportunities in many areas for applying its still developing technology. These include a job it has programmed for later in the year which involves the removal of mercury from the floor of a paper mill bleaching shop.
Other possible tasks include the removal from concrete of such diverse substances as jet fuel, sulphuric acid and pesticide materials.
Karlsson points out the growing awareness by authorities that used concrete structures cannot simply be abandoned. Up to 60% of old concrete is already being re-used in Denmark, The Netherlands and Germany, he says. The signs are that Cyvac's growing expertise in cleaning and treating concrete will be in great demand before long.
For more information contact Kjell Karlsson, Cyvac: telephone +46 42 331750 or fax +46 42 331760.
Copyright 1995 Offshore. All Rights Reserved.