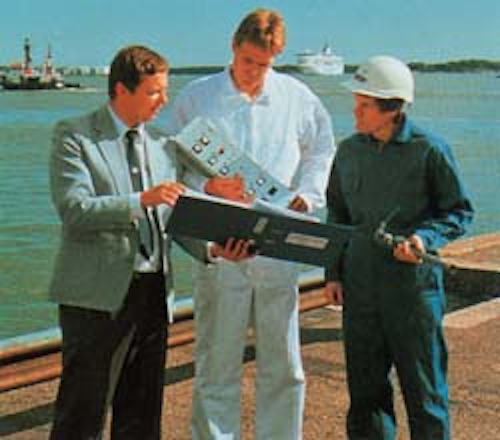 Schematic of Optec International's OILI analyzer.
A multi-channel version of the OILI hydrocarbon discharge monitor has been introduced by Optec International, Helsinki. In theory, the new system should be suited to offshore installations: Optec is searching for an oil company willing to `donate' a platform for trials.
OILI monitors were first developed in the early 1980s as continuously measuring, indicating and recording units for ballast or bilge water oil content. Measurements are performed using the principle of infrared absorption.
Samples for analysis are measured in a radiation section consisting of a broad-beam projector, a 3.4 micron filter, a flow cell and a multi-channel detector. Samples are compared with a reference specimen taken from the sample by means of ultra-filtration.
Evaluation is achieved by the detector converting the absorption values into electrical signals. The difference between these two measured values shows a linear relationship to the oil content. The signal is converted to load-dependent current from which two limit values are formed: the resultant ppm oil content is then indicated.
Optec's new OILI-MC system employs triple or quadruple infrared measuring channels, compared to the conventional twin detectors currently in use. Added signal processing permits smart monitoring of the hydrocarbon content. Also, the sample and sampling system condition can be monitored by its solids content, turbidity level or droplets size.
The improvements should lead to faster and more reliable detection of disturbances in process behavior. Closer analysis of the sample's spectral composition would be reserved for periodic or grab sample laboratory study.
Previously, hydrocarbon monitoring systems have been rejected by the offshore industry because of their excessive sensitivity to variations in, for instance, temperature and solids content. However, Optec claims that measurements with the new MC technique show a drop of sensitivity against salinity variations from 0.13 previously to just 0.0005 ppm/ppm. And the improved rejection against changes in water temperature and solids content is above 70%.
According to product manager Kaj Smeds, field trials have been performed in a paper mill, but now Optec needs a co-operative oil company to sanction tests on a platform or floating production vessel. "We can't do this in our laboratory," he says. However, the oil company's (presumably much bigger) laboratory would be used to mimic discharge of various oil types in water, or solids.
Having solved the problem for a certain type of field in these conditions, the next step ideally would be to mount an OILI-MC unit in a container, lift it onto the offshore installation and leave it running there for a month, before returning to the laboratory for further development work. Although the North Sea would be the most suitable application (in terms of local pressures on discharges), a calmer weather offshore arena might be more suitable for initial trials.
The analyzer would be placed in a non-hazardous area, with samples fed to it through a pipe. Smeds estimates a commercial system of this type for offshore use would cost around $100,000.
"With this measurement method," he adds, "the instrument would not be sensitive to any particular type of oil in water, so it wouldn't have to be calibrated for different types of oil. And because of the IR absorption, it's not sensitive to droplet size, unlike other monitors that work with light scattering or UV absorption."
Copyright 1995 Offshore. All Rights Reserved.