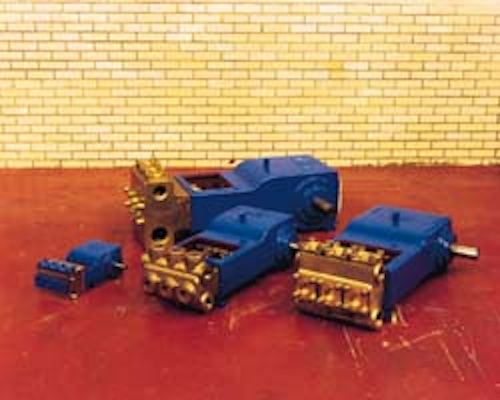 Dawson Downie Lamont's K range of plunger pumps.
Links between Scotland's engineering sector and the Indonesian oil industry go back several decades - long before the discovery of North Sea oil. Typical of the specialist Scottish suppliers is Clydebank-based Dawson Downie Lamont, which provides a range of reciprocating pumps which are used widely by the oil industry worldwide. The company has supplied more than 300 pumps to Indonesian installations over the past 40 years. Its highly specialized products are suited for high-pressure flows of liquids such as condensate and glycols.
At the Jakarta oil and gas show Dawson Downie Lamont will demonstrate its latest K range of plunger pumps (comprising 10 models) which are particularly relevant for offshore use.
Established 90 years ago to supply pumps to the Clydeside shipbuilding industry, the company subsequently diversified into supplying the oil industry which now represents 80% of its business. Development of North Sea oil over the past two decades has provided an additional outlet for its products in the UK, but exports continue to represent about 85% of total sales.
The company is part of the Birmingham-based BI group, as is Forth Tool & Valve, which has its plant at Glenrothes.
Forth Tool & Valve handles manufacturing of pumps based on designs produced by Dawson Downie Lamont engineers at Clydebank, where it also has its sales and pattern-making departments.
At the Jakarta show, Forth Tool & Valve will promote its specialist skills in weld overlays for valves and flanges. It also undertakes cladding on standard pipe lengths and associated fittings as part of a service designed to keep down oil industry costs.
Cladding of areas prone to corrosion was originally done by hand. But the company has developed machinery to perform the operation with good deposit rates, which has been put to the test in 12 years of serving North Sea operators.
Another Glenrothes company at Jakarta will be Prime Actuator Control Systems, which already has an agent in Indonesia and regards South East Asia as an important future market for products originally developed for the North Sea. The company specializes in supplying pneumatic and hydraulic actuators and control systems for rotary and linear valves, ranging from instrument size to the largest pipeline diameters.
It has taken advantage of new engineering techniques and materials to develop products which retain the integrity of original designs, but also offer price and weight advantages.
Copyright 1995 Offshore. All Rights Reserved.