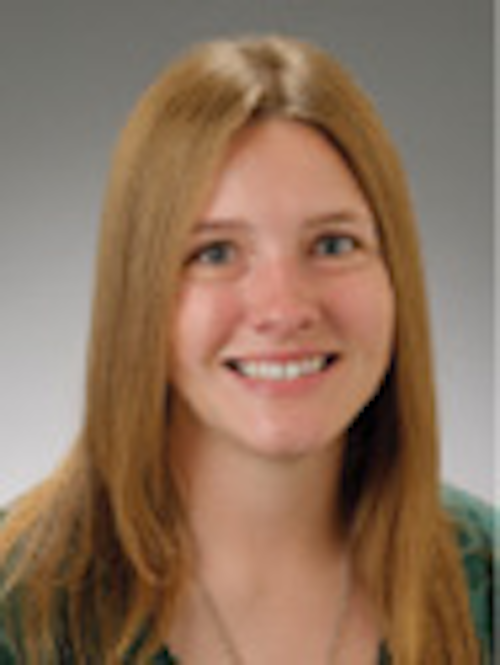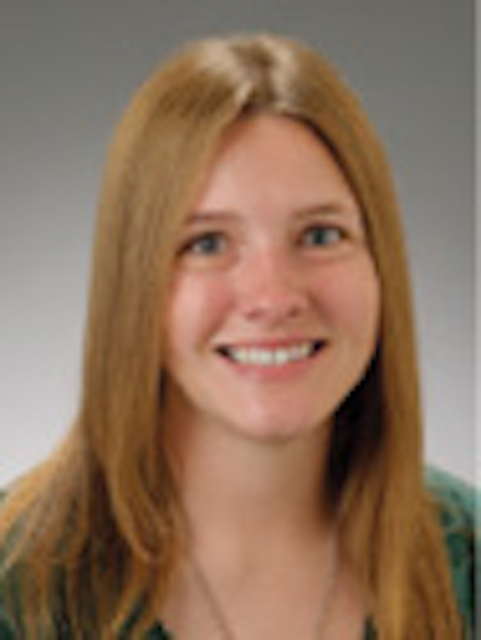 BrasFELS to construct presalt Sepia FPSO topsides
Keppel Offshore & Marine subsidiaries have secured two offshore construction contracts with a combined value of around S$70 million ($51 million).
MODEC has commissioned Keppel FELS to perform fabrication and integration of the topsides for the FPSO Carioca MV30. This will be the sixth FPSO collaboration between the two parties.
The BrasFELS shipyard in Angra dos Reis, Rio de Janeiro, will start fabrication of the modules during 4Q. When completed, the vessel will have capacity to process 180,000 b/d of crude and 212 MMcm/d of gas, with a crude storage capacity of 1.4 MMbbl.
The FPSO will be deployed at the Sepia field in the presalt Santos basin, 250 km (155 mi) off the coast of Rio de Janeiro.
In Singapore, Keppel Shipyard will convert an LNG carrier to a floating storage and re-gasification unit (FSRU) for an unnamed global operator of oil and gas production vessels. Aside from repair and life extension works, the scope involves shipyard engineering, installation and integration of the re-gasification module, and upgrading of the cargo handling system.
The FSRU, scheduled for delivery at the end of this year, will be able to re-gasify up to 750 MMcf/d of natural gas.
Tidewater, GulfMark to merge
The Tidewater Inc. and GulfMark Offshore Inc. boards of directors have unanimously approved a definitive agreement to combine the two companies in an all-stock transaction.
The combined offshore support vessel company will operate under the Tidewater brand. Upon the closing of the combination, the Tidewater board of directors will be expanded to 10 seats by adding three directors selected by GulfMark.
The transaction is expected to close in 4Q 2018, subject to customary closing conditions, including stockholder approval of the merger (by GulfMark's stockholders) and of the share issuance (by Tidewater's stockholders).
Tidewater President and CEO John Rynd said: "By combining our fleets and shore-based activities we will be better able to provide customers with access to modern, high-specification vessels while maintaining a strong commitment to safe operations and superior, cost-effective customer service.
"The transaction preserves Tidewater's strong financial profile and allows the company to fund both organic growth and possible additional acquisitions."
GulfMark President and CEO Quintin Kneen said: "At GulfMark, we have been longstanding advocates for consolidation of the OSV industry. This transaction is an important first step in that process. The combined company will be better positioned to build upon GulfMark's strong track record in the recovering North Sea region.
"The combined company's global operating footprint also provides scope for significant scale-based economies and improved utilization of our fleet by redeploying under-utilized vessels across the combined company's broader operating footprint."
SBM to adapt Fast4Ward concept for second Liza FPSO
Esso Exploration and Production Guyana Ltd. (EEPGL) has contracted SBM Offshore to perform front-end engineering and design (FEED) for a second FPSO for the deepwater Liza development offshore Guyana.
Following completion of the FEED and subject to government approvals and project sanction, the contractor will then construct, install, lease, and operate the FPSO for a period of up to two years. Thereafter, ownership and operation of the FPSO will transfer to EEPGL.
The second Liza FPSO design is based on SBM Offshore's Fast4Ward concept, a newbuild, multi-purpose hull combined with various standardized topsides modules. The FPSO will be designed to produce 220,000 b/d of oil with associated gas treatment capacity of 400 MMcf/d and water injection of 250,000 b/d. It will be spread moored in a water depth of around 1,600 m (5,249 ft) and will be able to store around 2 MMbbl of crude oil.
As for the FPSO Liza Destiny (Liza Phase 1), work is progressing according to plan, SBM said, with the vessel under conversion in Singapore.
Discussions are under way regarding a potential acceleration of the transfer of ownership to the client using the purchase option in the 10-year lease contract.
SBM is also examining options for maximizing local content and development of Guyana's workforce for the operating phase of both Liza FPSOs.
Blue Giant gets new owner
Harren & Partner has acquired the offshore construction vessel MV Blue Giant from the English operator, OIG Group. The company's Offshore Department, headed by Robert Fowler, will be responsible for managing the vessel.
Dr. Martin Harren, managing director of Harren & Partner, said: "Blue Giant is a cutting-edge vessel which represents an important enhancement of our diversified H&P fleet. It extends our scope of action to provide our customers with comprehensive, yet customized solutions."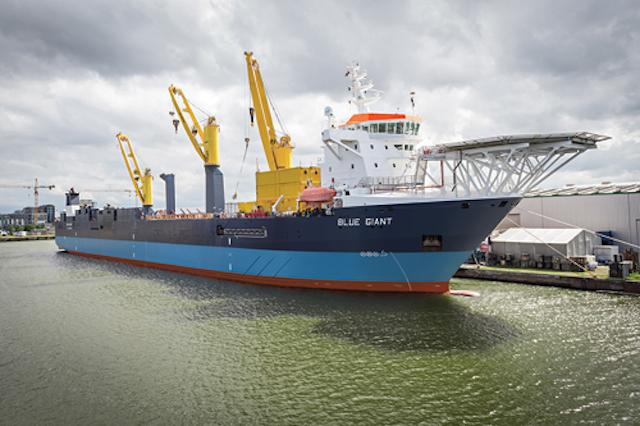 The MV Blue Giant will undergo a 10-year class renewal in Bremerhaven, Germany. (Photo by Jan Meier/courtesy Harren & Partner)
The 19.63-m (64.4-ft) long, 25.4-m (83-ft) wide vessel was built in 2008 at Lloyd Werft Bremerhaven, northern Germany. After it had completed various offshore and salvage projects in the Gulf of Mexico and close to the US Gulf Coast, OIG bought it in 2011.
Last year, the vessel was used for maintenance and repair work on a gas platform during the summer months in the Pechora Sea, off northern Russia.
Features include a combined crane capacity of up to 700 tons with one height extended crane up to 60 m (197 ft), a cabin block which can accommodate up to 200 people, a moonpool, a helideck and a fire fighting system that can reach 180 m (590 ft).
Keel laid for newbuild reel-lay vessel
The keel laying ceremony for Subsea 7's new reel-lay vessel Seven Vega was held recently at Royal IHC in Krimpen aan den Ijssel, the Netherlands.
Stuart Fitzgerald, executive vice president Strategy and Commercial at Subsea, 7 claimed the Seven Vega would be "one of the most capable and cost-effective reel-lay vessels in the market…
"It has been designed to deliver economical technologies that address the growing market trend towards longer tieback developments.
"The vessel's cutting-edge pipelay system…will be capable of installing complex rigid flowlines including pipe-in-pipe systems and electrically heat traced flowlines in water depths up to 3,000 m [9,842 ft]."
The Seven Vega was named after one of the brightest stars in the northern sky. The vessel is due to join the company's fleet during the first half of 2020. •