Vessels, Rigs, & Surface Systems
Borr's strategy assisting jackup market recovery
Jul 1st, 2018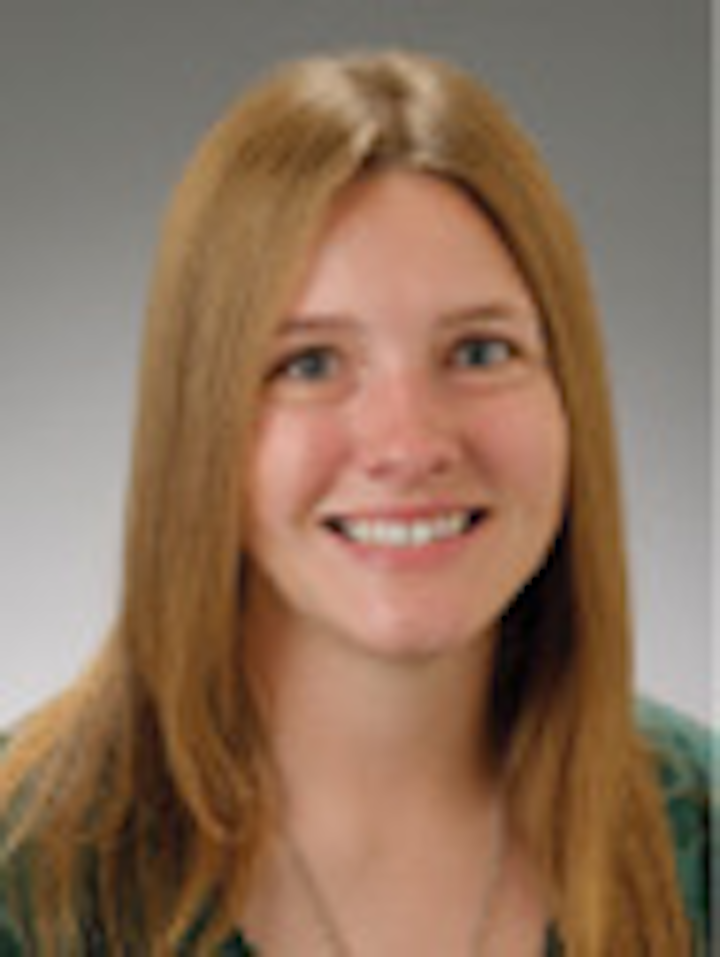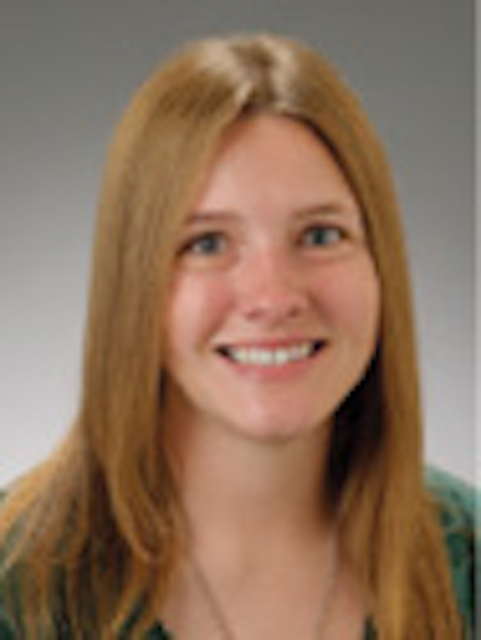 Borr's strategy assisting jackup market recovery
If all jackup drilling rigs more than 35 years old were retired in the short term, Borr Drilling would have the world's largest and youngest jackup fleet, according to recent report from Rystad Energy. In that case, market utilization rates would surge to 89% by 2020, the analyst claims, exceeding rates experienced during the period before the downturn.
"From the outset, Borr's founders were betting on a market whose recovery was often posed as an 'if' rather than 'when' by other voices in the industry," said Oddmund Føre, Rystad's vice president of Offshore Rig Analysis. "Now, as recovery does seem to be on the horizon, our analysis shows that Borr's strategy has put them well positioned to take advantage of improving market conditions."
Over the past 18 months, Borr has risen from a newcomer in jackups to one of the market's largest contractors. It took advantage of the depressed jackup market by acquiring premium newbuild rigs at reasonable prices, making strategic moves for distressed assets. It has also pursued an aggressive rig retirement program, opting (along with Paragon) to scrap 26 aging jackups this year, compared with the total of 17 units retired by all contractors last year.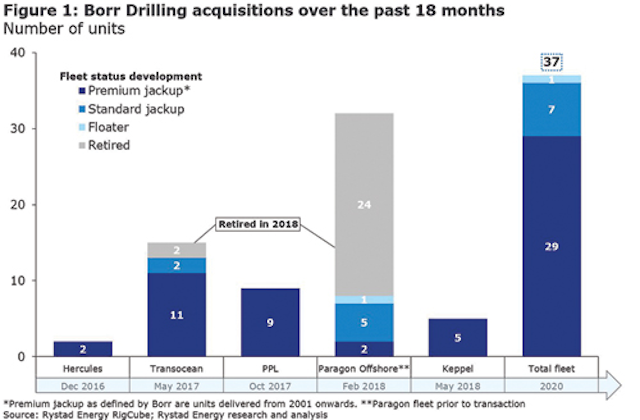 "As Borr positions itself for the long term, its rig attrition program is also helping the entire jackup market by pushing up utilization levels," Føre said.
Following the sector's low point in 2017, new infill and workover drilling programs are driving jackup demand along with exploration drilling, and this trend should continue as cash flows improve in a higher oil price and lower-cost environment.
"We expect demand to reach 294 units in 2018, up from 280 units in 2017," said Føre. "Further in the future, we expect to see slow but steady improvement towards 2020, with demand reaching some 327 rig years."
However, Rystad warns that the outlook for jackup utilization remains flat, due mainly to the high number of old rigs still in the market.
"While it is unlikely that all rigs over 35 years will be retired, it illustrates that recovery in utilization is achievable, though not without some cuts," Føre said. "Not only is the company's fleet newer, but it has...positioned itself well for underserved markets like West Africa."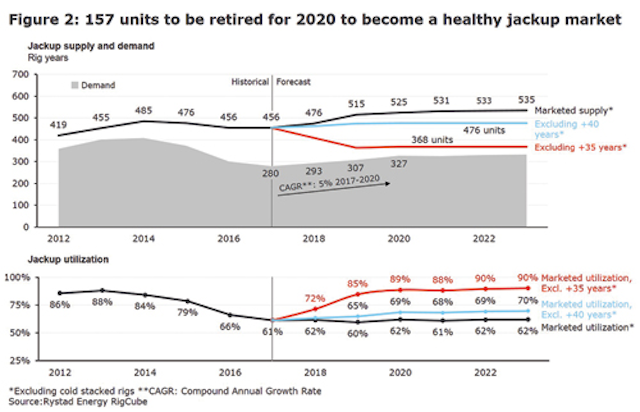 Figure 2 depicts the scenarios if rigs more than 40 and 35 years old, respectively, were retired in the short term.
In addition, the drilling contractor recently took delivery of its second jackup, SKALD, from Keppel FELS. It follows delivery earlier this year of the SAGA: eight more rigs are on order.
The SKALD, built to the KFELS Super B Class design, can operate in 400 ft (122 m) water depth and drill to 35,000 ft (10,669 m). It features cantilever skid-off capabilities, with a maximum combined cantilever load of 3,700 kips, and high capacity hook loads of 2 million lb.
Chris Ong, CEO of Keppel Offshore & Marine, said: "We have leveraged the synergies of working on multiple rigs for Borr Drilling to improve efficiency and ensure an on time and on budget delivery."
Flex-lay vessel begins long-term charter with Petrobras
The Skandi Recife, a Brazilian-flagged flexible lay and construction vessel owned by the 50:50 TechnipFMC/DOF joint venture, has started an eight-year charter contract for Petrobras. The vessel is equipped with a 340-ton vertical lay system tower, a 2,500-ton under deck carousel and two work-class ROVs, allowing it to lay flexible pipes in water depths up to 2,500 m (8,202 ft).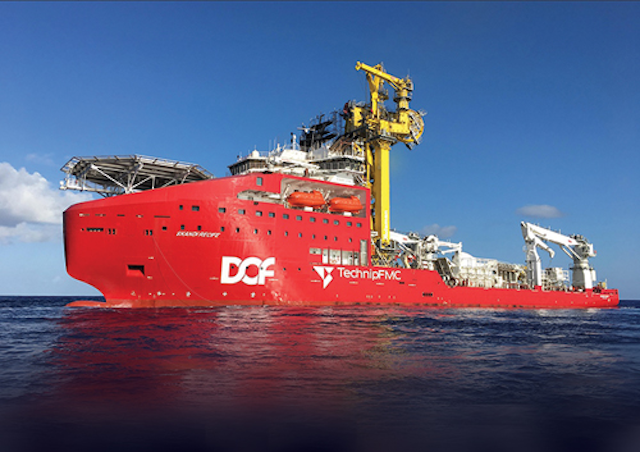 The Skandi Recife will work in the Campos, Santos, and Espírito Santo basins offshore Brazil. (Image courtesy TechnipFMC)
TechnipFMC will manage flexible pipelay, while DOF will be responsible for marine operations.
The vessel was built by the Vard Promar Brazilian yard, where sister ship Skandi Olinda, is currently under construction.
COSCO to transport Vito semisubmersible FPU
Shell has commissioned COSCO Shipping Specialized Carriers to transport the Vito floating production unit (FPU) to the Gulf of Mexico.
The Vito semisubmersible FPU will be fabricated and integrated by Sembcorp Marine Rigs & Floaters Pte. Ltd. in Singapore and then transported to the Gulf of Mexico onboard COSCO's M/V Xin Guang Hua.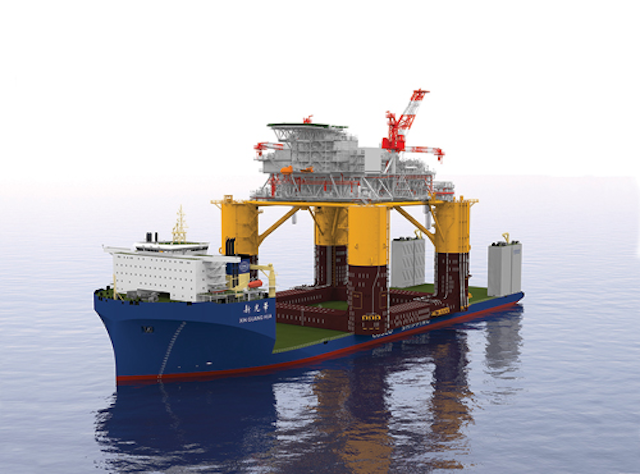 COSCO's M/V Xin Guang Hua will transport the Vito FPU from Singapore to the Gulf of Mexico. (Illustration courtesy COSCO Shipping Heavy Transport)
The Vito contract is the third project to be awarded to COSCO Shipping since the establishment of an enterprise frame agreement between the two companies in 2014.
Supported by the Vito FPU's four-column semisubmersible hull, the topsides are expected to weigh 9,200 metric tons and are designed to produce 100,000 b/d of oil and 100 MMscf/d of gas.
The Vito development is owned by Shell Offshore Inc. (63.11%, operator) and Statoil USA E&P Inc. (36.89%).