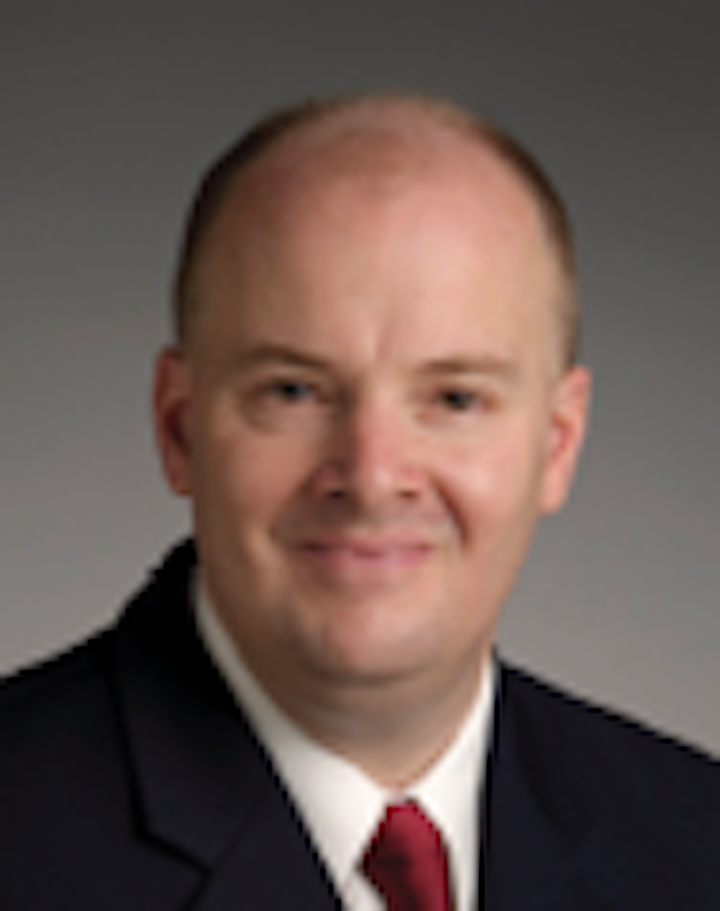 Bruce Beaubouef • Houston
Offshore drillers have busy July
Offshore drillers signed 59 new contracts in July, including 16 for terms of one year or more, according to Evercore ISI's "Offshore Rig Market Snapshot" of August 2018. The report notes that jackups accounted for 10 of July's term contracts, with four Rowan units receiving new three-year contracts from Saudi Aramco as the Kingdom has accounted for 55% of all term jackup contracts this year-to-date.
On the floater side, Evercore says that term contracts had largely been limited to harsh environment semis for the North Sea and Canada, but are beginning to materialize for ultra-deepwater drillships as well. Of the 14 contracts signed for August thus far (tracking ahead of 10 at this time last year), two of three term contracts are for floaters including a new six- to eight-well contract (16 months) for a midwater harsh environment semi offshore UK and a one-year option on the UDW drillship Pacific Santa Ana for offshore Mauritania.
The consulting firm says that it views the return of deepwater activity in emerging markets such as Mauritania and Equatorial Guinea as a positive step in the offshore rig market recovery, noting that shallow-water demand is growing offshore Turkey and other emerging markets as well.
In addition, Evercore reports that a term contract has recently been awarded for a newbuild jackup. Japan Drilling's Hakuryu-14 was delivered by Singapore's PPL Shipyard in January and will begin its maiden contract for Pertamina offshore Indonesia later this month. One of three rigs scheduled to commence new contracts offshore Indonesia imminently, the country's backlog has recovered nicely over the past two years and could continue to absorb incremental supply with two outstanding tenders currently.
FAR finalizes location for offshore The Gambia well
FAR has selected its final well location for the Samo-1 well in block A2 offshore The Gambia, the first in the region for 40 years. This follows reprocessing and interpretation of 3D seismic data, detailed mapping of the Samo prospect and detailed well engineering.
Samo is in the Mauritania-Senegal-Guinea-Bissau-Conakry (MSGBC) basin, to the south and along trend from the deepwater SNE oil field offshore Senegal.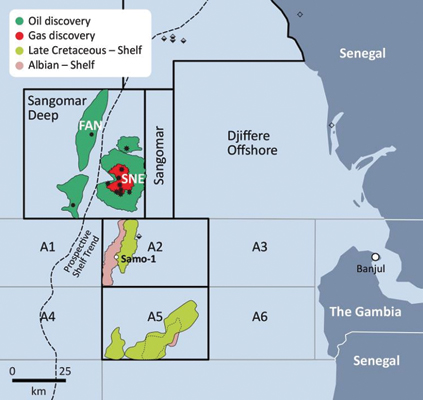 The Samo-1 well offshore The Gambia will be the first in the region in 40 years. (Courtesy FAR)
The well will be drilled 112 km (70 mi) offshore Gambia in 1,017 m (3,336 ft) water depth, with two main targets; an upper reservoir interval (the same that contains liquid-rich gas at SNE) and a lower reservoir interval that delivered oil at SNE.
Combined prospective resources within the two intervals are estimated at up to 825 MMbbl.
Interpretation indicates good quality reservoirs at both levels at the proposed location and the well will be drilled on the crest of the structure, with the drillship Stena DrillMax probably starting operations in early 4Q.
Drilling should last around 40 days, assuming no complications.
Maersk to list drilling division as standalone operation
A.P. Moller-Maersk believes listing Maersk Drilling as a standalone company presents the best way forward for the company, allowing it to continue as globally operating offshore drilling company with long-term development prospects.
The process is under way for the listing in 2019, with debt financing of $1.5 billion secured from a consortium of international banks to ensure a strong capital structure after the listing.
Chairman of the A.P. Moller-Maersk Board of Directors Jim Hageman Snabe said: "The Maersk Drilling team has done a remarkable job operating the business at a time of high uncertainty and is well positioned to become a successful company on Nasdaq Copenhagen." •