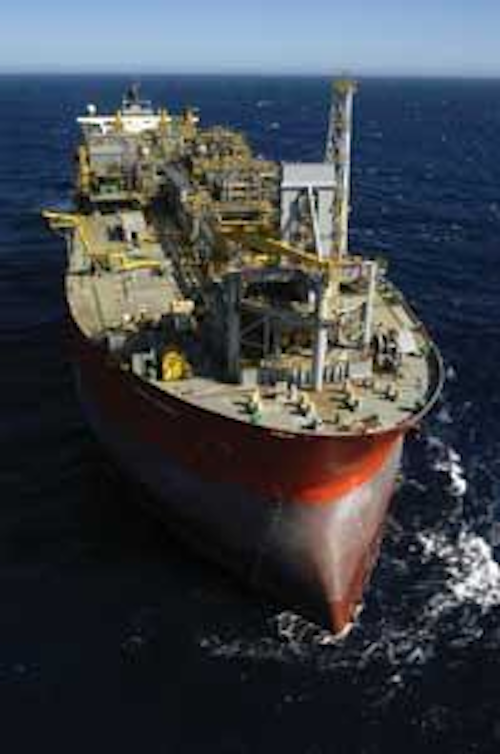 Producing oil in Brazil independently of Petrobras
Peter Howard Wertheim, Contributing Editor
Devon Energy Corp. became the first company to produce Brazilian oil without being associated with state-owned Petrobras, when it announced first production from Polvo field in the Campos basin, offshore Rio de Janeiro, in July 2007.
Petrobras held an E&P monopoly in Brazil for 44 years. The first foreign companies to produce oil in Brazil since the deregulation of the market a decade ago did so in partnership with Petrobras. Royal Dutch Shell partnered with Petrobras in Bijupirá-Salema field that came onstream in 2003, and Spain's Repsol YPF became Petrobras' partner in Albacora field during 2006. These fields are all in Campos basin, the most prolific exploration site, responsible for more than 80% of the country's total production.
Polvo production started at 5,000 b/d 19° API gravity oil from the first well and output was doubled soon after from a second well. Polvo field reserves are estimated at 50 MMbbl and gross production is expected to peak during 2008 at approximately 50,000 b/d of oil.
Polvo field was discovered in 2004, in approximately 104 m (341 ft) of water on block BM-C-8. Devon won the area in the second bidding round held in 2000 and is operator with a 60% stake in partnership with South Korea's SK Corp. (40%).
"Development of the Polvo discovery was a significant engineering project carried out efficiently within a rapid three-year discovery-to-production cycle time," says Stephen J. Hadden, Devon's senior vice president of exploration and production.
Due to mechanical issues, the production ramp-up was not as quick as Devon expected. "However, we're pleased from what we've learned from drilling the first wells. We believe our estimates for Polvo are solid, but it will take longer to reach peak production," Hadden says.
High oil prices coupled with a shallow water project that did not require a technological frontier resulted in a scaled down field concept. According to Murilo Marroquim, president of Devon Energy in Brazil, the company invested $300 million to develop Polvo. He says the final figure would only be available when the last well begins producing.
According to Devon, the reservoir is Cretaceous Macae/Quissama around 110 million years old. Carbonate shoals was the type of structure found with conventional methods, combining 3D seismic, geological mapping, and well control. Water is the drive. Porosity averages 19-24% and permeability was over 1 darcy.
Polvo's first phase is forecasted to last seven years. During this period, oil production will decline quickly, while water will rise. The expectation is that by 2009 the oil will correspond to half of the production – 30,000 b/d of oil and 30,000 b/d of water.
The fixed platform
The area was developed by a fixed drilling and production platform installed in December 2006 in 105 m (344 ft) of water. The facility can handle 100,000 b/d of liquids, and produce up to 50,000 b/d of oil and 5 MMcf/d of natural gas.
The four-leg wellhead platform jacket with eight skirt piles was fabricated by Kiewit Offshore Services in Corpus Christi, Texas.
BJ Tubular Services was contracted by Devon Energy to undertake hydraulic and diesel 40-ton (36-metric ton) hammer services. The company has provided computerized drive prediction analysis on the conductors. Operations began last March and were supported by BJ Tubular Services personnel from Macaé, near Campos basin and by BJ in Lafayette, Louisiana.
"We drove 24-in. (61-cm) diameter pipes to 11 m (36 ft) in 11 wells. The project included connection to 13 wells (10 production and three injection). The work started in March 2007 and was completed in June," says Arnold Heijmann, the company's operations manager.
Production flows unseparated from the fixed platform to the FPSO for processing and storage. Electric submersible pumps move it from wells.
The 10-in. (25-cm) lines carry crude from the platform to the FPSO and injection water (100,000 b/d) from the FPSO to the platform.
Excel Engineering participated in the design and engineering for the fixed platform, where a new rig structure support, a skid base with integral tanks was installed. The company also developed performance specifications for thePolvo FPSO.
FPSO Polvo
The VLCC MTAppollo, at 257,865 dwt was converted into the Polvo FPSO in Singapore at Keppel FELS yard. It arrived in Campos basin in April 2007. The vessel was chartered for seven years with an option to extend for up to 15 years through a $271-million contract. The fasttrack schedule (14 months) required the use of a 3D plant design management system.
ABB completed the design and engineering of the topside modules in 2006 and ABB Lummus Global Singapore was responsible for the project, which was awarded by Prosafe Production Services Pte Ltd. in November 2005.
The FPSO specifications are for production separation, water treating, power generation, and production storage operations involving 150,000 b/d of total well fluids. The gas compression capacity is 7.5 MMcf/d and offload is 850,000 b/d.
The FPSO has two trains to receive production from the fixed platform. One module separates and stabilizes the crude and the other treats the water for re-injection.
The turret-moored FPSO, anchored 1.5 km (0.9 mi) from the fixed platform, has two cranes, 90,000 b/d of oil processing capacity, 1.6 MMbbl of oil storage capacity, and handles 135,000 b/d of water.
According to Devon, produced natural gas will provide energy for the FPSO and for the fixed platform. Electrical power is generated by three deck-mounted boilers providing steam to three turbine alternators (generators) with a potential maximum power output of 36 MW.
Local content
The Polvo project met the 40% local content commitment (goods and services provided in Brazil). The percentage of local content that the oil company commits to bidding is one of the principal criteria used by the ANP to grant a concession.
Some of the Brazilian companies with equipment in Polvo are: Confab Industrial SA (conductors and coatings), Enaval Engenharia Naval Ltda. (manifolds), Cameron do Brasil (wellheads and christmas trees), and Technip Engenharia do Brasil (flexible lines). Among the services suppliers is Petroserv (platform and well operation) and Brasco (offshore support base).
For comparison, Petrobras' 2006-2010 strategic investment plan calls for 65% of equipment and services to be sourced from domestic suppliers, equivalent to an average of $6.4 billion/year, while about $3.5 billion/year will be sourced from foreign suppliers.
Although foreign suppliers may be more price-competitive and offer advanced technology not yet available in Brazil, foreign companies are encouraged to seek partnerships with local suppliers and to establish after-sales technical support in Brazil.
Taxes
One principal complaint of private sector oil companies in Brazil is the cumbersome tax system.
In 1999, the Brazilian federal government implemented tax benefits, called Repetro, to stimulate investment in upstream activities. In July 2004, the ANP extended Repetro to 2020, a move applauded by oil companies.
These provisions reduced the operating costs of oil and gas E&P during the initial exploration phase by suspending federal taxes, such as import duty and excise tax, on the importation of goods and equipment for the term of the concession contract, as long as the equipment is returned to its country of origin at the end of the period.
Following the policy set forth in Repetro regulations, the National Council of Fiscal Policy, through Agreement 58/99, authorized the states to exempt the equipment imported through Repetro from the state value added tax.
Devon says it took advantage of Repetro.
Another concern by private oil companies in Brazil is its tough environmental regulations and the length of time it takes Ibama, the federal environmental agency, to grant the go ahead for a project.
Production at Polvo field only started after the project was licensed for operation on July 24, less than one week after Ibama returned to work after a two-month strike.
E&P investments
Devon wants to add from 390 MMboe to 410 MMboe to its worldwide reserves during 2008. Its total global 2008 exploration and drilling spending forecast of $6.1 billion to $6.4 billion is up from $5.8 billion in 2007.
At least $775 million is allocated for the leasing of Transocean Inc.'s fifth generation ultra deepwater drillshipDeepwater Discovery, which is expected to arrive in Brazil by the end of 2008 or the beginning of 2009. Contracted at a cost of $425,000/day, Discovery will explore in Camamu, Barreirinhas, and Campos basins.
During the seventh ANP Round in 2005, Devon acquired 100% stake in BM-CAL-13 block, in Camamu-Almada, basin northeast Brazil, offshore Bahia state. Further north, in Barreirinhas basin, offshore Maranhão state, Devon acquired the BM-BAR-3 block in 2002 (fourth ANP Round) and has a 70% stake in partnership with SK Energy (30%).
Besides the BM-C-8 block where Devon found Polvo, the company acquired concession for six blocks in Campos basin in partnership with other oil companies.
In block BC-2, from the 1998 round known as Bid Zero, Petrobras, the operator, has the same interest stake (41.18%) as France's Total, while Devon has the remaining 17.64%. Traces of hydrocarbons were found in 2002 and 2003 at 2,437 m (7,995 ft) and 2,625 m (8,612 ft) water depths.
In BM-C-30 block, where Devon has a 25% stake, Anadarko is the operator with 30%, in partnership with Canada's EnCana (25%) and SK Corp. (20%). The block was acquired during the sixth round (2004) with a minimum exploration program to end in December 2008 with the right for an extension until 2010. The drilling of one well is scheduled for the period.
In BM-C-32 block, also acquired in 2004, Devon is the operator with 40% in partnership with Anadarko (33.33%) and SK Corp. (26.67%).
The BM-C-34 block has been divided into two areas: C-M-471 and C-M-473. Both areas are operated by Devon (50%) in partnership with Petrobras (50%). The concession was granted during the seventh round in 2005 and the minimum exploratory program lasts until 2010 with the right for an extension.
The BM-C-35, another concession acquired in 2005, is under the same minimum exploratory program (up to 2010) and Petrobras is the operator (65%) while Devon has a 35% stake.