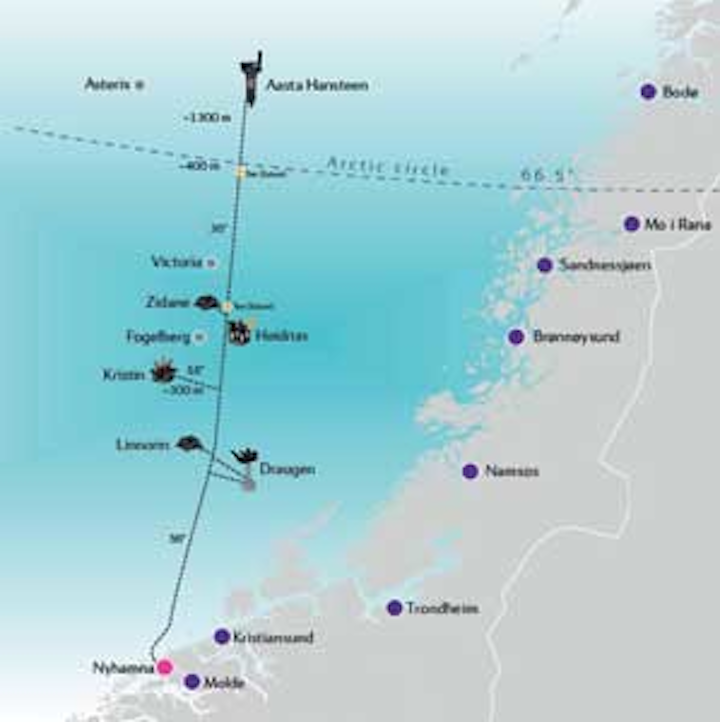 Nick Terdre
Contributing Editor
Norway's parliament (Storting) has approved a major new subsea pipeline to export gas from fields in the Norwegian Sea. The Polarled system calls for investments of NOK 25 billion ($4.2 billion).
Although Norway has an extensive subsea pipeline network of nearly 8,000 km (4,971 mi) for delivering gas to northern Europe and the UK, only two lines currently connect Norwegian Sea fields off mid-Norway to the transportation network in the North Sea. One is the Åsgard Transport System (ÅTS), serving the cluster of fields around the Åsgard and Kristin complexes in the Halten Bank region as well as Heidrun and Norne further north, and running to the Kårstø terminal in west Norway. The other is the dedicated pipeline from the giant Ormen Lange gas field to the Nyhamna terminal on the mid-Norwegian west coast. From there, the Langeled subsea pipeline system takes the gas southwest, connecting to the North Sea network.
However, as more gas discoveries have emerged in the Norwegian Sea, the need has grown for a new export trunkline to address capacity constraints. During the previous decade when BP and Statoil were planning the joint development of the Skarv and Idun fields in the north area of the Halten Bank, the gas export route was a key issue. Due to insufficient spare capacity in the ÅTS, they were obliged to build a dedicated pipeline to serve these fields, which came onstream at the end of 2012.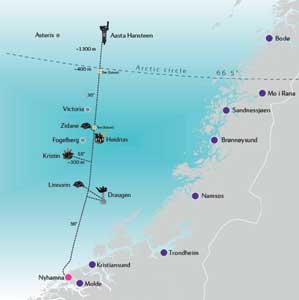 Polarled, running from the Aasta Hansteen field within the Arctic Circle to the Nyhamna terminal on Norway's west coast, will offer a new export route for gas in the Norwegian Sea. (Image courtesy Statoil)
Stepping stone to new era
While Skarv and Idun have sufficient gas to warrant a dedicated pipeline, many of the undeveloped discoveries in the Norwegian Sea do not - they are only likely to go forward for development if they can connect to transport infrastructure. So Polarled will open a lot of new opportunities, according to Brian Bjordal, CEO of Gassco, the independent operator of Norway's gas transportation system. "It's very important for us; it's a stepping stone to a new era, the most important one since Ormen Lange and Nyhamna."
And it requires an undertaking of some magnitude to open up this new era - the joint price tag of some NOK 57 billion ($9.7 billion) for Polarled and Statoil's associated Aasta Hansteen field development, also approved in June, makes these among the biggest industrial projects currently under way anywhere in Europe.
The 36-in. Polarled pipeline will run 482 km (300 mi) from Aasta Hansteen in block 6707/10, just inside the Arctic Circle, down to Nyhamna. The route takes it across the Halten Bank close to a number of discoveries that could potentially be tied in. So far Aasta Hansteen is the only field committed to using Polarled. In the early stages of planning, Norske Shell's Linnorm field was also seen as a contender, but Shell has since expressed concern about Linnorm's economics, and development may hinge on an appraisal well to be drilled this summer on the nearby Onyx South field.
However, RWE Dea has declared its intention to use Polarled for gas from its Zidane discovery in block 6507/7, which it plans to tieback to Heidrun. Other candidates are Centrica's Fogelberg in 6506/9; and Total's Victoria in 6506/6; and Statoil's Asterix find in 6705/10.
The waters have been muddied somewhat by the Norwegian government's recent decision to reduce the uplift available in the tax system, which would increase the tax burden on new projects. However, projects for which development plans had been filed prior to the tax announcement, including Aasta Hansteen and Polarled, will not be affected.
Ownership issues
Establishing a commercial basis for Polarled, previously known as the Norwegian Sea Gas Infrastructure project, was not straightforward, Bjordal explained. "This was not a total greenfield project. There was a lot of interfacing involved. The project assumes the participation of several fields, not just one, and bringing together all the various stakeholders is always a challenge. From that perspective it has been very complicated."
Some of those originally involved - Centrica, E.ON Ruhrgas, and ExxonMobil - dropped out, while RWE Dea joined in at a relatively late stage. Currently there are 10 owners, with Statoil holding by far the largest stake (50.33%), while Petoro, which manages the state's direct financial interest in petroleum assets, has 11.95%. The other participants are ConocoPhillips, Edison, GDF Suez, Maersk, ÖMV, RWE Dea, Shell, and Total. Gassco, which is purely an operating company, does not have a stake.
It has not yet been decided if Polarled will be part of Gassled, the joint venture which owns most of Norway's gas transportation system, Bjordal said. A decision may follow closer to the project completion date.
Polarled's capacity is 70 MMcm/d (2.5 bcf/d), which provides plenty of spare capacity over and above the needs of Aasta Hansteen and other likely early users. But exploration in the region is making great strides, and it is reasonable to expect that further gas discoveries will be forthcoming within Polarled's catchment area. Preparations will be made for future tie-ins, including Linnorm, which would be developed via Shell's Draugen platform, and Zidane via Statoil's Heidrun platform, and for spur lines connecting at points 60 km (37 mi) and 173 km (107 mi) south of Aasta Hansteen.
Another link to the ÅTS will be created through installation of a 30-km (18.6-mi), 18-in. spur line from Statoil's Kristin platform. This will have the prime function of taking potential spill-over volumes for which there is no capacity in the ÅTS, Bjordal said. By transferring them to Polarled, they will be able to use spare ullage in the Langeled system.
Norway's long-term role
Statoil took over implementation of the project from Gassco in late 2011. By opening up a new region and facilitating further exploration and development, Polarled will contribute substantially to maintaining the role of the Norwegian continental shelf as a long-term, reliable gas supplier, said Håkon Ivarjord, project director for the Polarled Development Project.
Main contracts for Polarled have already been awarded, including detailed pipeline design to Danish engineer Ramboll and pipelay to Allseas Marine Contractors under a $121-million contract. Allseas will use one of its fleet of dynamically positioned monohull lay-vessels. Pipelay, which will start with a pull-in at Nyhamna, is scheduled for 2015.
A major challenge will be laying the pipe in the vicinity of Aasta Hansteen, where water depths are close to 1,265 m (4,150 ft). The combination of depth and the pipeline's large diameter will make this a world installation record, according to Statoil.
"The primary challenge is the large tension caused by the heavy pipe and the deepwater," Ivarjord explained. "The installation vessel must have the capability to securely and precisely hold the heavy pipe during installation, and with sufficient redundancy. As the pipe is held entirely by friction between 'moving belts' and the pipe coating, extensive trials will be held prior to the operation to ensure that this will be achieved."
Another issue is the uneven seabed, marked by large ice scours, which will necessitate either intervention in the form of rock-placement or the removal of peaks to avoid excessive free spans.
The Marubeni Itochu/JFE joint venture in Japan will manufacture around 325,000 metric tons (358,251 tons) of line pipe under a $322-million contract. The pipe will be shipped to Wasco, part of the Wah Seong group in Malaysia, where flow coating will be applied on the inner wall and anti-corrosion coatings on the outer wall. Pipe sections will be transported to a facility to be set up by Wasco at Mo i Rana in mid- Norway, where a concrete weight coating will be applied and bracelet anodes installed. Wasco's contract is valued at $193 million, and the company has a further option to supply and coat the line pipe for the Kristin spur line.
The choice of Mo i Rana will bring many benefits, Statoil said, including good harbor facilities, existing infrastructure for heavy load transport, and available storage areas. In addition, there will be some direct delivery of pipes from Japan to Europe and from Mo i Rana to other European destinations for special purposes. There will be 10 main combinations of pipe dimensions/coating type/anode type and around 20 "special items," including four types of buckle arrestors.