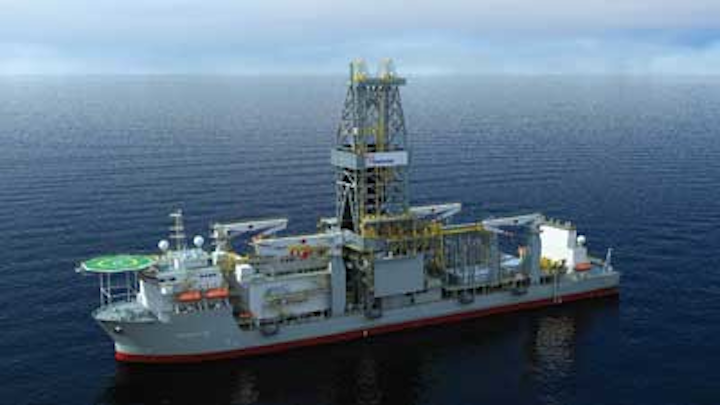 Strong market leaves room for older assets
Russell McCulley
Senior Technical Editor
A couple of things stand out when comparing rig statistics from this year's list of the Top 10 drilling contractors and last year's list. First, the total number of rigs managed by the leading drillers fell, from 581 at the start of 2012 to 538 at the end of the year, and the number of working rigs operated by those companies also decreased by about 10%, from 400 to 361, according to the research firm IHS Petrodata. The second is the debut of Shelf Drilling, the Dubai-based startup that landed a spot at number seven on the Top 10 list with last year's $1.05 billion purchase of 37 shallow-water jackups and one swamp barge from Transocean.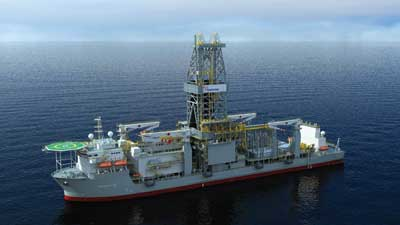 Transocean is building four new ultra-deepwater DP drillships, like the as-yet-unnamed model depicted in this rendering, which will be leased to Shell under four 10-year contracts worth a total of $7.6 billion. The rigs will be built at the Daewoo Shipbuilding and Marine Engineering yard in South Korea, with delivery of the first scheduled for 2015. (Image courtesy Transocean)
The winnowing of the fleet and the sudden appearance of Shelf are part of the same trend, as the major drilling contractors divest older assets and cultivate fleets of high-spec, ultra-deep drilling units that can command top-dollar day rates and tackle the technical challenges of exploration and production in harsh and remote environments. It's a process of "high-grading" that analysts expect to continue for months to come.
"Several established drillers have said the future lies in newer and higher-spec assets," says Brad Handler, managing director of equity research for oilfield services and drilling at Jefferies & Co. "It allows them to distinguish themselves in a competitive market," where a number of new drilling services companies have captured market share from the big drillers. "They're high-grading their fleets with newbuilds and the divestment of older assets."
The Transocean-Shelf deal, finalized in 4Q 2012, was the most prominent in a year marked less by headline-grabbing mergers and high-stake deals than by quieter, one- and two-off transactions. The divestment of Transocean's lower-spec jackups, most of which have been in service since the late 1970s and early 1980s, is "a good example of the major contractors rationalizing their fleets" as well as a measure of the perceived strength of the jackup market going forward, says Tom Kellock, an offshore rig consultant with IHS. Companies like Shelf—led by a team dominated by former Transocean executives - "feel that these middle-aged jackups still have some life ahead of them," he says.
Analysts expect to see more divestment of older rigs in coming months, if not a package deal as attention-getting as Shelf's. In December 2012, Noble Corp. announced the $79 million sale of two standard jackups, the 300 ft (92 m) water depth capableNoble Lewis Dugger and the 150 ft (46 m) depth capable Noble Don Walker, to private companies in Mexico and Nigeria, respectively. Noble has five ultra-deepwater drillships and six high-spec jackups under construction, with delivery slated to begin this year; by 2015, the company expects to derive 40% of its revenue from ultra-deepwater drilling, up from 24% in 2011, and to reduce its proportion of income from standard jackups to 23%, from 33%.
"There's a sense that we will see a pretty steady retirement of these older assets," says Handler. "What's interesting is, that sense of obsolescence is being forestalled by pockets of interest in places such as India, Mexico, and Southeast Asia, where we're seeing a broadening of demand for standard jackups."
The utilization rate for high-spec jackups, which Handler describes as those less than 15 years old and capable of operation in depths of 350 ft (107 m) or more, stands at 98%; after peaking at near full utilization in 2005, before a number of newbuilds hit the market, the global utilization rate for standard jackups has been "hovering at around 90% for a year and a half," he says.
"We see a bifurcation, for sure, between standard and premium jackups," Handler comments. "But utilization is nevertheless pretty strong on the standard side. That's been a little bit of a surprise for us."
Building boom
With no deals on the scale of the 2011 Ensco-Pride International merger on the horizon, the leading drilling contractors are looking for growth in ambitious newbuild programs with a focus on standardization. Transocean has two ultra-deepwater drillships - theDeepwater Asgard and Deepwater Invictus - and three high-spec jackups under construction, and in September 2012 announced that it would build four DSME ultra-deepwater drillships on the back of four 10-year contracts with Shell worth $7.6 billion. Construction on the first of the four drillships is to begin later this year.
"Our asset strategy is straightforward," Transocean CEO Steven Newman told analysts in a November 2012 conference call. "We have a clear objective to gradually reduce our exposure to lower-specification, less-differentiated assets, and increase our exposure to high-specification assets, both jackups and floaters…We also anticipate continued progress in the sale of individual non-core assets, both floaters and our remaining standard jackups."
As of mid-December 2012, the Top 10 offshore drilling contractors had a total of 66 mobile offshore drilling units under construction, according to IHS Petrodata. Seadrill, with 22 units currently in the yards, leads in the number of rigs under construction.
In late July 2012, Ensco took delivery ofENSCO 8506, the seventh and final rig in its 8500 series of DP-2 semisubmersibles. The rig is contracted with Anadarko for work in the US Gulf of Mexico. The company also exercised one of two options with Samsung Heavy Industries for ENSCO DS-9, a DP-3 drillship based on the Samsung GF12000 design to be delivered in 4Q 2014. Like ENSCO DS-8, scheduled for delivery 3Q 2014, ENSCO DS-7 will have a 1,250-ton hoisting system and, while initially configured to operate in 10,000-ft (3,048-m) water depths, is rated for up to 12,000 ft (3,658 m) depths.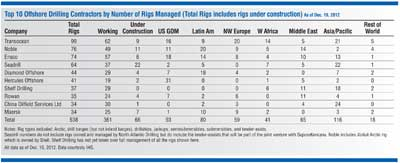 Ensco's strategy of fleet standardization is manifest in the uniform design of theENSCO 8500 series and in the core elements of the new drillship designs. The approach aims to improve reliability and uptime performance, and to improve safety by enabling more streamlined training, maintenance and repair. "Ensco is big on standardization, but the designs allow alteration," says Ensco senior VP of marketing Kevin Robert. "It's like auto manufacturing, where subsequent models may look identical but have advances under the hood. We leverage off our existing fleet, but also tailor to client needs.
"Operators are demanding more parallel capability—to get more work out of the same asset," he continues. "DP floaters are really good for them, because they can support exploratory drilling, production drilling, construction, workovers."
Rates stabilize
High demand helped push day rates up throughout the course of 2011, says Handler. "But the leading-edge day rates" - the rates included in contracts signed months before rigs are available - "have kind of stalled," he says. "They've been holding at around $600,000 a day for ultra-deepwater floaters, and that hasn't really changed in six months or so."
One reason is that contracts for premium rigs are being signed well in advance of delivery, locking in rates. "And the current rate structure gives (drillers) good returns on newbuild assets," Handler says. "For now, there seems to be a happy balance between suppliers and customers. But I think if demand remains strong, we could see rates climb in six to nine months."
In a year-end 2012 report, analysts at International Strategy & Investments (ISI) backed off an earlier forecast of day rate increases in 2013 despite a tight rig market. According to its authors, "Going forward, we continue to forecast strong growth in deepwater activity through 2014 but believe that the modest upside in day rates we were forecasting in 2013 may not materialize based on several recent fixtures below our expectations as well as the increasing desire by contractors to lock more rigs up on term contracts."
Global ultra-deepwater fleet utilization stood at 99% at the end of 2012, ISI reported, with Transocean'sGSF Explorer ready stacked in Southeast Asia. Deepwater utilization declined slightly to 86% in the fourth quarter. ISI noted a handful of contracts with day rates that exceeded expectations, particularly the newbuild ultra-deepwater drillships Ocean Rig Athena, which landed a three-year contract at $650,000 per day, and the Pacific Khamsin, which will go to work for Chevron under a two-year contract at $660,000 a day. Both vessels will be deployed offshore West Africa. But "for every Khamsin contract that exceeds expectations with a shorter-term deal, there are other rigs taking longer-term contracts at rates 10-15% below our modeled expectations," ISI said. "As more long-term opportunities develop, we expect more contractors to take advantage of these opportunities, particularly for lower spec rigs that can be locked up through 2015."
While demand for midwater assets remains strong in the North Sea, new rigs entering service in 2014 and the move toward longer-term contracts could keep day rates for the sector flat in 2013, ISI said. Some rigs are expected to be released from Brazil in coming months, which could cause "a supply overhang on surrounding markets in Latin America, the Mediterranean, and West Africa" if oil prices do not increase.
Global jackup utilization in late 2012 was hovering around 85%, the report said, with day rates bolstered by strong demand in the North Sea and the US Gulf of Mexico. "With availability in 2013 dwindling, the Gulf of Mexico remains the most dynamic jackup market as operators are now moving aggressively to procure rigs for the region next year, which is driving backlog higher and likely setting the stage for further rate increases in 2013," ISI said. Increasing demand for jackups in Mexico and an expected long-term overhaul of Pemex's fleet have helped drive recent deals in the region - "a market worth highlighting," the report said.
Global opportunities
Overall, 2013 is shaping up to be an encouraging year in most all markets. There are regional challenges - escalating costs at Australia's LNG projects, political pressure in Brazil, heightened regulatory scrutiny in the US - but the economic picture for drillers has improved considerably since the global financial crisis and Macondo.
"The Gulf of Mexico feels very strong," says Handler. "We hear what may be an optimistic outlook of getting to 50 deepwater rigs in the region in the next few years," up from the current mid-thirties. "I think that may be optimistic, but there's no doubt that it's a very strong market."
Handler expects a "slow evolution" in West Africa but notes the nascent presalt opportunities in deepwater offshore Angola as an "interesting" proposition for drillers. Transocean's Newman singled out the region in a November speech when the topic turned to promising markets. "The customers have seen the recent successes that companies like Cobalt have experienced with their well tests and their exploration activity, and there's a lot of enthusiasm building for a presalt province in West Africa as well," he enthused. "So we see opportunities around the world that give us a lot of confidence in the strength and the length of the ultra-deepwater market."
In Brazil, state operator Petrobras last year backed off earlier production targets, rolled out a $14-billion divestment plan and canceled an order for five Ocean Rig drillships, citing the need for fewer wells than the company had previously stated. Some observers have welcomed the changes as steps toward greater transparency and accountability.
"In 2013, I think we will see the start of the revised Petrobras strategy," Ensco's Robert says. "They are very intent on exploiting these resources and delivering on time."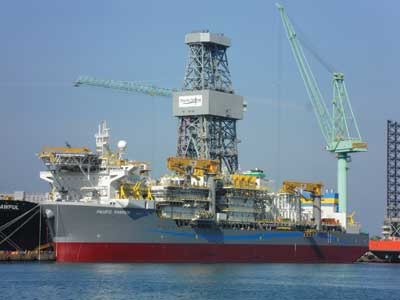 Pacific Khamsin drillship, scheduled for delivery from Samsung Heavy Industries in 2Q 2013, landed a two-year contract with Chevron for work offshore West Africa. The base day rate of $660,000 exceeded analysts' expectations. (Photo courtesy Pacific Drilling)">
Pacific Drilling'sPacific Khamsin drillship, scheduled for delivery from Samsung Heavy Industries in 2Q 2013, landed a two-year contract with Chevron for work offshore West Africa. The base day rate of $660,000 exceeded analysts' expectations. (Photo courtesy Pacific Drilling)
Despite personnel and equipment constraints, "Brazil is working. I see it as a stable place in 2013, with a big focus on presalt," Robert adds. "Brazil is a very interesting market, a very large market, and a place where opportunities will continue to exist."
Globally, the delivery of high-spec jackups and ultra-deepwater rigs over the next few years may hasten the bifurcation trend analysts see in day rates and demand. But for now, relative political and economic stability in oil producing regions promise a period of modest growth, predictability, and new opportunities for drilling contractors that extend well beyond the Golden Triangle.
As Robert puts it, "there's not a basin in the world that's not economic right now."