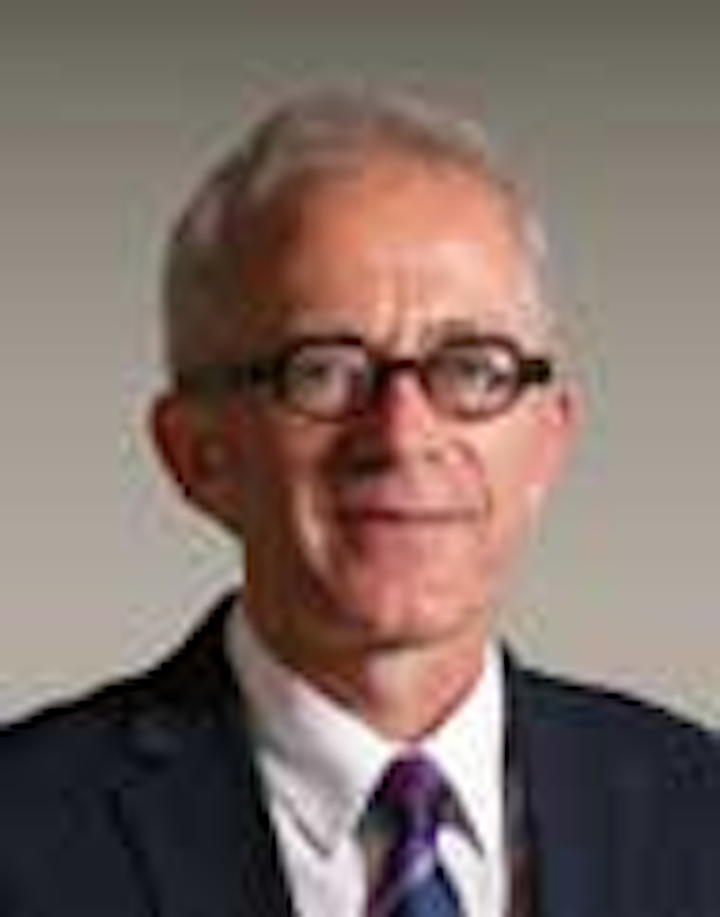 | | | |
| --- | --- | --- |
| | | Russell McCulley • Houston |
ExxonMobil and BHP Billiton are considering what would be the world's largest-capacity floating LNG facility for the Scarborough field in Australia's Carnarvon basin. If given the go-ahead, the 480 m by 75 m wide (1,575 ft by 246 ft) FLNG unit would be capable of processing around 6 MM tons per annum of LNG, an ExxonMobil spokesman toldOffshore.
ExxonMobil communications advisor Aaron Stryk confirmed that the company has submitted an environmental plan to Australian authorities and said a development decision could come in the second half of 2013. "A final concept select decision will be made following completion of engineering and design work which will enable a comparison of all options for developing Scarborough," Stryk said.
"FLNG is considered the best development option for Scarborough based on a balance of economic, environmental, and social reasons. FLNG reduces capital costs by eliminating the need for infrastructure like LNG loading jetties, dredging of shipping channels, pipelines, and site clearance. It can reduce development costs of gas in a remote offshore field, and enable development of a resource that may otherwise remain undeveloped. It has a much smaller environmental footprint compared to an onshore LNG development and would eliminate the need for dredging."
The company has not provided a cost estimate for the project, and Stryk would not comment on the possible timing of a final investment decision. ExxonMobil operates the Scarborough prospect in a 50/50 joint venture with BHP Billiton.
Shell's Prelude FLNG project, also offshore Western Australia, is in development with a targeted startup date in 2017, which could make it the first FLNG project to go onstream. Prelude's floating production system will be roughly the same size as the Scarborough unit, but will have a production capacity of around 3.6 MM tons per annum of LNG.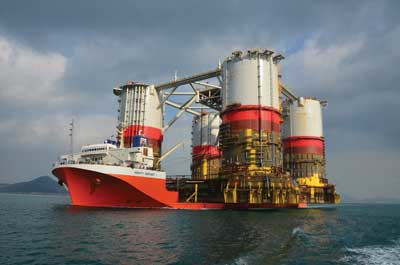 Dockwise Ltd.'sMighty Servant 1 has transported the extended tension leg platform for Chevron's Big Foot field from Daewoo Shipbuilding & Marine Engineering's South Korea shipyard to South Texas, where it will be readied for deployment in the deepwater Gulf of Mexico. The Big Foot TLP will be installed in 5,330 ft (1,615 m) water depths, said to be the deepest TLP installation to date. First oil from the $4-billion project is scheduled for 2014. The platform will have a production capacity of 75,000 b/d of oil and 25 MMcf/d of gas. (Photo courtesy Dockwise)
Q5000 lands GoM gig
Helix Energy Solutions Group'sQ5000 deepwater well intervention semisub will go to work for BP in the US Gulf of Mexico following the newbuild's planned 2015 delivery. The five-year contract includes an option to extend for two successive one-year terms, Helix said.
TheQ5000is modeled after Helix's Q4000, which was used extensively in the Macondo emergency response operations. The new semi, under construction at Sembcorp Marine's Jurong Shipyard in Singapore, will be capable of operating in 10,000 ft (3,048 m) water depths.
Grupo R orders four Keppel jackups
Keppel Offshore & Marine subsidiary KeppelFELS has secured contracts worth $820 million to build four jackup rigs for Mexican driller Grupo R. The jackups will be built to Keppel's KFELS B Class design and are scheduled for delivery from 2Q 2015 to 4Q 2015. The rigs will operate in water depths of up to 400 ft (122 m) and drill to depths of 30,000 ft (9,144 m).
Mexico's state oil company, Pemex, has said it plans to invest $25.3 billion this year to help counter production declines, with around $20 billion dedicated to upstream activities.
"Pemex have indicated their aim to operate the biggest fleet of jackup rigs in the world and Grupo R is well positioned to support them with four premium jackup rigs," said Ramiro Garza Vargas, CEO of Grupo R.
Wärtsilä picked for PSV series design
Wärtsilä Corp. has been awarded a contract to design four multi-purpose platform support vessels for Bumi Armada Berhad subsidiary Armada Offshore MPSV, the Malaysian vessel operator. The four vessels will be built by a subsidiary of Nam Cheong Ltd. in China's Fujian Mawei Shipbuilding yard. The contract's value was not disclosed.
The PSVs will be based on the WSD 1000 design and will measure 88.8 m (291 ft) in length by 20 m (66 ft) in breadth. Wärtsilä will also supply main power generation systems, propulsion systems, electrical systems, and automation systems.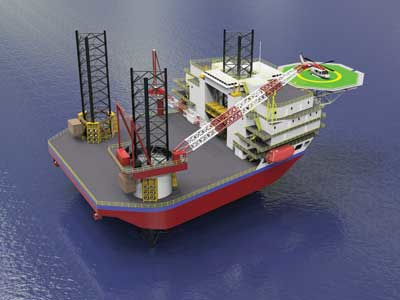 A. K. Suda has signed a contract with Triyards Marine Services of Singapore, a subsidiary of EMAS Offshore, to design a series of 137.25-m (450-ft) leg liftboats, based on the SUDA-450-L3T design. Two such vessels are currently under construction in Asia. The liftboats are suitable for North Sea operations and will be certified for offshore wind farm installation, maintenance, and repair. (Photo courtesy A. K. Suda)
Ensco orders Keppel FELS jackup
Ensco has placed a $225-million order with Keppel FELS for a new premium jackup to be delivered in early 2015. TheENSCO 110 will be based on the Keppel FELS B Class Bigfoot design, capable of working in 400 ft (122 m) water depths and equipped to drill to a maximum 30,000 ft (9,144 m). The rig will be built in Singapore.
"Customer demand is broad-based for high-specification jackup rigs, and this rig can work in virtually every shallow water basin around the world," said Dan Rabun, Ensco chairman, president and CEO.
HHI to build Edda Accommodation monohull
Edda Accommodation has placed an order with Hyundai Heavy Industries for a new monohull accommodation vessel based on the company'sEdda Fides monohull vessel, delivered in early 2011. The contract includes an option for an additional ship.
The 155-m (509-ft) long accommodation vessel will house up to 800 people and is scheduled for delivery in June 2015.
More Offshore Issue Articles
Offshore Articles Archives
View Oil and Gas Articles on PennEnergy.com