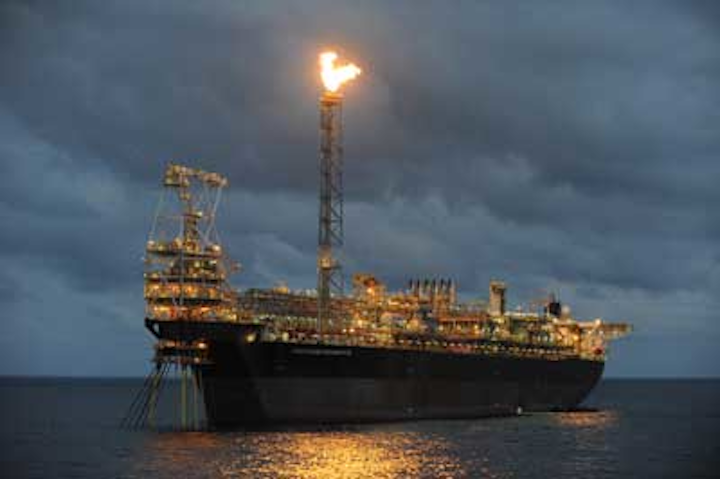 Russell McCulley
Senior Technical Editor
From huge gas discoveries off its undeveloped eastern coast to presalt exploration in the west's mature markets, Africa is the focus of intense activity among major operators and independents alike. According to energy analysts Infield Systems, 139 shallow water fields and 59 deepwater fields are currently onstream in West Africa, and six shallow-water projects are producing offshore South and East Africa. Those numbers are expected to grow as new discoveries come onstream over the next several years.
One major driver over the past year has been the quest to tap reservoirs off West Africa that share analogous characteristics with recent discoveries offshore Brazil (seeOffshore, January 2013).
"Since big discoveries were made in Brazil, major IOCs have moved to West Africa deep offshore targeting similar structures," says Mohamed Zine, regional director, Africa, for IHS. Cobalt International Energy's Cameia 1 presalt discovery in the Kwanza basin offshore Angola, in particular, helped boost interest in the presalt play that extends north to Gabon. "Total is planning to drill a wildcat in 2013 targeting the presalt structures in Gabon, and Shell will drill later," he says.
Other notable recent developments offshore Africa, Zine says, include the gas discoveries off Mozambique and Tanzania, where operators are still hoping to find oil (seeOffshore, April 2013); new discoveries in Kenya that indicate a possible extension of Uganda's onshore oil play; exploration in Upper and Lower Cretaceous formations in the Gulf of Guinea from Sierra Leone to Benin, where "companies are looking to replicate Ghana's success story"; a second phase of drilling offshore Namibia; and keen interest in the underexplored waters off the northwestern nations of Morocco, Mauritania and Senegal.
Northwest frontier
Kosmos Energy, buoyed by the success of Ghana's Jubilee field, has become what president and CEO Brian Maxted recently described as one of the largest stakeholders offshore northwest Africa, including substantial positions in Morocco's Aaiun and Agadir basins. This year the company plans to drill up to three wells in both pre- and post-salt prospects offshore Morocco. "We have received the final volumes of seismic data and we are very excited by the early interpretation, which provides a diverse set of opportunities with multi-billion barrel potential," Maxted said.
Kosmos also has leased nearly 27,000 sq km (10,425 sq mi) in deepwater off Mauritania and has launched seismic surveys exploring Upper Cretaceous plays that the company believes could contain "a deeper source kitchen" for proven oil fields up dip, Maxted said.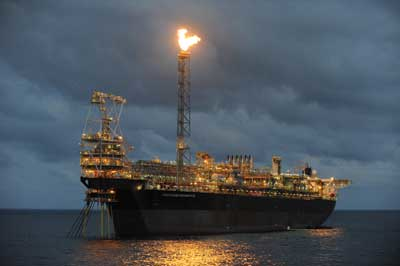 Kwame Nkrumah FPSO. (Photo courtesy Anadarko)">
At Jubilee, Tullow Oil and partners Kosmos and Anadarko finished 2012 with a production rate of 110,000 b/d of oil, up 70% from the beginning of the year. Pictured is theKwame Nkrumah FPSO. (Photo courtesy Anadarko)
In Senegal, Dolphin Geophysical recently signed an agreement with the Senegalese government to acquire, process, and market a 3D multi-client deepwater survey targeting a potential turbidite fan play. Meanwhile, Cairn Energy has agreed to assume operatorship of the contiguous Rufisque, Sangomar, and Sangomar Deep blocks offshore Senegal, currently operated by Australia's FAR, which will retain a 25% stake. The 2,050-sq km (791-sq mi) acreage has been covered by a 3D seismic survey and is said to hold up to 1.5 Bboe. An exploration well is scheduled for early 2014.
Also in Senegal, Elenilto and partner Petrosen plan to invest $10 million on a 3D seismic and drilling program in the Offshore Sud Shallow Oil block, which the companies say could contain 500-800 MMbbl of oil.
In Gambia, Australia's African Petroleum announced plans to drill the Alhamdullilah prospect in blocks A1 and A4 later this year. African Petroleum (60% interest) and partner Buried Hill (40%) said more than 30 exploration prospects have been identified in the blocks.
West Africa extends reach
African Petroleum and Kosmos last year won rights to explore block SL-4A-10 offshore Sierra Leone. African Petroleum also picked up two deepwater blocks, CI-509 and CI-513, off Cote d'Ivoire, and holds 100% interest in blocks LB-08 and LB-09 offshore Liberia. In February, the company announced results of the Bee Eater-1 well in LB-09, drilled as a step-out west of the 2012 Narina-1 discovery. The well encountered 48 m (157 ft) of oil-bearing sandstone indicating an extension of the Turonian oil play from the Narina-1 find.
Liberian lawmakers in March voted to ratify an amended production-sharing contract allowing Canadian Overseas Petroleum Ltd. (COPL) to bring in ExxonMobil as a partner in block LB-13. ExxonMobil will operate the block with 80% interest. Norway's TGS launched a 3D multi-client survey covering 7,800 sq km (3,012 sq mi) of the Harper basin, with data to be available for an expected Liberian bid round later this year.
In Ghana, Hess Corp. reported a seventh successful exploratory well on the Deepwater Tano/Cape Three Points block. The Pecan North-1 well encountered 40 ft (12.2 m) of oil pay in a Turonian reservoir. Hess, which holds 90% operated interest in the block, said it plans to submit appraisal plans for the deepwater discoveries, which are in water depths of 5,623 ft to 8,245 ft (1,714 m to 2,513 m).
At Jubilee, Tullow Oil and partners Kosmos and Anadarko finished 2012 with a production rate of 110,000 b/d of oil, up 70% from the beginning of the year. Kosmos' Maxted said the partners would seek to maximize production in 2013 "by identifying ways to debottleneck the (Kwame Nkrumah) FPSO and increase production even further." The companies plan to complete five Jubilee Phase 1A production wells by the middle of 2013.
The companies submitted development plans for the Tweneboa, Enyenra, and Ntomme (TEN) project to Ghana's energy ministry in November 2012.
In Nigeria, Total reportedly has awarded Samsung Heavy industries a $3.1-billion contract for an FPSO for the Egina project in the OML-30 license. The field is scheduled to be onstream in 2015. Meanwhile, ExxonMobil is awarding contracts for the Erha North Phase 2 development, also scheduled for a 2015 startup. The subsea extension of the Erha system is in water depths of 1,000 m to 1,200 m (3,281 ft to 3,937 ft). Aker Solutions will deliver two dynamic and two static steel tube umbilicals in 2014. Subsea 7 has been enlisted for installation of the subsea equipment and modifications to the Ehra FPSO. TheSeven Borealis and Seven Pacific vessels will carry out installation in 2015.
In March, UK explorer Afren said it plans to drill two wildcat wells in the OML-115 lease. The first will target the Ufon structure, which is structurally and geologically analogous to the nearby Ebok and Okwok fields.
In Equatorial Guinea, Noble Energy spudded the I-7 exploration well on the Carla South prospect. The prospect is said to be on trend with the Carla North discovery in block O. Noble could drill an additional appraisal well later this year at the Diega discovery in block I. Meanwhile, Ophir Energy said it is in discussions with Equatorial Guinea authorities about possible LNG exports from block R, where in 2012 the company drilled three successful exploration wells at the Tonel, Fortuna East, and Fortuna West prospects.
In Gabon, Total plans to drill the Diaman-1 well in the Diaba license in 2Q 2013. The operation was postponed because of delayed availability of theOcean Rig Olympia drillship. The company has applied for a license to develop the Mutamba prospect, where the Ngongui-2 well discovered a small oil and gas accumulation in 2012. Total has drilled four wells at the Anguille field as part of a third-phase redevelopment program. The wells tieback to the AGMN platform and first oil is expected soon, Total said.
Harvest Natural Resources last year launched the third exploration phase of the Dussafu PSC, drilling the DTM-1 well and a subsequent appraisal side track. The well was drilled to test the presalt Gamba and Dentale formations of the Tortue prospect, and discovered pay in both formations. Tortue is the fourth discovery on the block along with the Ruche, Walt Whitman, and Moubenga finds.
In the Republic of Congo, Total and partner Chevron in March announced a final investment decision for the $10-billion Moho Nord development, which includes the the Moho-Bilondo Phase 1bis and Moho Nord projects. Water depths range from 450 m to 1,200 m (1,312 ft to 3,937 ft). First oil is expected in 2015, with output to reach 140,000 boe/d in 2017.
For Phase 1bis, a total of 11 subsea wells in the Miocene will be tied back to the existing FPU on Moho-Bilondo. For Moho Nord, 17 subsea wells targeting Miocene reservoirs will be drilled and tied back to a new floating production unit (FPU), and 17 more subsea wells targeting Albian reservoirs will be developed from a newbuild TLP, Total said. The partners awarded Aker Solutions a contract worth $850 million for the subsea production system.
Chevron announced plans to develop the deepwater Lianzi field offshore Congo and Angola at a cost of $2 billion. The development will include a subsea production system and a 27-mi (43-km) electrically heated flowline, which the company says will be the first of its kind in 3,000-ft (900-m) water depths. Lianzi will tieback to the existing Benguela Belize Lobito Tomboco (BBLT) platform in Angola block 14 and is expected onstream in 2015.
Chevron also said it will proceed with the $5.6-billion Mafumeira Sul development offshore Angola, the second stage of development of the Mafumeira field in block 0. In water depths of 200 ft (60 m), the project is scheduled for a 2015 startup. Fifty wells will connect to two wellhead platforms and a central processing and compression facility.
Cobalt International Energy, meanwhile, plans a four-well presalt drilling program this year in Angola block 21, site of the Cameia discovery. The company has a three-year contract for the deepwater semiSSV Catarina, which will be augmented by Diamond Offshore's Ocean Confidence rig.
BP in January started production at the PSVM project with three wells in the Plutao field. Wells in the Saturno and Venus fields are scheduled to go onstream this year, followed by the Marte field in 2014. PSVM, in the northeast section of block 31, is in water depths of up to 2,000 m (6,562 ft). When complete, it will include a total of 40 production, gas, and water injection wells connected to a 1.6 MMbbl storage capacity FPSO.
South and East
In Namibia, Brazil's HRT announced early this year that it had spudded the first of three planned wells in the Walvis basin. The Wingat-1 well is in license 23 in water depths of 1,034 m (3,392 ft).
ExxonMobil announced plans to explore the Tugela South prospect off the east coast of South Africa following an agreement with Impact Oil & Gas that gave the company a 75% operated interest in the license. The agreement includes a provision allowing ExxonMobil to acquire 75% participating interests in future exploration rights in three offshore areas covered by technical cooperation permits currently held by Impact. The company also has a technical cooperation permit from the South African government to study the deepwater Durban basin.
In Mozambique, Anadarko, which operates Offshore Area 1, has signed a heads of agreement with Eni, operator of Offshore Area 4, for the coordinated development of the reservoirs that span the two blocks. The gas fields will connect to an initial four-train onshore gas processing facility. Anadarko's discoveries to date in the Prosperidade and Golfinho/Atum complexes have pushed resource estimates in Area 1 to 35-65 tcf of recoverable gas and nearly 100 tcf of original gas in place.
In late February, Eni reported a gas discovery in Area 4's Mamba complex. The Coral 3 well, drilled in 2,035 m (6,675 ft) of water, confirmed a resource estimate of 27 tcf of gas in the block, Eni said. In blocks 2 and 5, Statoil farmed down a 25% working interest to Japan's Inpex Corp. Statoil will retain a 40% interest and operatorship of the blocks; Tullow holds 25% interest, and Mozambique has the remaining 10%.
North to Tanzania, Statoil and ExxonMobil announced a gas discovery in the block 2 license. Results from the Tangawizi-1 well upped resource estimates in the block to 15-17 tcf of gas, Statoil said. The companies plan additional drilling offshore Tanzania this year and are eyeing a potential LNG project.
In Kenya, Apache Corp. in September 2012 announced a gas find with the Mbawa-1 well, drilled in the Lamu basin's block 8. Anadarko this year spudded two wells offshore Kenya: Kiboko-1, in block 11A, and Kubwa-1, in block 7.


Click to Enlarge
More Offshore Issue Articles
Offshore Articles Archives
View Oil and Gas Articles on PennEnergy.com