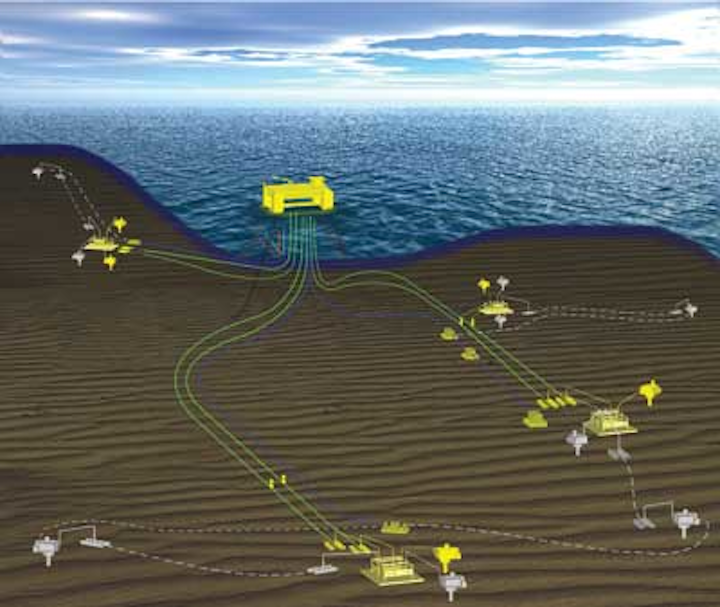 Strategic partnership lets Louisiana operator ramp up deepwater E&P
Russell McCulley
Senior Technical Editor
Louisiana independent LLOG Exploration Co. is gearing up for an ambitious deepwater Gulf of Mexico drilling campaign at the Delta House project, scheduled for first oil in 2015. As of April 2013, the company had drilled two successful wells: one at the Son of Bluto 2 prospect, in Mississippi Canyon 387, and another at Marmalard, in MC 300, and had theEnsco 8502 semisubmersible drilling a third Delta House well at the Marmalard prospect. The three wells will supply initial production to the Delta House platform, to be moored in 4,500 ft (1,372 m) of water in MC 254.
Early this year, LLOG lined up two newbuild DP drilling rigs to carry out work at Delta House and the company's other central Gulf prospects. A cylindrical Sevan Drilling rig under construction at Cosco Quidong shipyard in China, to be dubbedSevan Louisiana, will start a three-year, $550-million charter with LLOG in January, 2014. In 3Q 2014, Seadrill's West Neptune is scheduled to arrive at the Delta House complex to begin an initial three-year, $662-million term. The dual BOP drillship is under construction at Samsung Heavy Industries in South Korea.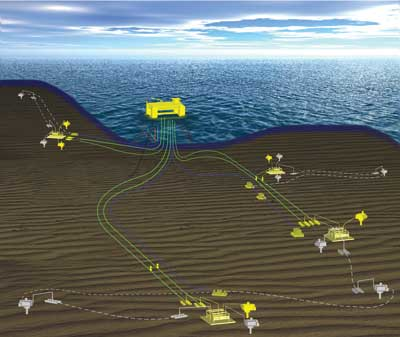 Field layout illustration.
The past few years have been remarkably active for LLOG, which has grown from a shelf operator focusing on brownfields to one of the largest privately owned oil and gas companies operating in the Gulf of Mexico. In 2011, it started up production at the Who Dat project with an initial three wells tied back to an Exmar-designedOPTI-EX hull and floating production system. Last year, LLOG brought onstream Mandy, a three-well tieback in 2,465-ft (751-m) water depths at MC 199, and Goose, a single-well tieback in MC 751. The same year brought the Son of Bluto 2 and Marmalard discoveries, along with a follow-up order with Exmar for the OPTI-11000, a larger version of the OPTI semisubmersible design, whose hull is currently under construction at Hyundai Heavy Industries. In December, shortly after sanction, metalworkers at the Kiewit Offshore Services fabrication yard in south Texas cut first steel on the project's deck and topsides.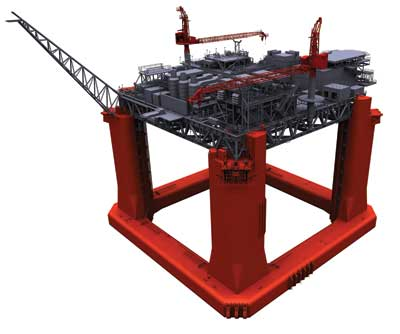 OPTI-11000 rendering.
Perhaps most critically, LLOG announced in November that it had formed a strategic partnership with private equity firm Blackstone to free up more than $1.2 billion in capital for LLOG's offshore projects, and an agreement with ArcLight Capital Partners, which is providing construction financing for the Delta House FPS and export lines. Other interest holders in the Delta House project are Ridgewood Energy, Red Willow Offshore LLC, Calypso Exploration, Deep Gulf Energy II, Houston Energy, and ILX Holdings LLC, an affiliate of Riverstone Holdings LLC.
"Historically, as a private company, our biggest challenge has been financing our growth," said Scott Gutterman, LLOG president and CEO. "We've done it a variety of ways, including conventional bank financing. But when it comes to deepwater developments, which can be very difficult to finance, we've had to be more resourceful."
Blackstone "as our long-term partner, provides a more reliable source of capital – not just the direct investment that they've made in our company, but also their ability to source domestic and global financial markets," he noted. "That allows us to focus on what we do best, which is exploration and development of these properties."
The capital infusion has also helped LLOG get a foothold in the highly competitive rig chartering market. "It allows us to more comfortably enter into longer-term rig contracts," Gutterman added. "It's very difficult to plan a business without having rigs under contract, especially in this post-Macondo environment, where the regulatory requirements and permitting requirements are much more difficult."
Trusted technology
LLOG's experience at Who Dat – the name is from a chant used by fans of 2010 Super Bowl champs New Orleans Saints – influenced the company's Delta House plans, most significantly in the choice of the hull.
"We are very pleased with how theOPTI-EX hull is performing," said Bruce Cooley, LLOG's vice president of facilities engineering. "We are making some significant changes to the topside equipment. This one, for Delta House, if you took the hull size and throughput capacity, it's probably 40% bigger than Who Dat in hull size and throughput capacity."
The Delta House FPS was designed for a production rate of 80,000 bo/d and 200 MMcf/d of gas, with a peaking capacity of around 100,000 b/d. The unit will have a water processing capacity of 40,000 b/d and a total payload of 9,300 tons. The FPS will have 18 riser baskets and an expandable control system designed to support three eight-well systems. The extra capacity will allow Delta House – named in honor of the less-than-reputable fraternity in the comedyNational Lampoon's Animal House – to serve as a hub for other fields in the area, including possible tiebacks to non-LLOG properties.
"We had just finished the Who Dat project, so we were very familiar with and very comfortable with that hull," said Rick Fowler, vice president, deepwater projects. "We could have bid out all the different types of hull forms, but we felt we could move a lot quicker if we went with the same design. We started the design before we had a discovery. We picked a design that would work with all of our hub class prospects. It may not be ideal for each individual prospect, but it would work for each prospect."
"We kind of did away with the traditional FEED study," Cooley commented. "FEED studies are site specific; we kind of went straight to the detailed design, based on our philosophy of 'one size fits most.'"
LLOG is "teed up to build another floating production facility," said Tim Lindsey, senior vice president of operations. "We have an inventory of about 80 prospects. Of those, about 40 are deepwater, including 15 that could be considered hub class." In the most recent Central Gulf of Mexico lease sale, LLOG was the high bidder on 11 of the 15 deepwater blocks the company bid on.
"We've been very deliberate with growth," he noted. "There are step changes to go from state waters to federal waters, and even more important, getting into the deepwater. The human resources, financial resources, equipment and logistic coordination – it's something you need to be prepared for."
Drilling challenges
The Upper Middle Miocene reservoirs at Delta House are generally much older than those at Who Dat, and somewhat more difficult to image, says Eric Zimmermann, LLOG's vice president, geology.
"Who Dat is more of the conventional 'bright spot' amplitude play that has been a focus in deepwater exploration for a couple of decades now," he said. "The Delta House reservoirs are more in a geophysical class that we call 'low contrast pay.' This is where the amplitude does not tell the entire story, and from an AVO standpoint, they are more Class II than the traditional Class III that is predominantly found at Who Dat."
"Geologically, the reservoirs in both areas are deepwater turbidite systems, but in Delta House, the reservoirs are more consistent with unconfined, proximal turbidite fan systems, whereas Who Dat has a greater mix of depositional environments, with the shallow sections being channel features."
Geologically, "the biggest challenge has been a lack of a significant dataset from a wells standpoint," Zimmermann observed. "This provides an opportunity, but also allows for a higher level of uncertainty when drilling wells. Every well we drill, we get smarter and further develop our techniques and hypotheses surrounding deposition, geophysical interpretation, and how it controls our development planning."
The company boasts a drilling success rate of around 70%, roughly twice the industry average. In April, however, an exploration well at LLOG's Malachite prospect, in MC 258, was deemed noncommercial. LLOG hoped to make Malachite one of Delta House's satellite fields; Fowler says the results will not alter the company's immediate drilling plans.
Gulf growth
The procurement process for Delta House started in August 2012, with an emphasis on proven technologies and vendors that previously worked with LLOG. FMC Technologies is supplying nine subsea trees, four manifolds, five multi-phase meters and topside control systems. Audubon Engineering designed the topsides, and Dockwise was enlisted to provide heavy-lift transport of the hull from HHI to Kiewit. Japan's Sumitomo Corp. and Germany's Vallourec & Mannesmann Tubes will supply pipe; Bexco will manufacture polyester rope and Sanmar Chain International will furnish the chain for the mooring system, which will be installed by InterMoor.
First steel cut at Kiewit.
While several US independents have built their businesses and reputations on recent international frontier exploration, Gutterman says LLOG has no immediate plans to venture outside the Gulf of Mexico.
"Our arrangement with Blackstone is specific to the Gulf of Mexico," he explained. "We have a tremendous set of opportunities in the Gulf. We feel that the deepwater Gulf of Mexico is one of the premier exploration plays in the world. In fact, we'd be hard pressed to find anything more attractive, given some of the recent discoveries and activities. The Lower Tertiary is a huge resource, and it's not very far up on the creaming curve. And the Norphlet (trend) is opening additional opportunities in the eastern Central Gulf."
"Every time someone thinks that the Gulf of Mexico has reached an extremely mature level, a new trend opens up."