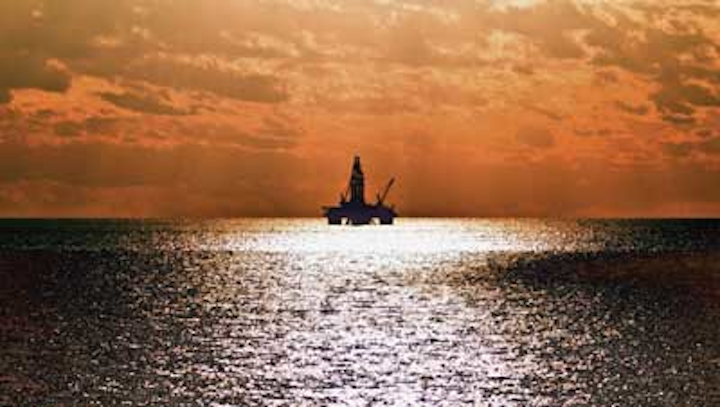 ENSCO 8505, working for Anadarko, recently drilled the successful Shenandoah-2 well in the deepwater Gulf to a TD of 31,405 ft (9,572 m) in approximately 5,800 ft (1,768 m) of water. (Photo courtesy Ensco) ">
TheENSCO 8505, working for Anadarko, recently drilled the successful Shenandoah-2 well in the deepwater Gulf to a TD of 31,405 ft (9,572 m) in approximately 5,800 ft (1,768 m) of water. (Photo courtesy Ensco)
Contractors reporting greater demand for services
Bruce Beaubouef
Managing Editor
Drilling activity in the Gulf of Mexico is rebounding slowly but surely from the events of 2010, and is part of a general recovery in E&P activity taking place in the Gulf in the wake of Macondo.
The increase in drilling is driven by sustained high oil prices, new lease sales, the promulgation of a new safety regime, fiscal stability, and the fact that the pace of permitting has finally returned to pre-spill levels. Since October 2012, 55 wells have been cleared for drilling.
In the first half of this year, the Gulf of Mexico is expected to have 46 competitive deepwater rigs, and this number is projected to increase by mid-2014 to just over 50 competitive deepwater units, according to Rigzone's RigLogix Database.
Last year, eight newbuild floaters entered the Gulf of Mexico with another eight expected to enter in 2013. Thus far, five newbuild floaters are forecasted to enter the 2014 GoM market with only one new unit projected for 2015.
The deepwater rig count for 2013 is forecasted to be the highest it has been in five years. The overall floater fleet is set to expand by 31% with the newbuild plans, while the jackup fleet will expand by 18%, according to an analysis conducted by Tudor, Pickering, Holt & Co.
Looking at announced contracts in 2013 and 2014, analysts believe that there will be 45 to 50 rigs in the deepwater GoM through 2014, with the possibility of more. Additionally, development drilling activity is expected to reach a new peak in 2013, which will then likely be superseded in the following two years, according to a Wood Mackenzie report.
Some analysts describe the Gulf as the fastest growing deepwater market in the world today, one that will continue to grow into 2014. Optimistic projections hold that the Gulf rig count could double by 2017, with predictions that oil service companies alone could see revenue from the Gulf rise from $4 billion in 2011 to $12 billion in 2015.
Drilling activities
Drilling activity is taking place on several fronts. Since early 2011, Shell, Anadarko, Noble Energy, ExxonMobil, BHP, and Murphy Oil Corp. have drilled successful appraisal wells. Statoil, Chevron, Noble, LLOG, Cobalt, and Anadarko drilled successful exploration wells during that time.
In March, Chevron reported a deepwater discovery at the Coronado prospect. The Walker Ridge block 98 Well No. 1 encountered more than 400 ft (122 m) of net pay. The well is approximately 190 mi (308 km) off the Louisiana coast in 6,127 ft (1,868 m) of water and was drilled to 31,866 ft (9,713 m). Chevron says that the Coronado discovery continues a string of exploration successes in the Lower Tertiary trend, where the company is advancing multiple projects.
In April, Anadarko reported that its Phobos-1 well in the deepwater Gulf encountered approximately 250 net ft (76 m) of high-quality oil pay in Lower Tertiary-aged reservoirs. The Phobos discovery, in Sigsbee Escarpment block 39, was drilled to a TD of 28,675 ft (8,740 m) in approximately 8,500 ft (2,591 m) of water, 11 mi (18 km) south of Anadarko's Lucius discovery.
Anadarko is incorporating data from the Phobos well to determine future activities. Anadarko is the operator with a 30% working interest. Co-owners in Phobos are Plains Exploration & Production Co. with a 50% working interest and ExxonMobil Corp. with a 20% working interest.
Anadarko says that Phobos is its first well in the Sigsbee Escarpment area of the GoM, and is part of a four-way structure in the Lower Tertiary.
Also in April, LLOG Bluewater Holdings LLC contracted the newbuild drillshipWest Neptune for three years from Seadrill for $662 million. There is a one-year extension option.
Seadrill expects to receive the vessel from Samsung Heavy Industries in Geoje, South Korea, in June 2014. It will be outfitted to drill to 37,000 ft (11,278 m) in 10,000 ft (3,048 m) water depth.
LLOG says that theWest Neptune will be its first dual BOP rig in the GoM. The company will initially use the rig to perform completions of its Delta House wells. LLOG says that having two BOPs will allow it to complete wells efficiently, saving up to 12 days per completion.
Drilling contractors are reporting greater demand for their services. TheENSCO 8506 commenced work for Anadarko in January, making a total of six of Ensco's seven ENSCO 8500 Series ultra-deepwater semisubmersible rigs deployed in the US GoM. Ensco says that in 1Q 2013, rigs in this series working six months or more in the region averaged more than 99% utilization.
In March,ENSCO 8505, also working for Anadarko, drilled the successful Shenandoah-2 well in the deepwater Gulf. The well, in Walker Ridge block 51, was drilled to TD of 31,405 ft (9,572 m) in approximately 5,800 ft (1,768 m) of water. Anadarko has described it as one of the company's largest oil discoveries in the Gulf.
"Multiple new discoveries are keeping the market for deepwater rigs in the US Gulf of Mexico very robust," says Kevin Robert, Ensco's senior vice president, marketing. "We are seeing a lot of inquiries and given limited supply, it's a tight market."
And it's not just the deepwater market that is strong.
"Earlier this year we signed contracts for two of our jackups,ENSCO 81 and ENSCO 82, at rates in the $130,000 range, which is a leading-edge rate in the region for these premium jackups," says Robert. ENSCO 81 began work for Stone Energy in April. ENSCO 82 is working for Energy XXI.
Atwood Oceanics Inc. also reports significant activity. TheAtwood Condor is the company's newest ultra-deepwater drilling rig, and it is currently drilling for Hess in the GoM. This rig, delivered in June 2012, is a Friede & Goldman ExD Millennium designed, dynamically positioned semisubmersible with capability to operate in up to 10,000-ft water depths. Among other features, the Atwood Condor offers a 1,250-ton AC top drive; a 15,000 psi-rated BOP with upgraded capabilities for shearing and subsea intervention; and accommodations for up to 200 persons.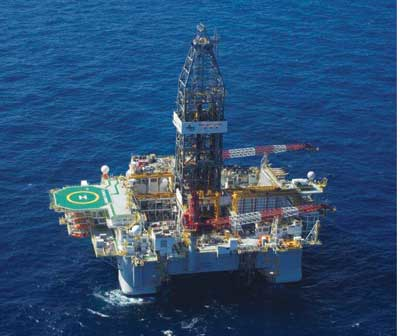 Atwood Condor, the company's newest ultra-deepwater drilling rig, is currently drilling for Hess Corp. in the GoM. (Photo courtesy Atwood Oceanics Inc.) ">
Atwood Oceanics says thatAtwood Condor, the company's newest ultra-deepwater drilling rig, is currently drilling for Hess Corp. in the GoM. (Photo courtesy Atwood Oceanics Inc.)
Atwood is also constructing three state-of-the-art "A-Class" drillships at the DSME Shipyard in South Korea: theAtwood Advantage, Atwood Achiever, and Atwood Admiral, with scheduled deliveries in September 2013, June 2014, and March 2015, respectively. Each rig will be rated to operate in up to 12,000 ft (3,658 m) of water with a dual derrick design, seven-ram BOP system, and increased crane capacities.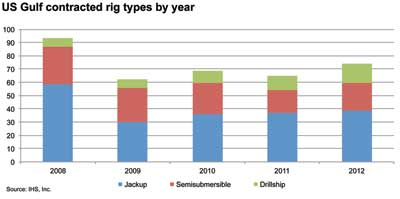 Click to Enlarge
"We are excited to have returned to the Gulf of Mexico with theAtwood Condor, and we see excellent opportunities to expand our presence further in this prolific region with the upcoming deliveries of our three 'A-Class' drillships," says Rob Saltiel, Atwood Oceanics president and CEO. "These ultra-deepwater rigs will provide outstanding capability to drill and complete challenging Lower Tertiary wells while providing industry-leading well control security for our clients."
Noble Corp. has signed three-year contracts worth $1.3 billion with Plains Exploration & Production for a pair of newbuild ultra-deepwater drillships scheduled for delivery next year. TheNoble Sam Croft and Noble Tom Maddendrillships, under construction at Hyundai Heavy Industries shipyard in Ulsan, South Korea, will be deployed to the GoM in 2Q 2014 and sometime after mid-year 2014, respectively. Noble Corp. said the contracts will generate approximately $693 million per rig.
The company has a total of four drillships based on the Hyundai Gusto P10000 design under construction in South Korea. One of these, theNoble Don Taylor, is completing sea trials and will begin a long-term contract with Shell in October. Sister ship Noble Bob Douglas has been signed to Anadarko Petroleum for three years and will be delivered before the end of 2013. All the drillships are capable of operation in 12,000-ft (3,658-m) water depths.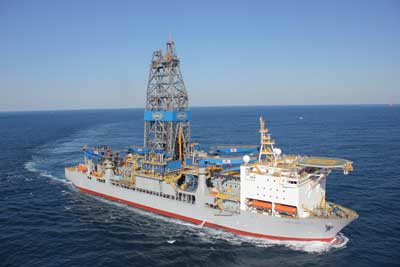 Noble Don Taylor is completing sea trials and will begin a long-term contract with Shell in October in the deepwater Gulf. (Photo courtesy Noble Corp.)">
Noble Corp. says that theNoble Don Taylor is completing sea trials and will begin a long-term contract with Shell in October in the deepwater Gulf. (Photo courtesy Noble Corp.)
Deepwater drives contracts
Expanding drilling and exploration campaigns are, in turn, ratcheting up demand for rig contracts, particularly in deepwater areas. As of mid-April, 37 semisubmersibles and drillships were under contract in the deepwater GoM, according to RigLogix. Shell has seven deepwater rigs under contract – currently the highest number of rigs for one operator in the Gulf of Mexico. BP has the second largest number of deepwater rigs under contract with six, followed by Chevron with five, and Anadarko with four.
Other operators currently active in the US Gulf include Petrobras, BHP Billiton, Eni, LLOG, and Hess, each with two deepwater rigs under contract. Walter Oil & Gas, Noble Energy, ExxonMobil Corp., Cobalt International Energy, and Apache Corp. each have one deepwater rig under contract in the region.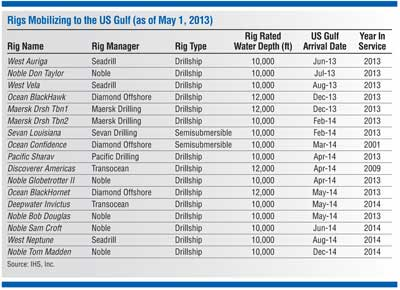 Click to Enlarge
The number of deepwater semisubmersibles and drillships working in the US GoM could rise to 52 in June 2014 and 54 in December 2014 if all of the deepwater rigs currently under contract remain so.
Operators with rigs under firm contract for the GoM as of December 2014 include BP, which will have six rigs, the most of any operator. Royal Dutch Shell plc will have five rigs under firm contract during that time. Anadarko Petroleum Corp. is expected to have four rigs working, followed by Chevron and LLOG, with three rigs each under firm contract.
ExxonMobil, Petrobras, Plains Exploration & Production, and Statoil ASA each are expected to have two rigs under contract in the Gulf in December 2014. At that time, BHP Billiton, Eni, and Murphy Oil Corp. will each have one rig under firm contract.
Eight of these units have unexercised options, while 13 units do not have any future contracts. If these options are exercised and 13 units without contracts receive awards, the number of rigs under contract will reach 54. Since the beginning of the year, 10 new contracts have been awarded, plus two options exercised, for a total of 12 contracts. Of those 10 contracts, two were sublet contracts.
Mid-year perspective
The recovery now taking place in the Gulf of Mexico proves that drilling risks are still considered worth taking by operators and producers. The GoM is in the early stages of an extended growth cycle, and analysts believe it is poised to remain one of the strongest offshore markets in the world in terms of deepwater activity. Overall, rig count and E&P activities are at pre-Macondo levels, and look to continue on an incline for the next couple of years.