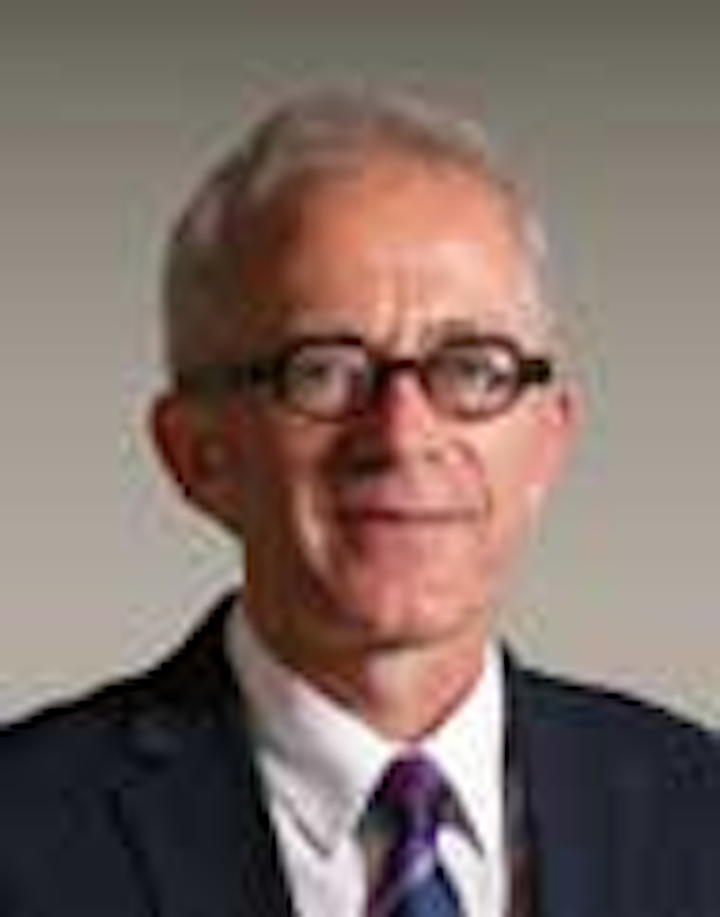 | | | |
| --- | --- | --- |
| | | Russell McCulley • Houston |
Triyards has introduced what the Singapore-based fabricator deems a more "shipyard-friendly" premium class jackup capable of operation in 400 ft (122 m) water depths.
The TDU-400 has been designed to withstand 100-knot winds and accommodate up to 220 personnel. The rig will have a maximum 80-ft (24-m) cantilever outreach and is rated to drilling depths of 32,500 ft (9,906 m).
The company is in discussions with clients and expects to begin construction of the first TDU-400 within months, said Triyards Holding Ltd. chairman Lionel Lee.
Triyards will launch a new 400,000-sq ft shipyard in Singapore by the end of 2013, Lee said at the Offshore Technology Conference in Houston.
The Ezra Holdings affiliate currently operates two fabrication yards in Vietnam and one in Houston.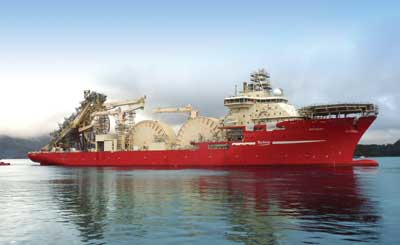 Technip held a naming ceremony for the new pipelay vessel Deep Energy in May at Westcon Yard in Florø, Norway. Capable of operation in water depths up to 3,000 m (9,843 ft), the DP-3 vessel is "the fastest and one of the largest" pipelay vessels, according to Technip. Deep Energy will reach a service speed of 19.5 knots and can handle subsea installation of flexible pipe and reeled rigid pipe up to 18-in. in diameter. (Photo courtesy Technip)
Statoil contract backs Noble Corp. newbuild
Noble Corp. has been awarded a drilling contract by Statoil for a newbuild ultra-high specification jackup for use at the Mariner project in the UK sector of the North Sea. The initial contract is for four years and is anticipated to begin in 3Q 2016.
The total estimated value of the four-year primary term contract is $655 million, including mobilization.
The jackup is an enhanced version of Statoil's "Cat J" specifications and will be designed to operate in water depths of up to 150 m (492 ft) in harsh environment conditions, with a maximum total drilling depth capacity of 10,000 m (approximately 33,000 ft).
Statoil operates the Mariner project, located about 150 km (93 mi) east of the Shetland Isles, with partners JX Nippon Exploration and Production and Cairn Energy.
Noble said the company is in the final stages of negotiating a contract for the construction of the new jackup and expects delivered costs to reach $690 million.
"We believe that the fundamentals of the high-specification jackup market segment will continue to be strong in the decade ahead," said Noble Corp. chairman, president and CEO David Williams.
The rig will be based on the Gusto MSC CJ-70-150 design and will operate in water depths up to 150 m (492 ft).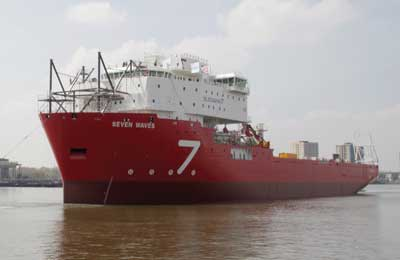 A naming ceremony was held at IHC Merwede's shipyard in the Netherlands for Subsea 7's 550-ton pipelay vessel Seven Waves. The fifth vessel contracted by Subsea 7 to IHC Merwede's offshore division, Seven Waves is scheduled for delivery in 1H 2014. The 146-m by 30-m (446-ft by 98-ft) DP-2 vessel will enter service for Petrobras offshore Brazil.
Subsea 7 is also adding a newbuild heavy construction and flexible pipelay vessel to its fleet. The 160-m by 32-m (525-ft by 105-ft) DP-3 vessel will be built at Hyundai Heavy Industries and is scheduled for delivery in 2016. Among the design's features are a 2,600-sq m (27,986-sq ft) deck, a 600-ton active heave-compensated offshore crane, a 325-ton top tension vertical lay system, and a 7,000-ton under-deck basket for storing flexible pipe, umbilicals, and cables.
"This vessel is very versatile and will work anywhere," Subsea 7 VP-technology and asset development Stuart Smith told Offshore at OTC in Houston. "Some of our fleet is pretty much dedicated to set regions, and some, which we call the 'global enablers,' work around the world. I think this will be a global enabler." (Image courtesy Subsea 7)
Aker Arctic announces heavy-duty Oblique Icebreaker
Aker Arctic Technology has introduced a heavy-duty version of its Oblique Icebreaker vessel designed to break through ice 1.5 m (5 ft) thick at a speed of 5 knots.
The ARC 100 HD design measures 98 m (322 ft) long by 26 m (85 ft) wide and will offer 190 metric tons (209 tons) of bollard pull in open water, or twice the pull of the ARC 100.
The first Oblique Icebreaker, a 76-m (249-ft) ARC 100, is under construction and scheduled for delivery to Russia's Ministry of Transport in early 2014. The asymmetric three-thruster vessel is being built through a collaborative agreement between Kaliningrad's OJSC Yantar and Helsinki's Arctech yards.
The ARC 100 HD will be dynamically positioned, enabling it to "spin on the spot" to widen channels and to assist during ice field directional changes, Aker Arctic said.
The company says the Oblique Icebreaker series is designed to provide both ice management and oil spill response operations as the pace of exploration and production in the Arctic picks up. "Instead of the vulnerable rubber arm sometimes seen in oil spill response operations, the ARC 100 HD's vertical hull side itself will act as a sweep arm up to 60 m (197 ft) across in heavy waves," Aker Arctic said. "The vessel will also feature a skimmer system, including a side door, effective in-built brush skimmers/collector tanks for oil separation, recovered oil transfer pumps, and a discharge pump."