With defense jobs shrinking, venerable Louisiana shipyard looks to private sector
Russell McCulley
Senior Technical Editor
When defense contractor Northrop Grumman announced in 2010 that it would consolidate its shipbuilding operations in Pascagoula, Mississippi, the news hit hard in New Orleans, still recovering from the devastation of Hurricane Katrina in 2005. The move threw into question the future of Avondale shipyard, once the area's largest employer, which Northrop Grumman acquired in 2001. In 2010, the parent company announced plans to spin off Avondale and its other shipbuilding businesses into a separate publically traded company, Huntington Ingalls Industries (HII), and that the yard would "explore alternate uses" to take up the slack once the last US Navy ship under construction there rolled out at the end of 2013.
At the time of the spinoff, Avondale employed around 3,850 full-time workers. Today, the shipyard has around 1,500 skilled craftsmen and 250 engineers whose fates are uncertain as the deadline looms. The state of Louisiana in 2011 offered HII a $214-million package of performance-based incentives if the company could find a partner to help keep the 268-acre facility on the Mississippi River up and running. But the incentives have so far failed to draw a suitor; appeals to a higher power, such as the 2011 Pray for Avondale weekend organized by New Orleans ministers, have also gone unanswered.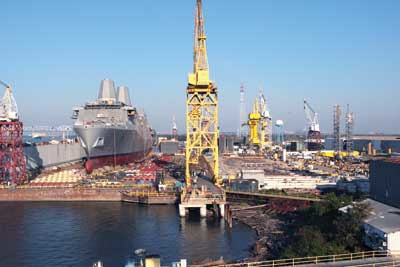 At 900 ft by 220 ft, Avondale boasts what the company says is the largest floating dry dock in North America. Pictured is theUSS New York, one of a series of LPD vessels built by the shipyard for the US Navy, being pushed onto the dry dock by a series of powerful hydraulic jacks. (Photo courtesy HII)
This year, HII opened a business development office in Houston to pursue jobs in the energy infrastructure market, touting Avondale's three decades of modular engineering and construction expertise and nearly 75 years of heavy manufacturing. Along with the current workforce, the company is stressing the shipyard's physical attributes, including a 900-ft by 220-ft (274-m by 67-m) floating dry dock, and its location on major highway, rail, and sea routes.
"It's a pretty amazing location," says Cristopher Kastner, HII vice president and general manager of corporate development. "You have all these rail spurs, and over 40 ft of draft on the Mississippi. You can get anything in and out of here by rail, or by truck, or by boat. The location of this facility is a real differentiator for us. And the dry dock, which is the largest floating dry dock in North America."
The spinoff "gave us the opportunity to reevaluate what we were going to do with what we think is a pretty amazing asset," Kastner continues. "So we sanctioned a team to evaluate the different markets. It became very apparent, with the downstream projects that were announced on the Gulf Coast, that there was going to be a lot of complicated, big work taking place. And that's what we do."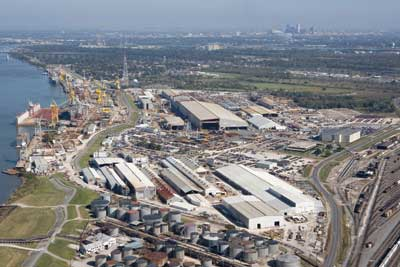 Avondale shipyard covers 268 acres on the Mississippi River, about 10 mi (16 km) north of New Orleans.
In conversations with potential customers, he says, "the offshore market became interesting as well. There's a lot of build-out that's going to take place in the deepwater Gulf of Mexico." Oil and gas companies "are very intrigued by what we can do for them. We build big, complicated things. And we have the engineering talent that can help them with these projects. And we think we can be competitive."
Avondale is counting on its versatility to help build the oil and gas business, along with the yard's capacity.
"We have 268 acres and 1.2 million sq ft [111,484 sq m] of under-roof production space," says Lou Hose, Avondale site director, program management and operations. "One of the big things people look at is your production capacity. We can produce in excess of 100,000 tons of steel per year. We have all trades; we subcontract almost nothing, although we can. We have our own pipe shop, we have our own electrical shop, we have our own sheet metal, carpenters, scaffolding. That allows us to control the production cycle much better."
The yard also has the capacity to move a structure weighing up to 50,000 tons and to perform block unit lifts up to 900 tons, Hose adds.
Avondale is pitching its fabrication capabilities to the industry, with an eye on spars and FPSOs – "really, any of the topsides for any of these offshore exploration and production assets," Kastner says. "A spar – or a run of four or five spars – would take advantage of our project management expertise, our capacity, our technical knowledge, our delivery predictability. It would fit in perfectly with our program."
The shipyard is getting support for its efforts from Louisiana elected officials and New Orleans business interests, which can facilitate contacts with industry movers and shakers, and moral support from the community, which has long benefited from Avondale's payroll.
"There's a historical narrative there, with the ships that have defended America having been built at Avondale," says Michael Hecht, president and CEO of the economic development group Greater New Orleans Inc. "And then there's the economic narrative, where at its peak, it employed 5,000 blue collar workers. It's been a real mainstay. So seeing Avondale have to change is a challenge both emotionally and financially."
The opening of the Houston business development office "is very good news for us," Hecht says. "It means they've made a clear strategic decision, and I think it's the right decision. The challenge is in timing, and getting sufficient work soon enough."
Kastner says the company has forged a good working relationship with state and local officials.
"They see this manufacturing yard as being important to the region, and so do we," he says. "The Louisiana delegation has been very supportive, and the Navy has been cooperative. Everyone's been pulling in the right direction. And there's no dissention in the market either. Manufacturing on the Gulf Coast is going to be a good place to be over the next five to 10 years, and we plan to do our part."
Part of Avondale's sales pitch has been an appeal for the preservation of US manufacturing jobs.
"It'll be a challenge to compete with the overseas market," Kastner acknowledges. "But we find that a lot of customers like the fact that there's a domestic producer right here on the Gulf, and they can come see (the equipment) as it's being built. You know exactly what's going on, and you've got someone who built it who is a neighbor."
Kastner recognizes that "there's stiff competition" in this area. "But with our manufacturing capability, with our technical capability, and our location, we can compete with these guys."