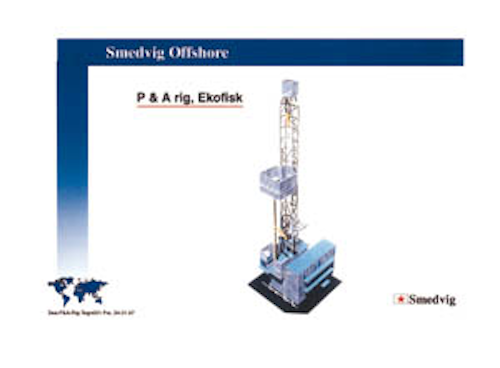 Smedvig will use a newly designed modular rig to abandon wells on Phillip's Ekofisk Field.
Strong demand for drilling rig services, particularly in more demanding waters, has helped Smedvig to win a number of important drilling contracts involving the construction of new semisubmersible and monohull units. The contractor has also become involved in new projects which will strengthen its position in the production ship market.
"We are pleased we are now having success in the marketplaces we have been targeting," says chief operating officer Ketil Lenning. "The basis for our strategy is to work in the high end of the market, building a fleet of new and efficient units capable of tackling deepwater drilling. It's good that the market is such that we can do these things against long-term contracts."
An order for a fifth generation semisub has been placed with the Hitachi yard in Japan, which is due to deliver it in early 1999. Costing an estimated $270-280 million, the rig has been ordered against a $335 million five-year contract with annual renewal options for a further seven years placed by Norsk Hydro. Its primary task will be the drilling of oil development wells on the Troll Field.
The rig design is based on the West Future II concept developed jointly by Smedvig and Hydro, and is claimed to be the most technologically advanced solution of its kind. Drilling efficiency will be enhanced by at least 20% by using a dual derrick RamRig from Maritime Hydraulics.
The fully automated rig will be capable of drilling in waters up to 1,500 meters deep, and its substantial topside load capacity will reduce the need for logistical support. The use of modern control technology will enable fuel consumption to be significantly lowered compared with conventional units.
Smedvig has also won a $300 million five-year contract, extendible for three or five years, from Statoil for drilling on the Norwegian shelf. To meet this contract, it has gone into partnership with the same company's shipping arm, Statoil Shipping and Maritime Technology (SMT), to convert one of the latter's multipurpose shuttle tankers under construction in South Korea into a drillship.
Smedvig and SMT will each have a 50% interest in the vessel, which is expected to cost $240-250 million. Smedvig will be responsible for outfitting, commissioning and operating the vessel, which should be ready for action by mid 1998. The drillship, which is expected to be named West Odin, will also be fitted with a dual RamRig.
The same concept has also proved a winner with Shell Deepwater Development, which has awarded a letter of intent to Smedvig and SMT for a five-year contract performing deepwater drilling in the Gulf of Mexico. Again one of SMT's multipurpose tankers will be converted by Smedvig into a drillship, this time capable of operating in waters up to 3,000 meters. It is expected to cost $280-290 million and should be ready for operations in spring 1999. Again a dual RamRig is under consideration for the drilling facility.
End-of-life fields are also generating work for Smedvig, which has won a $70 million five-year contract, with options for a further three years, to plug wells on Phillips' Ekofisk Field. It will use a new modularized rig developed jointly with Hitec for ease in moving from one platform to another, and adaptable without extensive modifications to each platform. It will be built by Hitec's partner, the Canadian company Dreco, and is due to be delivered late this year.
Meanwhile, as the Balder FPU production ship, designed, built and to be operated by Smedvig, prepares for start-up on the Esso Field this summer, the contractor has taken steps to strengthen its position in the floating production market. Again in a 50/50 partnership with SMT, it has acquired Shell's former Fulmar floating storage vessel with a view to offering it as a production ship for projects in the Far East and West Africa.
In March the vessel, now renamed SPU4, was under tow to Singapore, where, once a sufficient contract has been secured, the conversion will take place. The partnership agreement provides for the use of SMT's submerged turret loading and production technology. Responsibility for marketing and operations management will be held by Smedvig.
The contractor has also acquired 50% of the production ship under construction at the Mitsui yard in Japan for Rasmussen. This is a Tentech 700 design which is intended to compete at the upper end of the FPSO market, and particularly for developments in harsh waters with demanding topsides requirements.
The vessel, which will be able to store up to 550,000 bbl of oil, will be delivered this summer. However, processing facilities will not be installed until a firm contract is gained. When a contract is secured, Rasmussen will have the right to sell its interest, and Smedvig the right to buy it. Smedvig will be appointed manager for marketing, project management and operations. The cost of the vessel, minus processing capability, is estimated at $145 million.
In the tender rig market, another core area for Smedvig, the company has also expanded its fleet with the acquisition of the Southeast Asian contractor Petrodril Holdings and its two rigs, Tiga Kali, a tender rig, and Pelaut, a self-erecting semisubmersible.
Copyright 1997 Oil & Gas Journal. All Rights Reserved.