Price, transmission rates, reach all factors in competitive market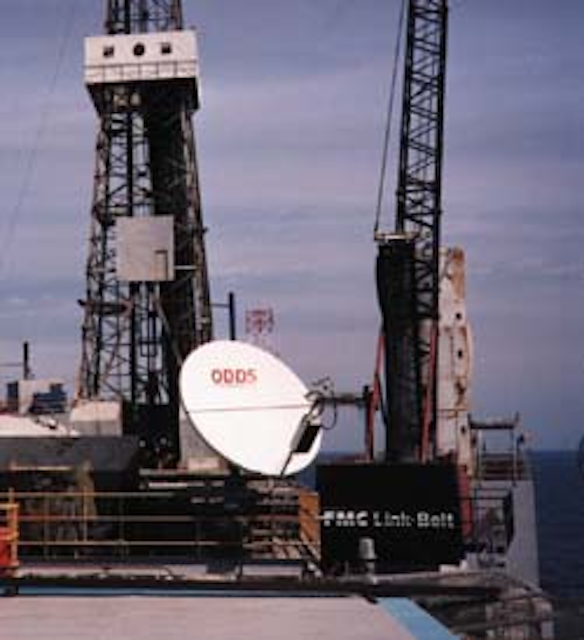 Platform and mobile antennas, such as this one, can be trained on a wider than ever array of satellite links, faster data rates, and lower costs.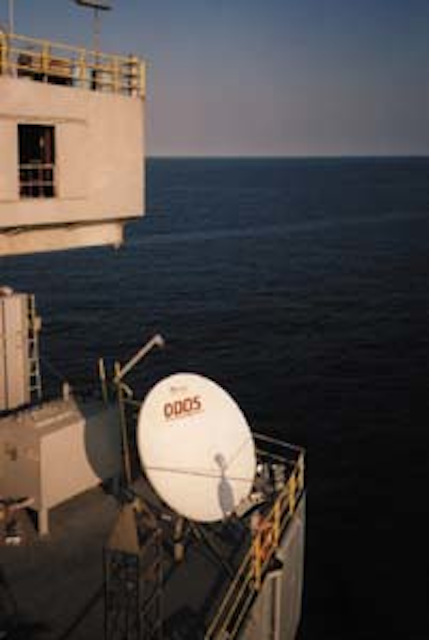 Transmission and receiving of voice from hand-held telephones as well as data is handled by this IWL antenna system in the US Gulf.
Robert G. Burke
Contributing Editor
With all the changes going on, global satellite communications won´t ever be the same. Inmarsat providers, the most widely available source of these services, now offer a growing range of digital services at reasonable prices.
The same technology can be obtained from private companies who combine satellite, cellular and high-frequency radio into attractive packages. They deliver custom-designed systems and wide-band frequencies for voice, fax, and high-speed data. Not to be outdone, equipment makers put on the market a variety of Mini-M satellite phones, transfer switches, and automatic handling devices.
All of these use a new service introduced this year by Inmarsat, the International Maritime Satellite Organization of London. The latest Inmarsat-3 satellite, third of four, contains seven high-powered spot beams and one global beam to serve the Pacific Ocean region. Two previous Inmarsat-3 units cover the Indian Ocean and Atlantic Ocean East.
Digital lines and faster modems make this a frontier of the market, rapidly expanding as energy companies demand faster service, clear lines, and uninterrupted connections.
Mini-M satellite phones the size of a laptop computer came out this year, appearing on the market at a price of only $3,000 each. Similar phones with stabilized antennas to track a satellite in the sky cost from $8,000-9,000. Because of new digital technology, Inmarsat´s former rates of $7-9 a minute dropped to $3-5, and even the older analog technology came down to $6-8 a minute.
All of these use a new service introduced this year by Inmarsat, the International Maritime Satellite Organization of London. The latest Inmarsat-3 satellite, third of four, contains five high-powered spot beams and one global beam to serve the Pacific Ocean region. Two previous Inmarsat-3 units cover the Indian Ocean and Atlantic Ocean east.
One-stop service
While Inmarsat added satellite capacity, commercial service providers that operate land earth stations (LES) and private coastal stations boosted power and introduced services of their own. For example, Stratos Mobile Networks, a new telecommunications company in Ottawa, will provide a complete integrated package for Hibernia, a field 200 miles offshore eastern Canada.
"The new platform for 300 ft of water will be all alone out there," says Howard MacIntyre, Stratos manager for oil and gas operations. The package includes a high-speed, digital, point-to-point satellite link (a C-band satellite service) as well as other standard telecommunications functions.
Hibernia Management & Development Co. includes Mobil Oil Corp., PetroCanada, Chevron Petroleum, Murphy Oil, and Norsk Hydro. Together, they invested $6 billion in the field. With no islands or platforms between the structure and shore, satellite was the only choice, says MacIntyre, who supervises communications from St. John´s, Newfoundland. The structure was floated out in May for immediate placement.
Stratos also contracted with Cougar Helicopters. All aircraft must operate outside controlled air space. Services include data and voice tele communications via C-band private satellite satcom, Inmarsat C for tracking helicopter and boats, and maintenance for a 24 hour operational center.
"Hibernia has the communi cations capability of a 10-story office building." says MacIntyre. "They can do file transfers, obtain screen updates, and reach a local dial tone. All phones on the platform have a four-digit extension from St. John´s."
In many ways, Stratos Mobile Networks appears typical of emerging global telecom munications servers seeking to provide a one-stop com munications package. The company acquired IDB Mobile Communications, an Inmarsat provider with offices in Bethesda, Md., in January 1997. The company has an alliance with Teleglobe, operator of Canada´s LES (landing earth station) at Laurentides. Stratos also acts as reseller of service from MSAT Network, a commercial satellite company, and Orbcomm, the first low Earth orbit satellite system. Offering data-only service, Orbcomm put up two operational satellites in 1995. Another 34 may go up this year.
Sharing coastal stations
A key to the Hibernia contract is a private earth station owned by Stratos. The station has a T-1 power supply approximating 1.544 megabits per second (mbps). From that, Hibernia purchases 512 kilobits per second (kbps) - or about one third. The rest is available for future offshore projects. Amoco has a rig headed that way, and added units stand in line.
Competition for such projects is likely to become intense. Similar business strategies are being shaped by British Telecommunications, London, which struck an alliance with Telenor of Oslo and Singapore Telecommunications to offer global coverage and a host of supplemental services. At the heart of BT´s service is its LES at Goonhilly, Cornwall, England. BT just opened a new LES in New Zealand.
Station 12 of the Netherlands also attempts to become a one-stop mobile satellite service provider. A member of the publicly-held KPN Group, Station 12 offers a service called Altus and a range of phones and terminals from big to small.
A leading supplier in North America of Inmarsat services is Comsat Mobile Communications, of Bethesda, US signatory to Inmarsat. Comsat owns and operates three earth stations. Among market innovations, some not yet made public, Comsat now offers Superhub service, featuring off-the-shelf data modems and compression software to provide store-and-forward services. Data from remote stations can be put into a hub and called out later.
Mounting competition
Other contenders likely to become players in this market niche include Telstra of Australia, KDD of Japan, Morsviazsputnik of Russia, and AT&T of New York.
AT&T brings a range of Inmarsat services, high-capacity C-band Intelsat options, radio telephones, and long-distance shore connections, including cellular service out to 10 miles offshore. AT&T Wireless promotes a High Seas Direct program and SkyCell services, an inexpensive satellite network covering North America.
SkyCell comes from American Mobile Satellite Co. (AMSC), of Reston, Virginia. Inmarsat isn´t approved for land uses so AMSC put up its own satellites and markets the digital service like cellular. Coverage extends from Canada to deep inside the Gulf of Mexico, including Alaska, Hawaii, and parts of the Caribbean. AMSC has some of the lowest rates in the industry, costing approximately $1.29 a minute within its region.
Since 1986, Petrocom has provided a unique cellular-satellite coverage for the Gulf of Mexico oil patch, out to 175 miles offshore. Leasing space on platforms, the company links the offshore by C-band transmission. Voice remains a primary use of cellular in the Gulf, but data transmission may soon catch up.
A new breed
At least two service packagers came to life targeting oil and gas clients. IWL Communications, Inc., based at Ellington Field south of Houston, started in 1981 and maintains a satellite hub in Friendswood, a suburb of Houston. This provider of contract services focuses on the Gulf of Mexico at branches in Lafayette and New Orleans, but operates an LES at Petuski, outside Moscow.
Gary Yokum, account manager of IWL, describes services being simple - hand-held mobile radios up to on-line satellites. "We deal with Inmarsat and also have our own satellite hub," he says. Two large uplink-downlink antenna systems at Friendswood process phone, fax, and data from offshore. IWL also implements a pay-phone system for offshore platforms. Satellite traffic comprises 50% of IWL´s business, says Yokum.
Omnes was formed in 1996 by Schlumberger of Paris and Houston, a giant in oilfield services, and Cable & Wireless, London, a telecom munications server of enormous reach. Omnes manages the Schlumberger Information Network, a global network covering 50 countries reaching remote oil and gas regions. Cable & Wireless provides a range of services, including a digital global highway comprising dual cable routes circling the earth.
Featuring access to the Internet, computer support and messaging, managed networks, plus Inmarsat and satellite services, Omnes forges a link between communications and computer skills. The firm combines VSAT services hardware, satellite transmission, e-mail and file transfer, gateway services, and land lines. Omnes operates a hub in Nigeria and provides VSAT services in Algeria for clients in the energy sector.
Inmarsat or VSAT?
A drawback to Inmarsat service for oil and gas companies is a need to move high-speed data. Terminals for Inmarsat A and B services move data at rates from 2.4 to 9.6 kbps. With upgrades, Inmarsat can move data up to 56 and 64 kbps. This is suitable for high-speed field transfer, store-and-forward video, high-quality audio transmission, video conferencing and multiplexed channels combining voice, fax, and data. But seismic and logging users envision a need for more rapid transmission.
One solution could be dedicated transpond ers on C or Ku-band satellites already in the air. Another possibility is expanded use of VSAT (Very Small Aperture Terminal). A number of companies, including almost all of the big providers, now offer these services.
Besides power, the difference between Inmarsat and VSAT is price. Inmarsat terminals cost $30,000-50,000, but rates for time remain high. VSAT equipment prices range from $40,000 to $80,000 for remote equipment and unlimited service comes to $2,000 a month.
"Energy companies don´t want to capitalize those expenses, so we offer a 36-month lease incorporating equipment costs to bring monthly fees down to $2,000-20,000," says IWL´s Yokum.
Paying the bill
Energy companies need to select a communications carrier with caution. As with long-distance companies, service and rates can vary. Here are a few common-sense things to remember:
Some 30 Land Earth Stations (LES) buy time from Inmarsat at essentially the same rate. They package time in various ways. Rates can vary as much as 40-50%.
A variety of packages are available, ranging from dial-up services, paying only for time used, to subscription fees for access and reduced rates for minutes.
Data files can be compressed, reducing a file´s size 20-80%. Obtain a good compression program and use.
As with ordinary long-distance uses, satellite time is charged at peak and off-time rates. Software programs pick optimum openings in two time zones simultaneously to send messages at least cost.
Make use of e-mail and store-and-forward capabilities. These may prove less costly than voice and fax.
Almost all calls today are fully terminated, meaning a cost is not added for moving a call from a land earth station to final destination.
Many seismic and drilling contractors, especially in the Gulf of Mexico, provide clients an opportunity to use a high-speed data link to shore from a source other than Inmarsat. Sharing costs can prove beneficial.
Make sure any communications system meets your program, scheduling, and budget needs. Enough competitive sources exist to allow a range of choices.
Compare costs for Inmarsat or VSAT services carefully. Inmarsat appears best for a short stays while VSAT services may prove economical if staying on location a few months.
Always consider safety. Even if alternate sources are used, Inmarsat remains a good backup. Soon, Inmarsat will begin a new Service E for automatic global distress signals.
Copyright 1997 Oil & Gas Journal. All Rights Reserved.