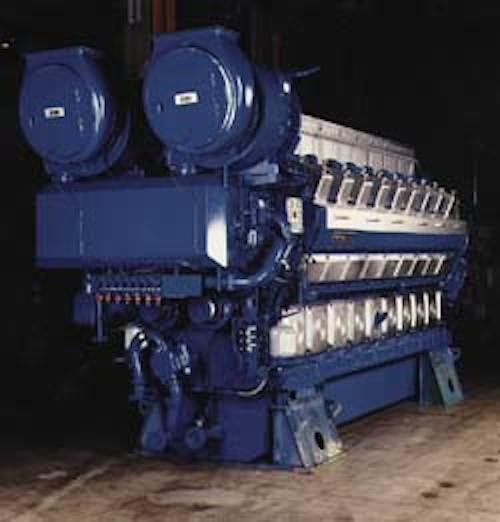 Wärtsilä 18-cylinder engine contracted for two new drillships.
Contracts
Wärtsilä has been awarded a contract to supply the engines to power two of the large new-generation drillships under construction in Spain and Korea. The drillship, Discover Enterprise of Transocean Offshore, will be powered by seven Wärtsilä engines which will deliver a total of 56,060 hp. Also being powered by three Wärtsilä engines with a total of 49,750 hp, will be a new double-hull drillship ordered by Conoco and Reading & Bates under construction at Samsung Heavy Industries.
American Oilfield Divers American Pacific Marine division has received a $4.5 million contract from the US Navy for repairs on the Wilson Cove Pier on San Clemente Island.
Aker McNulty has received the contract for the modification of the semi Northern Producer from Sea Production.
Tideland Signal has been awarded a contract to supply a SeaBeacon 2 racon (radar beacon) to mark Golar-Nor's Petrojarl Foinaven FPSO being built for the Foinaven Field, West of Shetland.
Ferguson Seacabs has received a £1 million contract from McDermott for the construction of a 35-ton Workshop Module and 18-ton Local Equipment Room for the Occidental PS1D platform in Qatar.
The National Petroleum Construction Co. of the United Arab Emirates has received a contract from Maersk Oil Qatar for the Al Shaheen Field Development Project Package 2, including engineering, procurement, construction, installation, hookup, commissioning, and handover of a production wellhead platform and separate living quarters platform.
Venture has received a contract from Arco covering £8 million in engineering modifications to various facilities and tie-ins of new fields with existing infrastructure in the North Sea.
Weir Pumps and Hopkinsons have won orders worth more than £5 million to supply pumps and valves to the North Sea oil industry.
Louis Allis was awarded contracts to build nine totally enclosed air-to-air cooled induction motors for Texaco's newest offshore oil producing platform.
Delta Worldwide Services has sold the Marathon LeTourneau Jackup Zeus to Oceaneering Production.
AEA Technology's NDT Centre has won a contract to supply King Fahd University of Petroleum and Minerals in Saudi Arabia with an integrated horizontal well test facility and X-ray scanner system.
Frigstad Offshore semi Galaxy Driller has received the contract from Conoco Indonesia for a drilling program on the Natuna area of the South China Sea.
Sonsub has completed a contract with Global Industries to assist in the installation of a 3-in. glycol supply flowline connecting Shell's deepwater Mensa development to the platform at West Delta 143A.
Perry Tritech has sold two 100 hp Triton XL, remotely operated vehicles to Cal Dive.
Fugro has won an alliance contract with Rockwater to provide survey and remotely operated vehicle services for the company's projects offshore the UK and Norway between 1997 and 1999.
Global Industries has completed two pipeline installation contracts in the Gulf of Mexico, one for Vastar and the other for Sonat Exploration.
Brown Brothers has received orders for a swivel stack to be installed on the Ramform floating production, storage, and offloading vessel for Conoco's Banff Field.
Dresser-Rand turbo Products Division has been awarded a contract for over $29 million to supply compression equipment to BSI Industries for Uzbkneftegaz at a facility in Uzbekistan.
People
Halliburton has announced that Dave Lesar has been appointed president and chief operating officer, Ken LeSuer has been appointed vice chairman, and Gary Morris is the new executive vice president and chief financial officer.
Kjell Helle, currently vice president for Statoil's Norne operations, will take over as head of Statoil's Irish exploration activity in October.
Transocean Offshore announced the Einar Kloster, a director of the company, was expected to be formally nominated to become Chairman of the Board of Norsk Hydro.
Diamond Offshore has named Rodney W. Eads Senior Vice-President-Worldwide Operations.
The Houston Exploration Co. announced that Susan Gray has joined the company as a geophysicist.
Brian Anderson has been promoted to Chairman of Shell in Greater China. Ron van der Berg will replace Anderson as chairman/managing director of Shell Petroleum Development Co. of Nigeria.
Syntroleum has filled two newly-created positions: John Dolan as Pilot Plant Operations Manager, and Dr. Ron Silver as Catalyst Development Manager.
Spectrum announced the appointment of Andrew Cuttell as Manager, Geophysics for the company's UK office.
W. Paul Tiefel has been named president of Ashland Exploration; he will succeed G. Thomas Wilkinson.
Fairfield Manufacturing has announced the appointment of Ken Burns to the position of President and Chief Executive Officer.
Global Marine Drilling has presented an award of merit to Glomar Arctic I contractor David Porter, who found and revived a heart-attack stricken Global Marine employee and began immediate medical treatment for his condition.
Conoco Exploration and Production Europe has appointed Tom Knudsen chairman of the division succeeding Roger Abel. His responsibilities will include E&P activities in the UK, Ireland, Norway, The Netherlands, France, Germany, and Russia.
Balmoral Group of Aberdeen has announced two senior appointments: Bill Main has joined the main board as finance director while the position of commercial director has been filled by John Innes.
Ian Selby has been appointed Technical Manager at Coastal Geosciences, Great Yarmouth, responsible for the development of the company's geotechnical site investigation services for offshore oilfield and pipeline engineering.
Bettis announced that it has promoted Mark Cordell to the position of Vice President Sale and Marketing managing Bettis' worldwide sales efforts.
David Black has been named Sr. VP Sales and Service for Camco Products and Services.
Dan R. Stoppenhagen has been promoted to Manager of Flour Daniel's Offshore and Maritime Structural Engineering Group within the Production and Pipelines Operating Co.
Kevin C. Peterson, President and Chief Executive Officer of Coflexip Stena Offshore has been named Executive Vice-President of American Oilfield Divers.
Brent O'Meagher has been appointed to the Marine business Unit at Trimble's head office in California. He will be responsible for developing Marine Survey markets.
John Edmunds has been appointed Managing Director, UK operations, Ingersoll-Dresser Pumps. Mr. Edmunds will assume the responsibility of the company's Engineered Pump group.
John R. Kreider has been named Vice-President and General Manager of Oceaneering Technologies.
Roger E. Tetrault has been named Chairman of the Board of J. Ray McDermott.
Mergers, Acquisitions & New Companies
Technip Group, Paris, and CBS Engineering, Houston, have announced that CBS has joined the Technip Group through Technip's acquisition of an 80% majority interest of CBS.
Diamond Offshore has completed the acquisition of the Polyconfidence semisubmersible accommodation vessel currently working in the North Sea.
Coflexip Stena Offshore has taken a 32% equity stake in Cal Dive International in order to expand into the US Gulf of Mexico market.
Oil States Industries has announced the signing of a letter to merge HydroTech Systems into the company with HydroTech, operating as a division of Oil States.
Halter Marine has acquired the former McDermott shipyard on the Industrial Seaway in Gulfport, Mississippi. The 74-acre facility will be called Halter Gulfport Central and will construct Military Sealift command ships.
Copyright 1997 Oil & Gas Journal. All Rights Reserved.