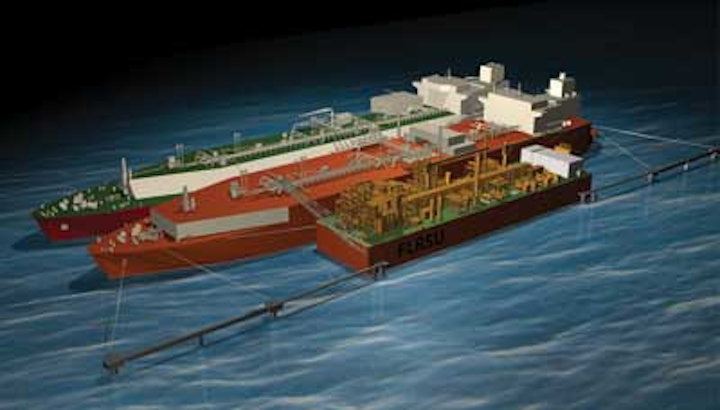 First-ever facility to go on-stream in 2014
Gurdip Singh
Contributing Editor
EXMAR NV plans to invest $300 million on the first-ever floating liquefaction, re-gasification, and storage unit (FLRSU) in an effort to develop stranded gas worldwide. Under a 15-year contract with Rubiales Energy Corp., EXMAR will operate the FLRSU in the Caribbean Sea offshore Colombia starting in 4Q 2014. The facility will be a non-propelled barge equipped to convert natural gas into LNG, and to store for offloading to a permanently moored storage unit or shuttle tankers. The jetty moored barge will receive gas from the onshore La Creciente field.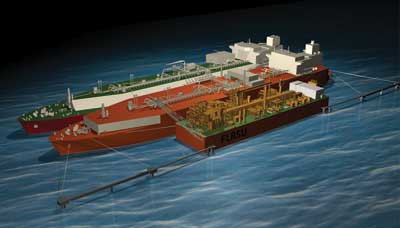 The FLRSU under construction at Wison Offshore & Marine's new shipyard in Nantong, China.
The floating plant will process 69.5 MMcf/d of natural gas, and produce 500,000 metric tons (551,155 tons) of LNG per annum. The FLRSU will process piped gas with less than 1% of CO2 content, but will not process sour gas. The facility will be 140 m (459 ft) long, 32 m (105 ft) wide, 18 m (59 ft) deep, and have a normal draft of 5 m (16 ft).
EXMAR officials are confident the FLRSU will be at the jetty for another 15 years given the potential of the field reserves. The La Creciente field has 6 tcf (170 bcm) of gas reserves, and ongoing studies estimate a potential of 30-43 tcf (850 bcm-1.2 tcm).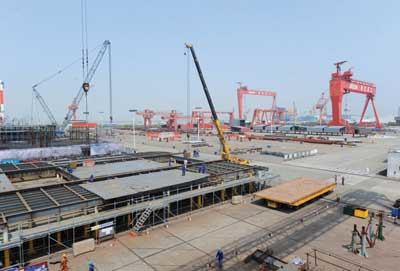 Rendering of the FLRSU.
"We wanted to show some innovation in the LNG market," said EXMAR CEO Nicolas Saverys. "We are the first one to do re-gasification onboard a ship, and we are the first one doing ship-to-ship liquid transfer. Now we will be the first one to do ship-to-ship transfer of LNG."
Supplying the gas market
Saverys dismissed criticism about the project being too small. "The world gas market is regulated and this small-scale project is set to contribute to the global gas market," he said. "We are on the verge of a very fast growing gas market. We are bringing this first project to increase gas supply to that market."
Assuring the simple system and safe approach, Saverys said he sees a huge potential in exploiting stranded gas globally. "The energy markets are short of gas supplies and EXMAR's FLRSU-based approach offers the opportunity to add stranded gas to these markets, and correct the current imbalance in trade, both price and supply wise."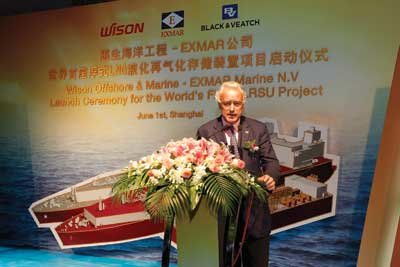 EXMAR CEO Nicolas Saverys at the project launch in Shanghai.
Saverys noted that "there is enough stranded gas worldwide, some of which is very often flared and or some of which is not readily available because of technology limits. We think that there are plenty of opportunities in the world and plenty of gas which, at the moment, is untouched because there are no means to bring it to the markets."
At the launch of the project in Shanghai on June 1, Saverys called on China's state energy companies to consider EXMAR's FLRSU concept for exploiting gas deposits. EXMAR is building the facility at Wison Offshore & Marine Ltd.'s new shipyard in Nantong, China.
The FLRSU project highlights the business potential and investment in Colombia. EXMAR has worked in the South American country handling coal exports for more than a decade. "Colombia has the fastest growing economy in South America, and one of the fastest in the world," he said. Colombia is ramping up oil production to 1 MMb/d this year. The country's current gas production is estimated at 1 bcf/d (28 MMcm/d) of gas. The company is training 28 Colombian nationals to manage and operate the FLRSU.
The future appears to be bright for FLRSU projects, but EXMAR is taking one project at a time. As for the company's future, Saverys said: "There are places where gas production is just impossible. Indeed I can share with you that my ambition is to produce gas from those areas in the next decade. I would like to see that we are the first one doing more complicated projects by going into harsher environments and handling gas which comes with a sludge, which will need to be cleaned and purified. We will have a real cracking system out there."
Engineering the vessel
In June, Shanghai-based Wison Offshore & Marine Ltd. signed an engineering, procurement, construction, installation, and commissioning contract (EPICI) to design and build the flat-bottom barge for the project. "We bring quality Chinese fabrication and international project management to this project," said Dwayne Breaux, executive vice president of Wison. "The contract is first of its kind in the industry, and has put the new yard in a great burgeoning market."
Black & Veatch is providing the detailed design of the topside LNG production facilities to Wison for the FLRSU. Through a global design team led from its Beijing office, Black & Veatch will also supply all LNG process equipment and provide installation and start-up oversight services to Wison, said David E. Kerns, executive vice president, director for strategic planning and risk management at B&V Energy.
The equipment will utilize the company's patented PRICO technology, which employs a single-mixed refrigerant system to accomplish the gas liquefaction with a refrigerant that is a mixture of nitrogen and hydrocarbons ranging from methane to isopentane, Kerns explained. By using a single-mixed refrigerant process with one refrigeration loop startup, Black & Veatch aims to achieve high reliability and availability.
Underlining the risk sharing pact between EXMAR, Wison, and Black & Veatch, Saverys said he plans to discuss future projects with the two partners. "We are talking about complex construction with certain risks," he said. "And these risks are shared in equitable manners with different parties."