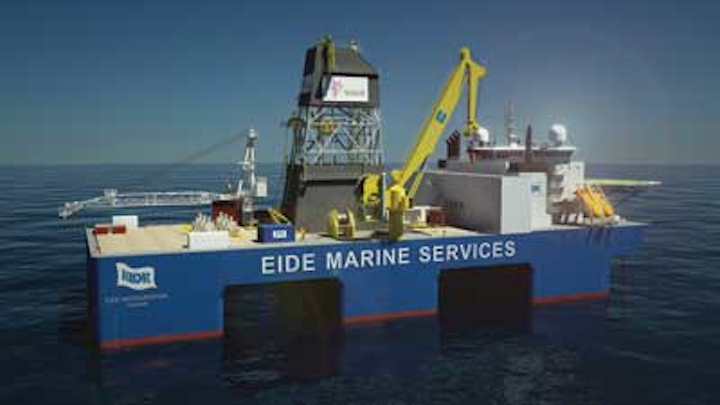 Nick Terdre
Contributing Editor
If the market does not provide the solution you need, the answer may be to pull a few strings to make sure it does. That is the proactive approach adopted by Statoil in its search for fit-for-purpose rigs for improved oil recovery (IOR) on Norwegian fields.
In Norway, IOR is acknowledged as playing a vital role in squeezing the most benefit from the country's oil endowment. Even in this golden era for exploration with successes such as Johan Sverdrup in the North Sea and other finds in the Barents Sea, the authorities continue to bang the IOR drum. It's a message that Statoil is totally in tune with, as operator of some of the largest maturing fields on which the country's oil wealth is founded.
The key to improving recovery lies in drilling and well management – drilling accurately into small pockets, drilling laterals from existing boreholes, and keeping the wells functioning in prime condition. On platforms with fixed drilling rigs, these tasks are relatively straightforward, and it is in such conditions that Statoil has posted its biggest IOR gains.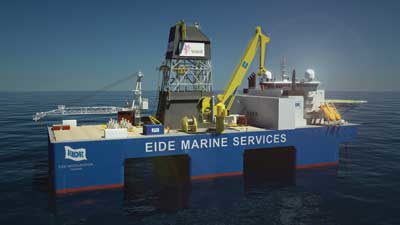 Eide's concept for light subsea well intervention. (Image: Statoil)
Fields developed with subsea wells, however, have proved a greater challenge. These constitute a significant part of Statoil's portfolio on the Norwegian continental shelf (NCS) – they include large fields such as Troll Oil, with close to 120 subsea wells, Åsgard with 50-plus wells, Heidrun, Norne, Kristin, Tyrihans, Snøhvit, Gjøa, Snorre, Visund, and Tordis/Vigdis, not to mention the subsea satellites around Statfjord, Gullfaks, Oseberg, Sleipner, and several smaller fields. It all adds up to a stock of almost 500 subsea wells.
But when Statoil began to look for equipment to maintain these wells, it found that the market had little to offer other than full-scale semisubmersible drilling rigs. Although appropriate for drilling new wells, for both lighter and heavier forms of intervention, they are over-dimensioned and over-expensive.
Mid-depth solutions
"The market was not coming up with what we needed for the NCS," observed Øystein Håland, senior vice president, drilling and well. "Its primary focus is on deepwater drilling rigs, when what we need is drilling and completion rigs for medium water depths."

Øystein Håland, Statoil's senior vice president, drilling and well. (Photo: Haagen Tangen Eriksen/Statoil)
Adapting rigs for this role is expensive, so Statoil decided that designing from scratch was the best way forward, says Håland. The company's attentions have focused on three types of rig: Category A, for light well intervention; Category B, for heavier intervention and workover; and Category D, for drilling and completing new development wells. Work is now under way on a fourth category, J, which refers to jackup rigs for development work.
Statoil first implemented this strategy in light well intervention (LWI), awarding its first contracts in the mid 2000s. Most of the work has gone to monohull vessels designed specifically for this type of task. At present the company has three vessels from Island Offshore under contract for this purpose –Island Frontier, Island Wellserver,and Island Constructor.
In May, Statoil awarded two contracts worth a total NOK 9.4 billion ($1.5 billion), both due to come into force when the current LWI contracts end in 2015. One, with a fixed five-year term, has gone to Island Offshore for the continued hire ofIsland Frontier and Island Wellserver. "Island Offshore has delivered solid services and we expect the same going forward," a Statoil executive commented.
The other contract, with a fixed term of eight years, went to Eide Marine Services which offered a newbuild semisub hull. "This involves new marine technology," said Håland. "It's a small semisub which is stable when operating and can move fast." Both contracts have two additional two-year options.
While monohulls have the advantage of being able to transit rapidly between one well and another, they are prone to weather-induced disruption. "In winter it is often very difficult to land a helicopter on one of these units," Håland observed. "They may have to go to shore to perform a crew change. There can be a substantial number of days lost."
The company expects the Eide unit –Eide Well Intervention – to be less vulnerable to weather interruption, while still moving between wells at a fair pace. With subsea developments stretching from the North Sea through the Norwegian Sea to the Barents Sea, a unit may have long distances to travel between assignments, so transit speed is important.
Achieving agreement between the different licenses for use of the units was a challenge in the early days, said Håland. "It was really tough to get LWI going," he recalled. "Setting up a risk-sharing agreement between different licenses with an obligation to use the unit for a certain number of days was not easy." Good results, however, have won over the skeptics, and now each license insists on its right to have a contracted unit for its share of days.
LWI is performed without a riser, instead using a lubricator and wireline to run equipment or tools downhole and conduct repair and maintenance operations. The vessel operators work in established consortia – Island, for example, with FMC for well control equipment, and Aker Well Services for downhole operations; while Eide plans to work with a Halliburton-led team that includes Subsea Technologies, Advantec, and Oceaneering.
The vessels and equipment packages are custom-built for the application, therefore incurring much lower capex than a standard drilling rig and delivering much lower operating costs. The result, according to Håland, is a 50-60% reduction in overall costs, more than sufficient to make these operations economically viable.
Heavy-duty intervention
Another contract awarded by Statoil in May covers heavier forms of subsea well intervention. Aker Oilfield Services will build, own, and operate a Category B semisubmersible rig specially designed for riser-based well intervention and light drilling tasks, including through-tubing rotary drilling, coiled tubing, high-pressure pumping, well-testing, and cementing services. The contract runs for eight years with three two-year options, and is valued at around $1.9 billion for the fixed term. The rig, which is due to start operations in 2015, will operate in water depths up to 500 m (1,640 ft). Statoil expects it to cut its intervention costs by up to 40%.
Aker Oilfield Services already has a dedicated heavy intervention vessel, the monohull Skandi Aker, which has worked almost exclusively in the more benign waters of West Africa and Brazil. As regards the North Sea, however, the weather conditions are unfavorable for a monohull operating with a fixed riser, says Håland – the more stable platform offered by a semisub is therefore preferable.
As for drilling new development wells, Statoil has focused on a unit specially designed for drilling and completion – the Category D rig. Currently the market offers almost exclusively generic rigs intended for all types of drilling, including exploration and development. However, they are not optimized for development drilling tasks, such as handling the large volumes of materials needed for well completion.
"From the market we weren't getting the fit-for-purpose solution that we wanted," said Håland. "So we went to the industry to engineer the new design, and paid for FEED and detailed engineering." Representatives of all relevant disciplines were invited to participate, including drilling contractors, hull and topside designers, equipment vendors, and fabricators. "We were very pleased to see their response," Håland noted. "There was a lot of interest and many companies were willing to get involved. Not all the players are able to fund this kind of work themselves, but we were willing to help."
Workhorse role
Based on the resulting design, drilling contractors were invited to submit bids, and last year – two years after the process had been initiated – Statoil awarded the contract to Songa Offshore. The contractor will provide two Category D rigs for a fixed eight-year term with four three-year extension options – so if all options are exercised, the contract will run for an unusually long period of 20 years. The deal is worth $2.47 billion for the fixed term, equivalent to a day rate for each unit of about $420,000. The rigs, which Statoil describes as workhorses, will be capable of operating in waters of 100-500 m (328-1,640 ft) and of drilling to a depth of 8,500 m (27,887 ft).
Both rigs, which have a GVA hull design, are under construction at the Daewoo Shipbuilding and Marine Engineering (DSME) yard in South Korea, with Aker Solutions supplying the drilling equipment. Following delivery in 2014, both units will be deployed on the Troll Oil field, where the drilling need is so great that ever since start up in 1995, two, three, and even four rigs have been employed at any one time.
This year Statoil followed up on a negotiated option for two additional Category D rigs, awarding a further contract to Songa. Again the contract – this time worth $2.66 billion – is for a fixed term of eight years with four three-year options. One of these rigs, which are scheduled for delivery in 2015, will serve on the Norne, Heidrun, and Åsgard fields in the Norwegian Sea. The other will be engaged for year-round operations in the Barents Sea.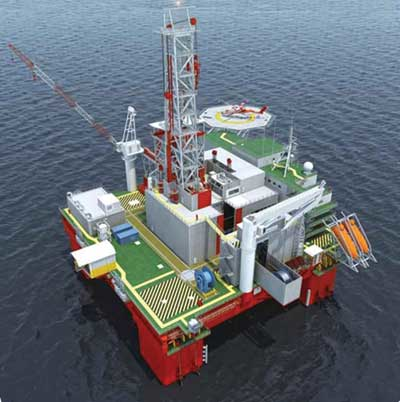 (Top) Aker Solution's Category B rig for heavy subsea well intervention. (Bottom) Songa's design for a drilling and completions semi – Category D. (Images: Statoil)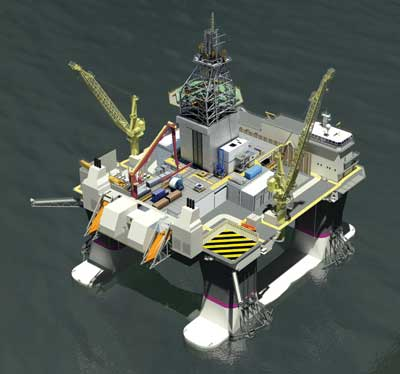 Although Statoil is supplying a bridge loan to Songa to help with finance construction of the second two rigs, it has no financial interest or ownership in any of the four category A, B or D units so far contracted. But in the case of the Category J rigs, it has taken the position of suggesting license ownership, Håland says. Some relevant licenses have very long drilling programs, and if a license has the need for a full-time rig on a long-term basis, ownership could be justified. This would be a similar situation to the drilling facilities on fixed platforms, which are owned by the licensees, he points out.
In the Category J project, a fit-for-purpose design has been developed for drilling and completion of production wells. As with the Category D project, this has taken place in cooperation with the relevant supply-side players. Statoil now plans to present the design to the industry at a workshop, after which it will issue a tender, probably for two units, on a long-term basis. Its intention is to award a contract before year-end and have the units in operation in 2015.
Historically jackups have been confined to the shallower waters of the southern North Sea, but the latest designs have extended the operational envelope to depths of up to 150 m (492 ft), thus opening the way for jackups to operate more widely in central areas of the North Sea. Where possible, jackups are often the rig of choice for development drilling – this is the case with major new development projects on central Norwegian North Sea fields such as Total's Martin Linge, Statoil's Dagny, Lundin's Edvard Grieg, Det norske oljeselskap's Draupne, and potentially Statoil/Lundin's Johan Sverdrup.