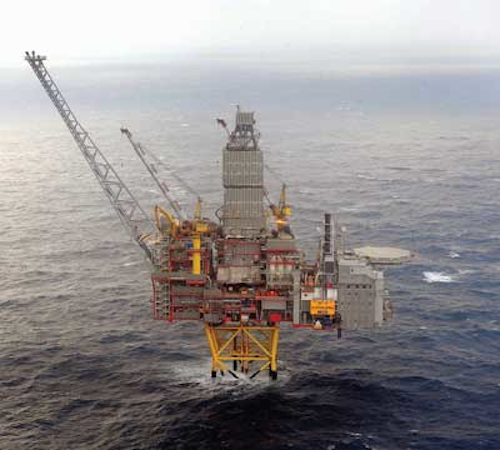 Total oil and gas investments on the Norwegian shelf this year could reach a record NOK 184.6 billion ($31.7 billion) according to Oslo-based Statistics Norway, which has been reporting on the sector to the government since 1985. The figure is based on a survey of operators' intentions compiled in November, and represents a NOK 32-billion ($5.5-billion) increase on the estimated outlay for 2011.
Among the driving factors are the sheer number of new Norwegian field developments, coupled with operators' extensive production and exploration drilling programs. Also, in many existing fields output is falling and the platforms are past their prime. In some cases, obsolete infrastructure will have to be replaced and new technologies implemented, mainly to lift oil recovery.
Additionally, the report's authors point to the numerous discoveries close to production centers in recent years, many of which are now undergoing accelerated development to take advantage of high oil prices and available capacity at facilities on fields in decline.
Among the larger ongoing projects, those on the Ekofisk South, Goliat South, and Gudrun fields should reach their investment peak this year; while there will be intensive upgrades and production drilling on the Ekofisk, Gulflaks, Oseberg, and Troll fields.
Exploration expenditure across the shelf this year could total NOK 32.4 billion ($5.564 billion), NOK 0.9 billion ($155 million) above the estimate for 2011. However, although last year's giant discoveries in the North Sea and Barents Sea will incentivize drillers, a shortage of rigs and strong demand for production drilling could restrict exploration plans.
EnQuest to revive UK fields
EnQuest plans an $850-million redevelopment of the Alma and Galia fields in the UK central North Sea, subject to government approval. Both were originally produced by Hamilton Bros in the last century, when they were known as Argyll and Duncan. They were prematurely abandoned due to issues with mounting water cut, although Argyll was briefly revived a decade or so later as Ardmore under a short-lived development operated by Tuscan Energy.
The new plan involves placing seven production wells and two water injection/disposal wells on the two fields, all tied back to Bluewater's FPSOUisge Gorm, which has been out of action for over three years since leaving Hess' decommissioned Fife field. The topsides facilities will be modified to process water cut levels of up to 95%.
EnQuest expects to achieve start-up late in 2013, with output building to a peak of over 20,000 boe/d. Elsewhere in the sector, the company has discovered light oil in Palaeocene sands while drilling the Crathes prospect. It plans to evaluate the commerciality in connection with other accumulations in the area such as Scolty and Torphins.
Seabed samples suggest frontier potential
The Norwegian Petroleum Directorate (NPD) is investigating petroleum potential on the Jan Mayen Ridge between Norway and Iceland. NPD and the University of Bergen have retrieved samples which analysis suggests could be up to 260 million years old from steep parts of the seabed in this region.
According to NPD Exploration Director Sissel Eriksen, the findings to date are positive. The impact of volcanic rocks in the area appears to be lower than previously thought (these rocks are normally not prospective for hydrocarbons). Samples also included good-quality sandstone, along with rocks from a similar era to source rocks in Greenland.
Jan Mayen was created after Greenland and Norway split during two major rift episodes, leading in turn to formation of the Norwegian Sea and the Greenland Sea. Water depths in the survey areas, based partly on available seismic data, range from 600-2,000 m (1,968-6,561 ft). The samples were acquired on both the Icelandic and Norwegian sides of the ridge, using an ROV deployed from the Institute of Marine Research vesselG.O.Sars.
NPD plans to shoot more seismic in the area this summer, and to drill shallow boreholes to verify the findings from the samples. Results of interpretation will be factored into an impact assessment for the Jan Mayen microcontinent.
Transaction boosts Centrica production
Statoil has agreed to offload various production interests offshore Norway to Centrica for a total of $1.625 billion. The transaction will net Centrica 117 MMboe of reserves and increase its production by 34,000 boe/d. Gains include stakes in the Kvitebjorn field in the Tampen area of the North Sea, which currently delivers around 60 MMboe/yr of gas and oil, and the nearby high-pressure/high-temperature Valemon field, currently under development. Additionally, the two companies have agreed to collaborate on gas-led exploration off Norway and the UK.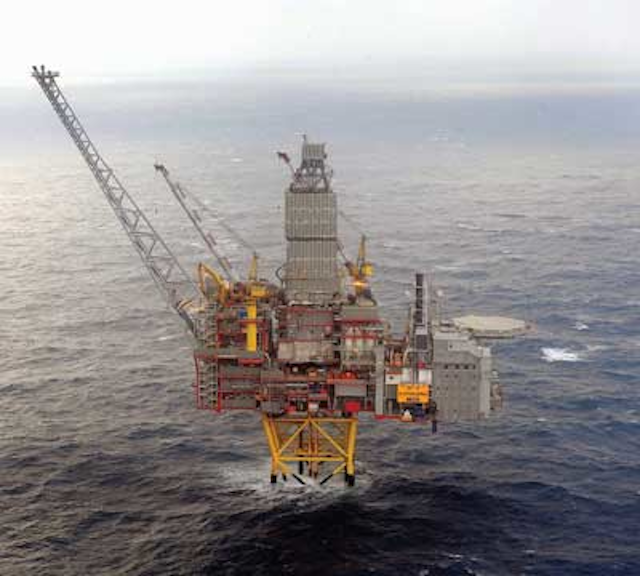 Statoil has reduced its interest in the Kvitebjorn field and platform (Photo courtesy of Helge Hansen).
For Statoil, the focus is on driving forward new projects of all sizes, and in particular fasttrack subsea tiebacks. The latest include the 7.6 MMboe Vilje South in the North Sea, where the company has authorized a single production well drilled through a standard subsea template, connected to the Marathon-operated Alvheim facilities. Start-up is due in late 2013. A little prior to that, the $226-million Visund North should come onstream via a two-well subsea template linked to Visund A.
Dutch storage search under way
The Rotterdam Climate Initiative has tasked R&D institute TNO to search for carbon dioxide (CO2) storage options in the subsurface below the Dutch North Sea. The aim of the Initiative, supported by the European Commission, is to reduce CO2 emissions in the Rotterdam area by 2030 via means such as carbon capture, transport, and storage.
Under the EC-funded ROAD project, TNO is examining offshore storage options in the many depleted Dutch gas fields. It already has screened the offshore region close to Rotterdam to cover needs during 2015-20, and is now looking at high-capacity storage options in areas more distant from the harbor. These include large gas fields and deep saline formations (sandstone formations filled with water), some of which could store huge quantities of CO2. However, there is also a lack of knowledge about these formations, in contrast to the depleted offshore fields.
More Offshore Issue Articles
Offshore Articles Archives
View Oil and Gas Articles on PennEnergy.com