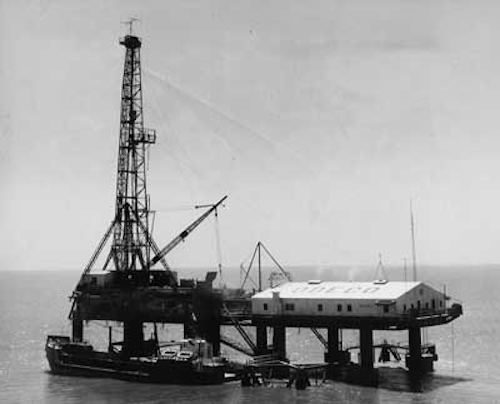 From Mr. Charlie to PSVs, career changed industry
Eldon Ball
Senior Editor, Technology & Economics
Alden J. "Doc" Laborde, a graduate of the US Naval Academy and World War II veteran, left his job with Kerr-McGee in 1950 to found the Ocean Drilling and Exploration Co. One year later, Laborde had produced the world's first offshore mobile drilling rig, theMr. Charlie. He followed that success with a number of offshore innovations, including the first semisubmersible drilling unit, the Ocean Driller and, to service mobile rigs, Laborde formed the Tidewater Marine Service Co., which grew to become one of the world's largest marine transport operations for the offshore oil industry. He later formed Gulf Island Fabrication Inc., and served as the CEO for a number of years. He currently serves on the board of directors. Recently he met with Eldon Ball, Offshore senior editor, technology & economics, to talk about the early days.
Offshore: You designed and built the first mobile offshore drilling unit – the Mr. Charlie – and also the first semisubmersible – the Ocean Driller. How did those two innovations come about?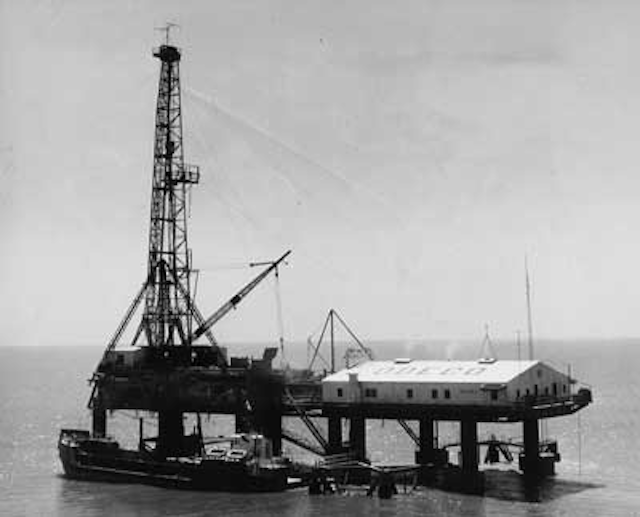 The submersible rigMr. Charlie.
Laborde:I was working for Kerr-McGee as a drilling superintendent at the time. I previously worked for Sid Richardson on a rig down in south Louisiana and while there, I'd heard about Kerr-McGee going offshore and I figured that's kind of my chance, since I had a marine background from my time in the Navy. So I went over to Morgan City, which was their base, to talk to them about an idea I had. All these Oklahomans and Texans were having a heck of a time with how to work things offshore. In those days, they drilled offshore wells using a bottom-supported platform. For each new well, they had to take the rig down, tear the platform down, and move it to the next place and put it back together. So it seemed pretty obvious to me – it wasn't any great stroke of genius – to realize that they needed something different.
I had played with the idea and came up with a design that would skip all that. I took it to Dean McGee, president of Kerr-McGee, and he said they just weren't ready for anything like that at the time, so I resigned from Kerr-McGee and hit the road to try to promote my idea. I raised some of the money, but not the full amount that would be needed to build the rig.
While I was traveling around Louisiana and Texas looking for backers, I got a call from Burch Williams of Murphy Oil Co. up in El Dorado, Arkansas. I had never heard of Murphy, but they had heard about the new offshore rig design I was trying to promote. They wanted a way to get into offshore exploration, but it was only being done in those days by major operators because of the additional costs and risks involved. Murphy was convinced that some new technology would enable them to bring down costs and also reduce risks, and perhaps my idea was the solution.
I got to El Dorado the next day and met with Charles Murphy Jr., the president, and a room full of Murphy executives. They didn't know a thing about water, so they figured I knew what I was talking about, and I did my best to convince them that was true. At the end of the meeting, they went along for 50% of the money and assigned Burch Williams to help me raise the rest of the money. We formed a new company called Ocean Drilling & Exploration Co., quickly given the acronym Odeco.
We named the first rig theMr. Charlie, the nickname for Charles Murphy, father of Charles Murphy Jr., and founder of Murphy Oil. The rig went to work for Shell at what I then considered the incredible sum of $6,000 a day. We had a number of doubters within Shell, but we were supported vigorously by a man named Bouwe Dykstra, then vice president of Shell Oil in New Orleans. Fortunately, we made a discovery on the very first well. We had a few problems, needless to say, but the final result was a success. I went in to Bouwe at the end of the job and asked if he was happy with it. I didn't know what the answer was going to be, but he said, "Ahhh, that's a good rig, a good rig. Build two or three more."
That was the beginning, and Odeco wound up eventually with 30 – 40 rigs all around the world. The structure of the company remained the same – I owned half of it and Murphy owned half.
I remember one day, a number of years later, a young man named George Bush came by to see me. He owned an onshore drilling company and he wanted to build an offshore rig. So I helped him get started and he launched a company called Zapata Off-shore. He sold it a few years later and got a few million dollars and used that to go into politics. The rest of the story is obvious. I still hear from him from time to time. He was a really class guy.
We eventually sold Odeco. Charles Murphy Jr. retired and his successors weren't too interested in owning a drilling company, so they decided to sell the rigs. We couldn't quite agree on how to do that, so they just merged Odeco into Murphy and then sold off the rigs. Diamond Offshore bought them – 40 rigs at that time.
Offshore: That was the submersible rig. How did the semisubmersible come about?
Laborde: It became obvious that a rig like this was limited to the depth it was designed for – about 40 ft (12 m) – and at first that was about as deep as anyone wanted to go – but it soon became obvious that the trend was going out indefinitely into the Gulf and they wanted to be able to drill there. That's when we decided to try a floating unit.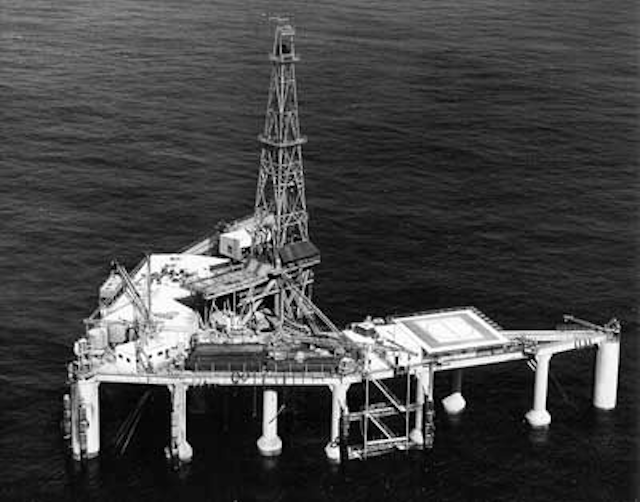 The semisubmersible rigOcean Driller.
We built theOcean Driller, the first semisubmersible which was a pretty awkward thing to tow, but it was very stable. It was designed so that you'd be drilling right in the geometric center of that triangle and with that support out on each side it was a very stable rig. But when you had to move it, it took a lot of tugs. As time went on, we changed the hulls to build them parallel to each other. It didn't alter the performance particularly, but it was much easier to tow, so that became more or less the standard after that.
Offshore: Among other things, you also redesigned offshore support vessels. How did that happen?
Laborde: As we operated more offshore, it became obvious that we needed a new support vessel design. During the early days of offshore operations, we used former World War II landing craft (LCTs), which worked okay, but we decided that we needed a better scheme. The LCTs were about 105 ft (32 m) long, 27 ft (8 m) wide, with a flat deck and controls and machinery space aft. The bow had a landing door that could be dropped for loading and unloading military tanks or vehicles on a flat beach. They had some problems. They were thin-skinned and under-powered, but worst of all, it was hard to control the forward part of the vessel near the rig while cranes lifted the cargo. Having the pilot house in the stern and the deck space up forward just wasn't very practical for use around rigs.
I thought that we should design a vessel somewhat larger, with considerably more power, and with the deck house and controls forward, leaving the entire deck open for cargo. This combination would allow one to maneuver the stern near the rig and control it there in much heavier weather.
I got together some friends and business associates to finance the first vessel. That group included Burch Williams, my two brothers C.E and John Laborde, and some others – a total of about 10.
That was the beginning of a company called Tidewater Marine. The first vessel we built was named theEbbtide. Tidewater became the world's largest offshore vessel operator. It still exists today as a publicly traded company.
The new design seemed pretty obvious to me, but then again that was a new scheme that people kind of laughed about when they first saw it. It looked kind of strange, but it worked much better and it became the standard.
Offshore: After Tidewater, what came next?
LaBorde:Well, I retired from Odeco in 1977 at age 61. After a few years of travel with my wife – which we greatly enjoyed – I was open for something new to do. I had served on a number of corporate boards but was pretty much out of that as well. Then one day in 1985, I got a call from Huey J. Wilson, who had just sold his company – H.J. Wilson & Co. – and had some money to invest. He asked me to look at a company called Delta Fabricators, in Houma (Louisiana) that had gone bankrupt. They built offshore platforms and had a good reputation, but just got caught in the hard times of the mid-1980s.
Huey and I decided to buy it out of bankruptcy. We put together a group of investors. They were mostly farmers and landowners who had gained from the high price of natural gas at that time – about $9 a thousand cubic feet. We named the new company Gulf Island Fabrication. To put it briefly, we ran into some challenges because of the previous bankruptcy and at the same time the price of gas dropped to under a dollar, so by 1987 our investors wanted out. We talked it over, and Huey and I decided to pay off the investors and take over.
We cut out some unnecessary costs and at the same time added some bonus and incentive plans for the employees. As luck would have it, business began to improve and we grew from 100 employees to 200 and then 300. Pretty soon, we had more opportunities than we could handle. Gulf Island is still doing well, has the yard in Houma and a yard down in South Texas. I'm still on the board, but I'm not active in day-to-day operations. We went public with it. We built the MinDOC. It's a good design for a floater, and the three columns give a lot of advantage.
Since Obama took over things are kind of dead in the Gulf of Mexico now. I don't know what that guy is doing. He wants to stop drilling and I guess they're going to burn weeds or something in these trucks. He's got guys running things that don't know a thing about the oil business.
Actually, we've still got some work going at the yards – something for Williams and for Chevron, so we're actually pretty busy for now.
People need to realize that we still need oil and gas in this country and they haven't found anything that can replace it economically. Natural gas now is a pretty cheap fuel. There used to be a ratio of about six to one – oil price to gas. If gas was $4, then oil would be $24 or $25, but now oil is close to $100 and gas is still about $4. And there's a lot of gas all over the country. It's a good choice for fuel and we should be using more of it.
Alden J. "Doc" Laborde's advice on starting your own business
First you need an idea and must have complete faith in it – no matter what anyone else thinks. You have to believe that it will work and can be sold.

There must be an economic need for the product or service you propose, preferably in a field not then exploited by others.

Alden J. "Doc" Laborde.
Your timing must be right
You must access adequate capital
You need good legal and accounting advice
You must be willing to immerse yourself totally into the project, working long hours, sacrificing much of your personal and family time and pleasure to the venture.
Above all, you must maintain the highest standards of integrity.
More Offshore Issue Articles
Offshore Articles Archives
View Oil and Gas Articles on PennEnergy.com