Consistent interpretation of new rules among the challenges
Ken Wells
PEC
The Bureau of Safety and Environmental Enforcement (BSEE) gave offshore oil and gas companies until Nov. 15, 2011, to implement new regulations. The new rules, Safety and Environmental Management System (SEMS), are meant to provide a comprehensive approach to safety and environmental risks. Michael Bromwich, outgoing director of BSEE, stressed that the agency would hit the ground running when it came to enforcement. On Nov. 10 he said, "Starting next week, we will begin to enforce compliance."
In reality, BSEE has taken a much more measured approach and did not launch until well into 2012. However, that is not to say that the agency and the industry have not been very busy on SEMS. BSEE is in the process of hiring as many as 45 new inspectors and auditors, and setting up a National Offshore Training and Learning Center in an effort to bring consistent expertise to the audit process. Officials are working through the complex details involved in overseeing a safety management approach. Rather than rushing out to perform audits just for the sake of performing audits, BSEE is trying to make sure its audits are effective.
Industry approach to SEMS
The industry has also been hard at work on SEMS. Many industries have adopted safety management approaches, but none rely so heavily on outside contractors for day-to-day operations. Oil companies (or "operators" in SEMS-speak) write the plans and face the penalties, but they cannot hope to comply with SEMS without the help of the contractors.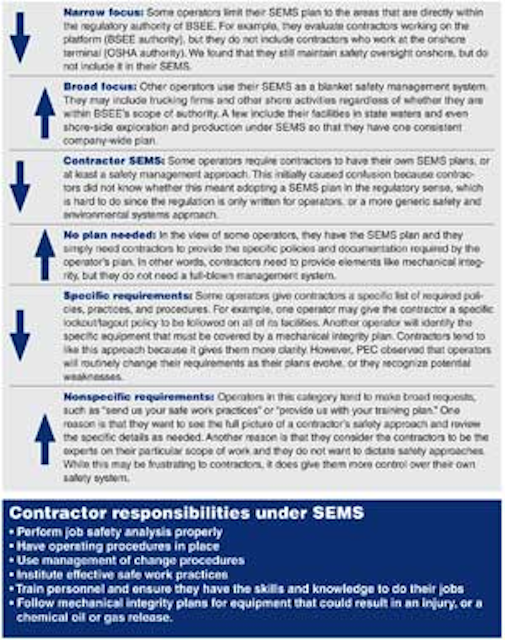 Under SEMS, operators must develop plans to manage their overall approach to policies, procedures, and practices governing safety and environmental protection. Operators must ensure that contractors who work at their facilities meet the requirements of the plan. Most importantly, contractors need to keep all of the documents and records that prove compliance for audits.
Many flavors of SEMS plans
In March, PEC began putting on one-day workshops to assist contractors in complying with operator SEMS requirements. In preparation for the workshops, the company studied different operator approaches and the different problems contractors have in regards to SEMS.
Industry groups, most notably the Offshore Operators Committee and the new Center for Offshore Safety, have spent long hours trying to arrive at consistent interpretations of the new rules. They have made great progress in developing a common understanding of SEMS and in standardizing industry requirements. Yet it is no surprise that SEMS plans still come in many flavors. Safety management plans are supposed to reflect the unique operations and conditions for each company and should never take a cookie-cutter approach.
PEC found that operator plans reflected many variables, primarily:
Size – An operator with two or three offshore facilities and a handful of primary contractors can take a much more hands-on, eyeball-to-eyeball approach to evaluate its contractors. Make that 300 facilities and more than 1,000 contractors, and the operator needs to standardize its contractor management. A number of small operators also recognize that they may not survive a serious incident in the post-Macondo world, so they are more rigorous in evaluating contractors.
Type of operation – Drilling, production, and decommissioning all reflect different types of hazards, so they require different approaches.
Area of operation – Deepwater represents a very different environment than the shelf. Deepwater operations are performed by larger contractors that are generally more sophisticated in their approach to safety and the environment. Shelf operations involve a range of contractors with varying degrees of sophistication.
Culture – Different operators take different approaches to safety under SEMS because they took different approaches before SEMS. Some operators have always been more hands-on while others have always relied on outside contractors, consultants, and auditors.
Differences in implementation
After looking at the key differences in implementation, PEC found: (see diagram on page 76).
Contractors may find themselves caught in a maze of different, even conflicting, requests from operators. Some of this will ease as the offshore culture changes to embrace SEMS. We also know from the lessons of OSHA's handling of Process Safety Management and the Coast Guard's handling of the International Safety Management code that the industry tends to standardize once it knows how the agency intends to enforce the regulations.
Developing "SEMS bench strength"
Contractors need a basic understanding of what SEMS is all about if they hope to be proactive in meeting their customers' requirements. They also need what we would call "SEMS bench strength." Contractors are realizing that some knowledge of SEMS is needed throughout their company. They tend to put responsibility for SEMS on their health, safety, and environment managers, but the company involvement must be broader.
SEMS will be a learning process for everyone – operators, contractors, and regulators. Hopefully, we can remove much of the trial-and-error that marked the implementation of SEMS and focus on effective strategies for making the industry safer and more environmentally compliant.
The author
Ken Wells is the Director of Special Projects at PEC. He can be reached ken@pecsafety.com.
More Offshore Issue Articles
Offshore Articles Archives
View Oil and Gas Articles on PennEnergy.com