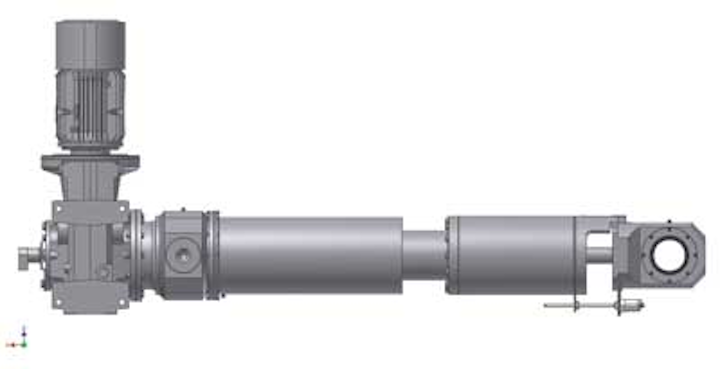 Pipelay engineering specialist IMECA has developed new all-electric cylinders for use in offshore pipe tensioner systems. The company, based in western France, designs and manufactures tensioning equipment for the major pipelay contractors, including Subsea 7 and Technip.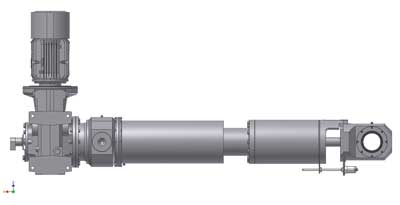 IMECA's new all-electric pipe tensioner cylinder.
The first offshore deployment of the new cylinders will be in a fully electric tri-track tensioner system with a nominal capacity of 15 metric tons (16.5 tons). Eventually, IMECA aims to offer the cylinders in a range of standard sizes and capabilities, although capacity and stroke will generally be tailored to fit the tensioner specifications. The company plans to incorporate the new range in all its future tensioner equipment, and offer customers retrofits to their existing systems.
In comparison with the company's previous hydraulically powered range, the new cylinders have similar dimensions and weight and provide similar nominal capacities, but with better performance in terms of accuracy and response. The reliability has been proven in trials on a test bench which have been running for a year without any defects noted.
A tensioner fitted with fully electric cylinders offers improved adjustment of pressure on both rigid and flexible pipes, IMECA claims. With a hydraulically power unit (HPU) cylinder, the adjustment on squeeze pressure is around 5 MT/m (5.5 t/m), due to limits in the accumulator's reliability, whereas with the electric solution, adjustment accuracy within 0.5 MT/m (0.55 t/m) can be achieved.
Electric cylinders are also safer for offshore operatives to use and cleaner, the company suggests, with no risk of fluid leaks. Dispensing with the HPU means that they occupy less deck space, and consume less energy for an improved performance. A fully electric cylinder with 5 kW of electric motor power can pull up to 150 MT (165 t) in similar dimensions to a hydraulic ram of the same capacity. The new cylinders will be suitable for all offshore pipelay operations, from shallow to ultra-deepwater (3,000 m, or 9,842 ft, and beyond).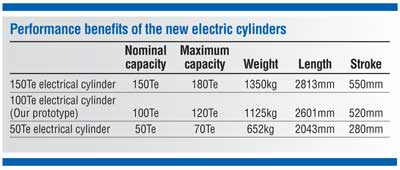 Test centers
IMECA, originally family owned, has integrated into the REEL Group. The company performs detailed engineering in Fontenay-le-Comte, using software such as Autocad, Inventor (3D Cadds), Cosmos (FEA), Castor, and Cador. Its main loading base at La Rochelle-Pallice harbor on the French Atlantic coast provides manufacture, assembly, testing, and quayside delivery of ultra-large consignments. Facilities include a static test bench for loads up to 750 MT (827 t). At Le Trait on the River Seine in northern France, the company uses its COMETRA base for mid-large size equipment.
In order to build partnerships with manufacturers overseas, the company established regional branch offices early in 2009 in Rio de Janeiro and Kuala Lumpur. These serve to promote its spread of offshore lifting and pipelay equipment, which includes hydraulic and electric traction and storage A&R winches; anchor handling systems; barge moorings; storage reels; fairleads; A-frames; and hydraulic jacks and power packs.
Deliveries for recent projects include:
A 350-MT (386-t) pipelay system for theSkandi Vitoria for use on the Pazflor project in Angolan block 17
A 200-MT (220-t) A&R system for the same vessel for BP's Skarv in the Norwegian Sea, and a 300-MT (330-t) turret installation winch for the Skarv FPSO
Today the company is working on numerous other deepwater projects, stretching from Brazil to Southeast Asia.
More Offshore Issue Articles
Offshore Articles Archives
View Oil and Gas Articles on PennEnergy.com