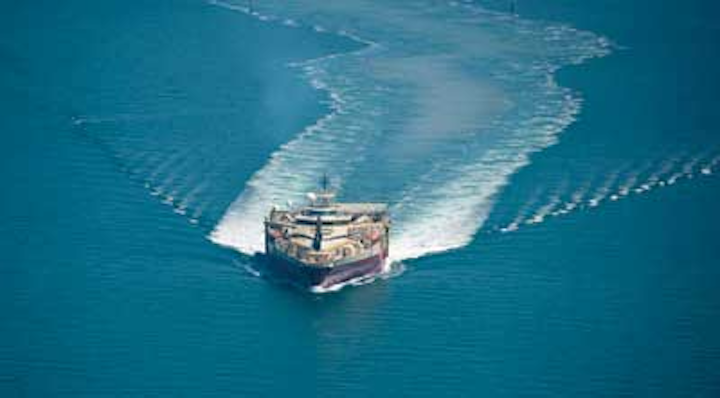 Wendy Laursen
Contributing Editor
From ROVs to staffing, companies move to keep petroleum business humming
Total Marine Technology (TMT) operates and produces work class ROVs, and the company has expanded its purpose-built factory in Perth in preparation for a new contract with the TLO Seadrill joint venture. TMT has a contract for six new Typhoon 1500HP, deepwater ROVs to operate in Brazil. All design construction and electronics work will be undertaken in Perth, and the ROVs will have the company's subsea smart tooling and control systems including Z functions for all manipulators. Three similar ROVs are already working in Australia for Chevron in 1,500 m+ (4,921 ft+) water depths. TMT will supply, install, as well as operate them for the first year while training Brazilians for hand over.
While development projets are garnering much of the spotlight, exploration continues offshore Australia. BP's seismic exploration of the Ceduna sub-basin was completed in May 2012 by PGS's vessel Ramform Sterling. Photo courtesy BP.
Kongsberg Oil & Gas Technologies has a new office in Perth to support its drilling and flow assurance software services. The company already supports a number of major developments in Australia including drilling data contracts based on their SiteCom product for Woodside and Apache offshore northwestern Australia. SiteCom integrates real-time data, historical data, reports, and files from all sources on the rig and makes them available through a single Web-based interface. Globally distributed teams can have simultaneous access to the same information.
"In Western Australia, the rigs are operating in very deepwater, a long way from the main base, but the main base is also a long way from head office in Perth," said Hugh Griffiths, general manager of Kongsberg Oil and Gas Technologies in Australia. "The head office of the whole international company is even further away. Our real time information feed anywhere in the world means our clients don't need to put a whole bunch of people out on the rigs."
SiteCom enables any number of users to view all available petrophysical, geophysical, geological, and drilling data generated on the rig in a number of ways depending on function. SmartAgents layered on top perform real-time calculations for better data interpretation. SmartAgents can identify lost time, help to determine fluid and rock parameters, or assist with decisions related to hydraulics, drilling parameters, pore pressure, or other events. SiteCom also allows for exception-based alarms.
To reduce environmental risks from oil and gas operations, a consortium of Kongsberg, IBM, and DNV is developing a real-time environmental monitoring solution for Statoil that has great potential for Australia, says Griffiths. The tool will combine remote sensing and satellite data to monitor sensitive areas throughout all phases of an offshore operation, i.e. from drilling through demobilization.
NES Global Talent has appointed Darran Lum to head its recently opened office in Darwin, Australia.
"The opening of the Darwin office demonstrates a continuation of our service offering to one of our biggest clients in the region, Inpex, and provides on the ground support for contractors seeking relocation. There are a number of other projects happening in the Northern Territory, and I expect Darwin to undergo a similar development phase as Perth has done in attracting thousands of people to come and live in the city while developing its infrastructure," said Lum.
With offices already in Perth and Brisbane, NES Global Talent provides recruitment services for the large infrastructure projects occurring around the country. Marcus Ward, associate director based in Perth, said, "The business landscape in Australia is a rapidly developing one, and with so many new projects coming online there is a consistent skills shortage."
Six Viking certified service partner stations in Australia and three in New Zealand will expand their servicing portfolio to include Viking's fixed price Shipowner Agreement. The expansion will take place through two long-running Viking partners – Australia's Wiltrading and New Zealand's Denray Marine.
Viking claims the shipowner agreement offers the market's most comprehensive servicing package for marine safety equipment. Viking said the agreements were the first to provide global, all-in-one servicing with a choice of product packages, systems and servicing that range from basic options to top-of-the-line innovations.
According to Wiltrading's general manager, Rob Lynn, "Australia is an important link in Viking's global network and, with strategically located service facilities located around the Australian coastline, Wiltrading is committed to supporting shipowners whose vessels operate in this region."
There is a powerful underlying driver in these markets, said Viking. The generally high price levels in Australia make Viking's globally fixed prices particularly attractive.