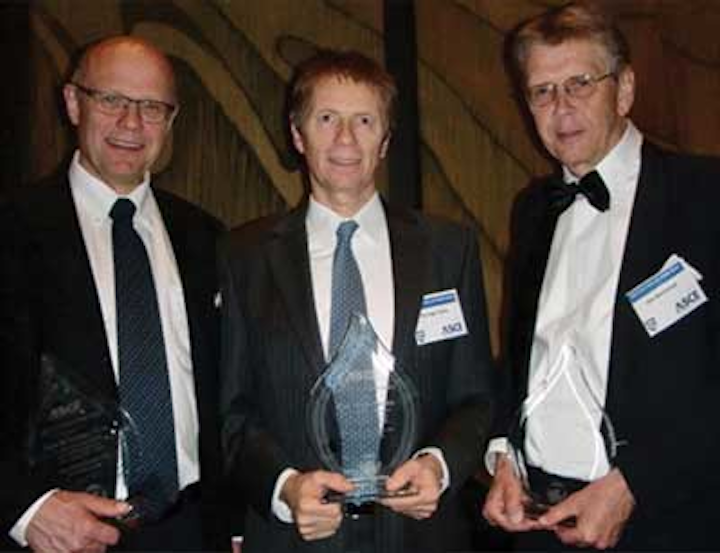 Jon Hermstad, Tor Inge Tjelta, and Tom Guttormsen have been inducted into the American Society of Civil Engineers OTC Hall of Fame.
Guttormsen, Tjelta, and Hermstad
Åge Landro has returned to AGR as executive vice president of strategy and integration.
Landro
The board of directors of the ABS Group has electedDavid Weinstein as president and CEO. He succeeds Tony Nassif, who was elected executive vice president and COO of ABS. David Walker has been appointed COO of the ABS Group.
International law firm Pinsent Masons has appointedBob Ruddiman as global head of energy and natural resources.
Ruddiman
Dolphin Geophysical has appointedNick Riddalls as onshore processing manager.
Mark McCutchan has joined DCL Mooring and Rigging as vice president of sales and marketing.
Variable Bore Rams has namedJared Primeaux operations and logistical coordinator, and Mathew Brocato assembly technician.
Parker Drilling has electedJonathan M. Clarkson and Richard D. Paterson to its board of directors. Both will serve on the board's audit committee.
Jake Leininger has been appointed regional sales manager of EDG Inc., Consulting Engineers.
Stork Technical Services has appointedDave Workman as COO, and Erik-Jan Bijvank as senior vice president UK and Africa.
Acteon has appointedLester Clark as vice president.
Clark
Pyeroy has namedJohn Welsh regional director.
Welsh
Oil States MCS Ltd. has appointedNick Jones as general manager of the Barrow-in-Furness, Cumbria, facility.
Bluefin Robotics has appointedJeffrey M. Smith as COO.
José Luis Bastos has been appointed director of Eco Oil & Gas (Namibia).
EPC has appointedEuan Sellar as project manager to focus on the final phases of the Rochelle field development for Endeavour Energy in the central North Sea. Rob Harris has joined EPC as study team leader on the Lancaster development for Hurricane.
Antonio Quetes and Antonio Njiva of Operatec LDA were the first Angolans trained as saturation divers at the Underwater Centre in Fort William, Scotland. They participated in the three-week HSE Closed Bell course that teaches experienced divers the procedures and competencies required to dive using a saturation system.
AGR has namedMorten Heir vice president of reservoir management.
Heir
Barry Jackson has been appointed chair of Nexen's board of directors.
Foster Marketing has namedChelsea Troxler marketing director, and Lindsay Brown production and trade show assistant.
Troxler
Brown
3sun Group has namedNeil Tawse business development director.
Vincent Parmentier has been appointed global operations and supply chain leader of Hydratight.
Exova has appointedRobin McGill as director of Europe.
STATS Group has appointedGraeme Coutts as a non-executive director, and Leigh Howarth as CFO.
Maria das Graças Silva Foster, CEO of Petrobras, was named of the 100 most influential people in the world by Time magazine.
Geoforce has namedJohn McNulty as head of software development.
Roozbeh Ganjvar has joined Jee Ltd. as a principal structural engineer.
RLC has appointedCurtis Hudson as director of maintenance.
Hugh Williams, CEO of the International Marine Contractors Association, will stand down at the end of the year.
Jaya Holdings Ltd. has appointedMax Hartvigsen as president of the offshore division.
Oliver Gross has joined MEO as geoscience adviser.
InterMoor has namedJim Macklin vice president of projects and engineering.
Lennart Hagelqvist has been named CEO of DIAB Group. He succeeds Anders Paulsson, who will remain with the company as an adviser.
Senergy Development Solutions has appointedRob Fisher as a director.
Sietze Hepkema has been named chief governance and compliance officer of SBM Offshore.
Crowley Maritime Corp. has promotedJulia Shemesh to vice president and deputy general counsel.
Paradigm Flow Services has appointedFergus Clark as crew chief of the subsea, pipeline and umbilical services division.
Terry Fike has been appointed well control specialist at DOYLES.
Oil & Gas UK has appointedJames Edens and Gordon Ballard as co-chairmen; Trevor Garlick and John Pearson as vice co-chairmen; and Robin Davies as honorary treasurer.
Mandi Winter of ExxonMobil Development Co. received the award for Best Presenter at the 2012 Subsea Tieback Forum in Galveston. Her presentation was entitled "Subsea Separation Qualification for the Global Portfolio."
Company news
ANSYS and FMC Technologies have executed a long-term strategic agreement for simulation software that can standardize design analysis and provide scalability for growth.
GE Oil & Gas has appointed DYNAenergetics as a global distributor of the company's portfolio of free point equipment and wireline accessories.
Superior Energy Services has taken delivery of a maritime training simulator from Kongsberg Maritime. The next generation simulator will be used to provide integrated, real-time training for Superior's offshore marine personnel at its new facility in Anchorage, Alaska.
Ashtead Technology has partnered with The Oceanscience Group to offer the UnderwayCTD and UnderwaySV systems for the rental market.
Senergy has expanded its operations into Dubai and has relocated its Aberdeen-based team to new premises in Queen's Terrace.
Enteq Upstream plc is in the process of acquiring the assets of Extended Exploration Technology Inc., a Santa Clara, California-based measurement while drilling equipment company.
Proserv has agreed terms to assume Weatherford International's subsea controls business. Proserv will acquire the business assets, and Weatherford's existing subsea controls management will continue to run the day-to-day operations as part of the Proserv organization. Weatherford will acquire common and preferred equity in Proserv and will have representatives on Proserv's board.
DNV has acquired the oil spill preparedness company Norwegian Petro Services.
Cargotec has established a new offshore service center in Houston to provide repair, upgrades and systems modernizations for rigs, vessels, and platform operators. The center has a hydraulic test bed, which enables the repair of winches, hydraulic cylinders, hydraulic pumps and motors, valves and swing drive units. It can also support BOP crane upgrades, pipe handling cranes and racking systems, tensioning cylinders, active heave-compensated knuckle boom cranes, davits, and module handling systems.
FMC Technologies has completed the transaction to acquire the remaining 55% of the outstanding shares of Schilling Robotics.
Dockwise says its subsidiaryDockwise White Marlin seeks to acquire around 54% of the shares in Dutch competitor Fairstar Heavy Transport.
Schlumberger has acquired GEDCO, a Calgary-based provider of integrated geophysical survey design software and services.
Intergraph has opened the newly expanded Intergraph Global Marine Center in Busan, South Korea.
Valle Silencioso SA, a company managed by Sophia Capital, has acquired 50% of the outstanding shares of SO-4 Ltd. from 4D Global Energy Investments Plc. With this transaction, Valle Silencioso S.A. will now beneficially own 60% of the outstanding capital stock of Fineglade Ltd., the holding and controlling company for the Socotherm Group.
Stork Technical Services Subsea has invested more than £2 million ($3.2 million) in a new specialist dive intervention craft and full diving spread. The 15-ft (4.5-m) vessel, which is equipped with a bespoke diver recovery system and software-based dive management system, will be delivered in summer 2012.
Dolphin Geophysical Inc. has purchased Open Geophysical Inc. Dolphin also says that all its seismic survey vessels will be upgraded with OGI software for on-board fasttrack processing.
Cameron has agreed to acquire the drilling equipment business of TTS Energy Division from TTS Group ASA. The all cash transaction valued at $270 million is expected to close during the middle of 2012.
Trelleborg Sealing Solutions has released its comprehensive, all-new Oil & Gas Product Catalog & Engineering Guide, which helps engineers identify sealing recommendations for specific applications.
ShoreConnection has appointed Reflex Marine as global distributor of its deck motion monitor system.
Knight Oil Tools has acquired Cool Group Ltd., the holding company that owns Global Rentals.
Technip has awarded EnerMech a pre-commissioning contract for work on the Congo-Gabon flexible replacement project. Under the estimated £1-million ($1.6-million) contract, EnerMech will perform gauge pigging on flexible flowlines post-installation, topside hydrotesting services, and the dewatering of wet gas and gas lift flexible flowlines.
Rutter Inc. will receive $1.4 million in funding from the Petroleum Research Newfoundland and Labrador under its Arctic & Harsh Environments strategic focus area. The funds will be used to build and test an advanced radar system that is capable of providing enhanced ice navigation and detection. The integrated dual polarized ice navigation and detection radar is expected to help operators distinguish between the much harder multi-year ice and first-year ice.
More Offshore Issue Articles
Offshore Articles Archives
View Oil and Gas Articles on PennEnergy.com