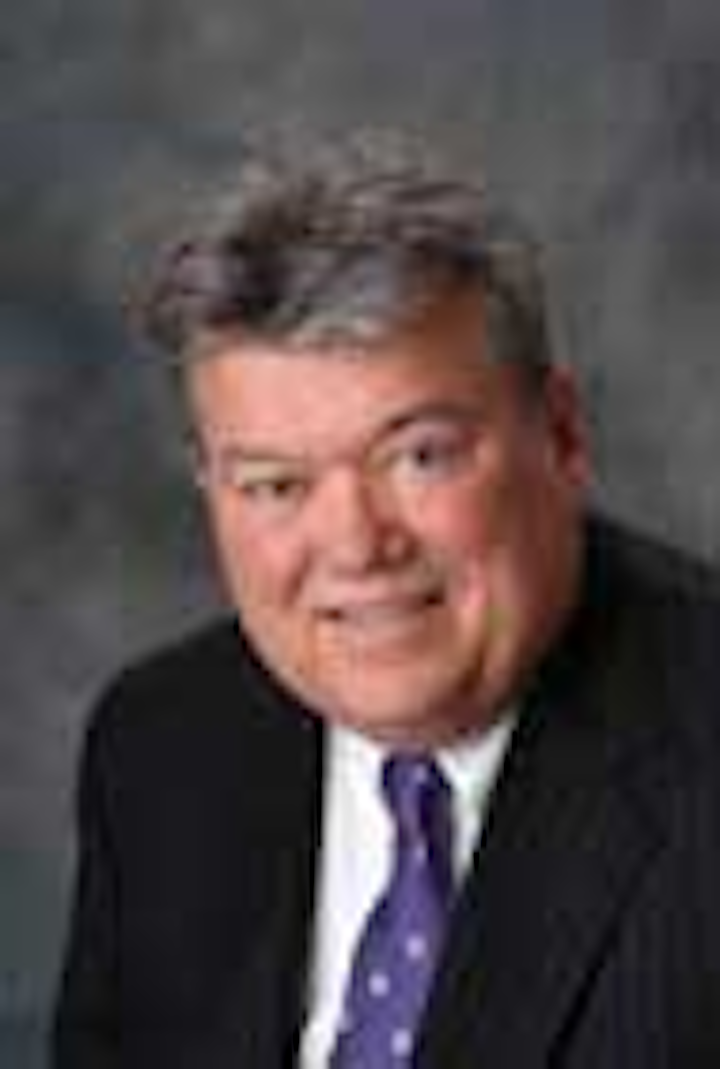 Jerrold "Jerry" Alan Greenberg, 61, passed away unexpectedly in his home in Katy, Texas, on Nov. 5, 2012. He was born on Nov. 15, 1950, in Chicago. Greenberg graduated from the University of Houston with a B.A. in English in 1973 and journalism in 1978. He worked for more than 30 years in the oil and gas industry as an editor, marketing and public relations manager, corporate communications director, and most recently, as a freelance writer and consultant. He is survived by his wife of 40 years, Sissy; mother, Marcella; brother, Shane; daughter, Laurie and son-in-law Bill Even; daughter, Kelley; and the new love of his life, his granddaughter, Annie.
People
Daniel Valot will sit on the CGGVeritas board of directors on behalf of the Fonds Strategique d'Investissement.
Lim Kwee Keong has stepped down as CEO of EOC Ltd. COO JonDunstan will assume the role of acting CEO until a permanent replacement is found.
AndrewClark has been promoted to president of Prospectiuni SA.
Globe Express Services (Overseas Group) has namedMichael C. Hughes as president and CEO.
Hughes
Tendeka has appointedAshraf Al Ansari as business development manager for GCC South to assist its growth in the Middle East and North Africa region.
Aquatic Engineering & Construction Ltd. has appointedBill Smart as business development manager, North America.
Smart
Bureau Veritas has appointedPhilippe Donche-Gay as executive vice president of the marine and offshore division.
KPMG has appointedEmma Wild as head of upstream oil advisory in the UK.
Lance Cooper has joined SOR Inc. as product manager for the pressure and temperature lines.
Marathon Oil Corp. has appointedSylvia J. Kerrigan as executive vice president, general counsel, and secretary.
Jensen Maritime Consultants has hiredJianjun Qi as naval architect.
Bibby Remote Intervention Ltd. has appointedLloyd Duncan as senior inspection repair and maintenance consultant and Andy Inglis to the role of inspection manager.
Baker Hughes has appointedRichardWilliams as president, U.S. region.
Solomon Associates has promotedJohn Jungman to vice president of pipeline and terminal studies.
Craig International Supplies has appointedSteve McHardy and Jill MacDonald as joint managing directors.
McHardy, MacDonald
RWE Dea Egypt has appointedMaximillian Fellner as general manager in charge of the operations in Cairo. Dirk Warzecha has been appointed as a member of the board of management of RWE Dea AG and will relocate to the corporate headquarters in Hamburg. Thomas Hanking has been appointed general manager for the Suez Oil Co., the joint venture of RWE Dea and the Egyptian General Petroleum Co.
DNV has appointedPeter Boyle as UK regional director to drive forward its offshore ageing and life extension business.
Boyle
Asbjørn Vavik has resigned as CEO of Songa Offshore SE.
AGR has recruitedChris Rayburn as business development manager.
Jean-Claude Goyon has joined Caesar Systems as region director for Europe, Middle East, and Africa.
Nick Deeming has resigned as senior vice president, general counsel, and assistant corporate secretary at Transocean.
Crowley Maritime Corp. has namedSteve Demeroutis vice president, marine operations, and Rudy Leming as vice president, labor relations.
Forest Oil has appointedRichard J. Carty to its board of directors as an independent director.
Calum Buchanan has joined Flexlife as projects director at the company's global headquarters in Aberdeen, and Philip Surtees has been appointed as the new integrity management director.
Buchanan
Surtees
GL Garrad Hassan has appointedRagna Schmidt-Haupt to drive the company's renewable energy services in Singapore.
Schmidt-Haupt
Santos has namedHock Goh to its board of directors.
Glori Energy has appointedTor Meling as vice president, reservoir engineering.
Lalit Bhamare has been named SPE Aberdeen's first energy apprentice.
3Legs Resources plc has appointedKamlesh Parmar as CEO.
Zeljko Runje has been appointed vice president for offshore projects at Rosneft.
---
| | | |
| --- | --- | --- |
| | | Offshore welcomes Russell McCulley as senior technical editor. A Gulf Coast native now living in Houston, he has a background in business and general news and for several years was a correspondent for an international wire service in New Orleans. Before joining Offshore, he was a staff writer and editor for a monthly industry publication covering offshore E&P and technology. |
| | | |
| --- | --- | --- |
| | | Allen Verret of Offshore Operators Committee received the award for Best Presenter at the 2012 Deepwater Operations Conference & Exhibition in Galveston, Texas. He presented on "A Decade of Change and Challenges 2002-2012." |
| | | |
| --- | --- | --- |
| | | Michael McGee of Quest Integrity Group received the award for Best Presentation at Deepwater Operations. His presentation was on "Today's Pipeline Pigging: How Smart is Smart?" |
---
Company news
GE has opened its Skills Development Center in Jandakot, a suburb of Perth, in Western Australia.
SBM Offshore has agreed to sell offshore engineering design specialists GustoMSC to ParcomCapital, a private equity group, for $185 million.
TheSpecialist Services Group has become the first company in the world to receive the IECEx certification for purged and pressurized buildings.
C-Nav has opened a new location in Macaé, Brazil.
Siemens Drive Technologies has kicked off its integrated drive systems initiative to highlight the energy efficiency benefits of its comprehensive and custom engineered product and service offerings.
BP and Kongsberg Oil & Gas Technologies have agreed to develop a suite of decision-support consoles that will present key information to well construction decision makers. The new consoles will be based on Kongsberg's Discovery Web platform, which is part of the SiteCom suite of software. The development is expected to deliver four to six new consoles – or "dashboards" – each year of the three-year agreement.
WeatherfordInternational has opened its new multi-million dollar facility in Singapore.
T.D. Williamson has signed a three-year global pipeline intervention and isolation services contract with BP.
Eni has awarded ASCOGroup a three-year contract worth more than $21 million for supply base services in Australia.
V&M Star has produced the first pipe at its new state-of-the-art mill in Youngstown, Ohio.
DoedijnsInternational has acquired the assets of Logan Industries International Corp., an integrated engineering and manufacturing company based in Houston.
ContiTech will invest about €17 million ($22 million) in the construction of a new plant in Brazil to produce hoses for oil production and gas extraction. Construction is scheduled to commence in spring 2013, with production set to begin in 2014.
Petrofac Training Services has acquired Oilennium Ltd., a specialist e-learning provider to the energy industry.
Louisiana Gulf Coast Oil Exposition (LAGCOE) has established the LAGCOE Education Fund.
Seadrill has reached 65.85% ownership of Asia Offshore Drilling Ltd.
Cobham plc has established a new strategic business unit – Cobham SATCOM – that combines all of the group's satellite communications businesses into one organization.
Aker Solutions has acquired a fabrication facility in Sandnessjøen, Norway, to better position itself for current and future development projects in the Norwegian Sea and farther north.
AMEC, Samsung HeavyIndustries, and Samsung Engineering have formed a joint venture company to perform design engineering for fixed and floating offshore platforms, FPSOs, and subsea pipelines for Samsung's future offshore projects. AMEC Samsung Oil and Gas LLC will be based in Houston, and will be 51% owned by Samsung and 49% by AMEC.
Ampelmann Operations has introduced Ampelmann E-type, an upgraded version of its offshore crew transfer system. E-type can operate in higher sea states and carry greater loads, and is claimed to increase the landing height at offshore platforms.
TAM International has secured a $6.25-million contract from Pemex to provide services and products in the Poza Rica-Altamira oil fields. TAM will supply casing annulus packers, FREECAP swellable packers, treating/testing packers and bridge plugs, port collars, cement retainers, and SlikPak systems.
Nautronix has opened its new global headquarters in Aberdeen, UK.
Mirmorax AS has appointed Specs Asia Pacific Sdn Bhd as its general representative in the Asia/Pacific region.
Quickflange has appointed Red Rock Oilfield Services as its local Australian partner.
Geospace Technologies Corp. has formed a branch office in Bogota, Colombia called Geospace Technologies, Sucursal Sudamericana.
EnQuest PLC has reached a new safety milestone by recording five years free of lost time incidents on drilling operations in the Thistle field in the UK northern North Sea.
OYOGeospace has changed its name to Geospace Technologies Corp. The change is a result of OYO Corp. U.S.A.'s sale of its stake in the company in February. The company is no longer affiliated with OYO Corp. U.S.A. or its parent company OYO Corp.
Triton Diving Services has acquired the diving assets of Louisiana Oilfield Divers, including the Premier Explorer, a 208-ft (63-m), four-point vessel.
GL Noble Denton has expanded its marine casualty investigation practice in North America by launching operations in Seattle. The practice works with vessel owners, insurers, and protection and indemnity clubs, to determine the cause and extent of machinery damage, fires, collisions, groundings, salvage operations, and other marine incidents.
Solace Global Maritime Ltd. has been awarded the ISO 14001:2004 accreditation.
First Reserve Corp. has sold a majority interest in the Acteon Group Ltd. to KKR.
Reflex Marine has established a new accredited service center in Houston for its FROG and TORO personnel carriers.
The partnership agreement betweenCargotec and Dongnam Marine Crane Co. Ltd. has expanded to cover the manufacture of MacGregor offshore cranes. The agreement originally covered the manufacture of MacGregor cargo handling cranes for South Korean customers.
TDW Offshore Services has signed an extended framework agreement with Statoil to provide pipeline pressure isolation services and equipment for installations in the Norwegian North Sea.
EnQuest Britain has contracted Fabricom Offshore Services for modification and upgrade services in the UK northern North Sea.
John Crane UK Ltd. has opened its extended and improved oil and gas support unit in Aberdeen.
dGB Earth Sciences has opened an office in Rio de Janeiro.
American Pollution Control Corp. has finalized the purchase of Berry Brothers Remediation in Bayou Vista, Louisiana.
GL Noble Denton has expanded its safety and risk services to the Norwegian oil and gas market through a new strategic partnership with Stavanger-based consultancy, XAFE.
AMEC has signed an agreement to acquire a 50% stake in Kromav Engenharia Ltda, a privately owned Brazilian offshore oil and gas and marine engineering company.
Kenexis has opened a new branch office Kenexis Asia-Pacific Pte, Ltd. in Singapore.
Genesis Oil and Gas Consultants Ltd. has signed a binding agreement to acquire Suporte Consultoria e Projetos Ltda, a pipeline and structural engineering company based in Rio de Janeiro.
Oceanografia has selected KongsbergMaritime's offshore vessel simulators for Mexico's first offshore training center.
MacArtney Underwater Technology has opened MacArtney Australia Pty Ltd., a new sales office in Perth, Australia.
Tullow Oil has granted NHVHelicopters a three-year extension to its contract to fly offshore staff to the Schooner and Ketch gas production platforms in the southern North Sea. NHV provides service and maintenance visits in a Eurocopter EC155 aircraft that can accommodate up to 12 passengers and two pilots.
Grandweld Shipyards has opened a new construction facility in Dubai Maritime City. The complex, spreading more than 55,000 sq m (592,015 sq ft), includes a 13,500-sq m (145,313-sq ft) covered and insulated shipbuilding yard with overhead cranes; a 28,000-sq m (301,389-sq ft) open yard; 4,000 sq m (43,055 sq ft) of offices; a CNC shop and piping shop; and a 5,000-sq m (53,819-sq ft) storage area.
AVIC International Investments is acquiring the majority of shares in Finnish offshore/marine engineering group Deltamarin. The company, which has designed a range of innovative offshore vessels, rigs and platforms, will retain its name and its existing operations. The goal is to enable Deltamarin to grow in its traditional markets, and to help the company develop new products.