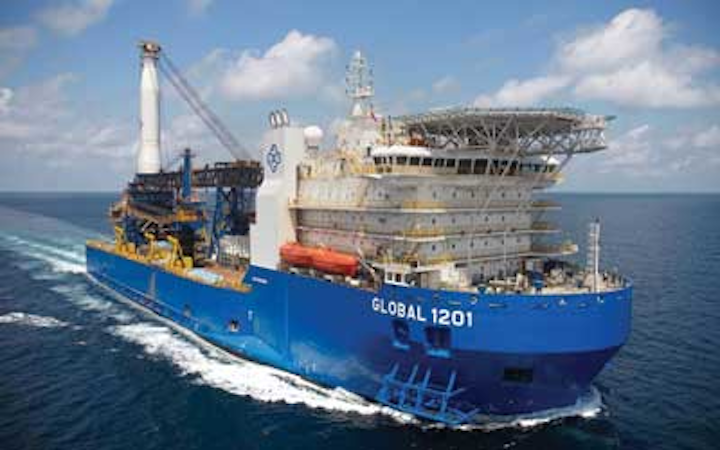 Jessica Tippee
Assistant Editor
The Middle East continues to be one of the world's most active offshore regions as operators, developers, and state oil companies continue to advance plans for new and existing exploration and production projects.
Much of the activity is being driven by projects offshore Israel, Egypt (including the Gulf of Suez), off the coast of the United Arab Emirates, and offshore Oman.
National oil companies such as the National Iranian Oil Co. and Saudi Aramco continue to drive offshore field developments and production, but international oil companies and consortiums are finding success as well. The following is an overview of activity across the Middle East.
Israel
Noble Energy continues to find success offshore Israel with its sixth consecutive field discovery in the Levant basin. The Tanin discovery well was drilled in the Alon A license in 5,100 ft (1,554 m) of water, 13 mi (21 km) northwest of the Tamar field. It was drilled to a depth of 18,212 ft (5,551 m) and encountered 130 ft (39.6 m) of gross gas pay in good-quality lower Miocene sands. Noble estimates resources in the range 0.9-1.4 tcf, adding that the find de-risks other prospects in the area. Four of the fields have reserves estimated at more than 1 tcf. Tanin brings the total discovered resources in the Levant basin to roughly 35 tcf. Partners in the Alon A license are Avner Oil and Delek Drilling.
The deepwater Tamar gas field in the Levantine basin remains on track to start production by April 2013, according to Delek Group. Gas will flow from Tamar through two 16-in. (40-cm) subsea pipelines to the nearshore Tamar platform, which is linked to an existing pipeline to the onshore terminal at Ashdod. Tamar holds an estimated 8.4 tcf of natural gas reserves. Hoegh LNG has contracted KBR for the pre-front-end engineering and design (FEED) study of theKing LNG-FPSO currently under evaluation for the Noble Energy-operated deepwater Tamar gas field. KBR will perform the cost study, based on Hoegh's existing generic LNG FPSO FEED, and will adapt the capex for the operator's field-specific design. If the economics prove viable, FEED could start by 4Q 2012.
ATP East Med B.V. has found natural gas at its first well offshore Israel. The Shimshon well in the Levant basin encountered more than 62 ft (19 m) of gas pay in Bet Guvrin sands. The well is in 3,622 ft (1,104 m) water depth and reached 14,445 ft (4,403 m) depth subsea. ATP East Med operates the well with a 40% working interest. Other interest owners are Isramco Negev 2 LP (39%), Naphtha Exploration Ltd. Partnership (10%), INOC Dead Sea LP (10%), and I.O.C.-Israel (1%).
Egypt
Dana Petroleum has completed a new appraisal/development well in the Gulf of Suez area offshore Egypt, in partnership with Zeitco. The A22 well was spudded by the jackupSino Tharwa Bahari 1 on April 30 from the East Zeit A platform, reaching a TD of 12,051 ft (3,673 m) maximum depth in the Kareem Marker formation. The well targeted an undeveloped area of the field with poorer reservoir quality. After drilling a 1,426-ft (434-m) horizontal section within the Marker reservoir, it has been completed as an oil producer. Production started on June 25 at 2,000 b/d of oil.
Eni says gas production has begun from the Seth field offshore Egypt. The field is in the Ras El Barr concession about 60 km (37 mi) from shore. The offshore facilities include a platform in 80 m (262 ft) water depth, two production wells, and an 11-km pipeline to the El Gamil onshore processing plant. Production is scheduled to reach 4.8 MMcm/d (170 MMcf/d). Seth construction and operations have been assigned by Eni and BP to Petrobel, a joint venture between IEOC and the Egyptian state company EGPC.
United Arab Emirates
Zakum Development Co. (ZADCO) has awarded a contract to the consortium of Technip and National Petroleum Construction Co. for engineering, procurement, fabrication, installation, commissioning, and start-up of the Upper Zakum 750K project offshore Abu Dhabi. The project is designed to increase oil production from the Upper Zakum field to 750,000 b/d by 2015, and to sustain this level for at least 25 years.
The scope of work includes 240 km (149 mi) of seabed pipeline with diameters ranging from 6-in. to 42-in., 128 km (80 mi) of subsea composite and fiber-optic cables, almost 30,000 tons of offshore structures including jackets, riser platforms, flare towers and bridges, plus the initial production facilities for temporary well connections. The project is scheduled for completion in 3Q 2015.
ZADCO is a joint venture company between Abu Dhabi National Oil Co., ExxonMobil, and Japan Oil Development Co.
Dubai Petroleum has awarded Technip an engineering, procurement, installation, and commissioning (EPIC) contract for the South West Fatah and Fala fields offshore Dubai. The fields are 90 km (56 mi) offshore in 53 m (174 ft) of water.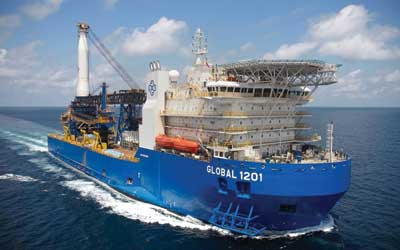 Technip's flagship S-lay pipe installation vessel,G1201, will work offshore Dubai. Photo courtesy Technip.
The scope of work includes replacement of a 12-in. gas pipeline and six 18-in. water injection pipelines. Technip said that its flagship S-lay pipe installation vessel, theG1201, will be used, along with a diving support vessel.
Oman
DNO International has completed drilling of the West Bukha-5 development well in block 8 offshore Oman. Results from the initial flow test confirm the presence of oil in the Thamama reservoir, with an estimated flow capacity of 1,500-2,000 b/d.
Samples and measurements indicated an oil gravity of 35° API and a gas/oil ratio of 5,000 cf/bbl (142 cm/bbl). These readings are not definitive, DNO says, but they are consistent with the values observed in neighboring wells.
West Bukha-5 was drilled to a TD of 5,200 m (17,060 ft), including a 700-m (2,296-ft) horizontal section with good fracture indications. Three intervals in the horizontal section were acidized and stimulated. However, the shallower Wasia interval has not been perforated at this stage.
The company is preparing to resume work on West Bukha-4, where the tophole section was previously drilled. The NobleRoy Rhodes rig will then drill a third well on the nearby Bukha gas condensate field.