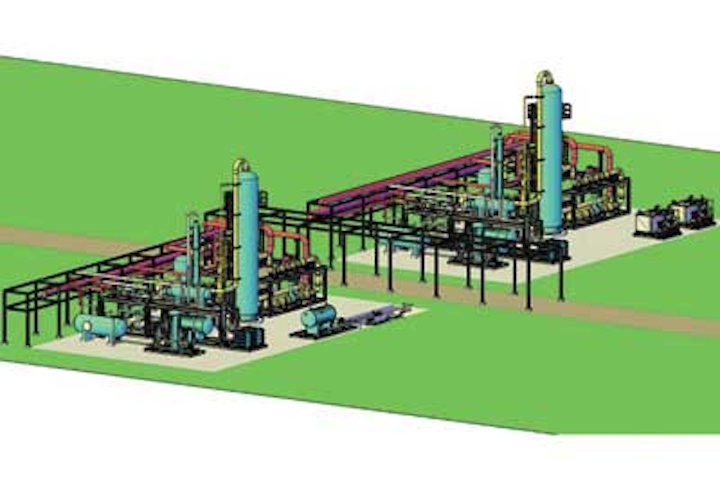 Process systems contractor Bellelli Engineering has won two contracts to supply gas treatment systems for the UCH-II project in Pakistan. Both carry ultra-fasttrack delivery schedules – although the application is onshore, managing the tight timeframe could provide a model for the company as it bids for multiple topsides process jobs offshore Brazil.
Bellelli, based in Rovigo in northeast Italy, designs and manufactures a wide range of process plant systems for upstream and downstream applications. This includes gas dehydration and gas sweetening systems, fuel gas production treatment packages, and filtration equipment to remove liquid droplets and dissolved steam from gas turbines and compressors.
In April the company won a $50 million-plus order from OGDL to design, fabricate, supply, and commission a TEG-based dehydration system for the UCH-II project in Pakistan. The equipment includes gas treatment, dehydration and sweetening units, and must be delivered in November, within seven months of award. According to Bellelli President Antonio Monesi, 11-12 months is more typical of this kind of delivery.
Another new order, this for an amine sweetening unit, has to be delivered in December, within nine months of contract award.
"To reach the target we have divided the scope of supply into parts, and we have set up various teams, each working on a different aspect of the project," Monesi said. "We had pre-commitments with various suppliers which were activated immediately after receiving the order, and we have also imposed targets on our sub-suppliers, to ensure that we comply with the deadline.
"Based on these experiences, we are approaching the Brazilian offshore market in a very aggressive way. Petrobras has a very impressive plan to build more than 20 FPSOs and platforms over the next five years, and they are currently placing orders for two new FPSOs every quarter. The topsides EPC contractors in Brazil have 20-24 months to complete all the work for each installation.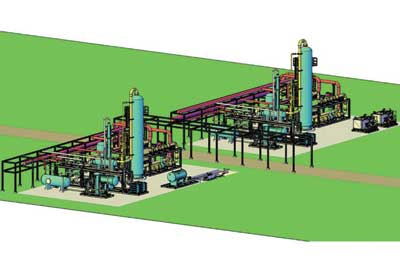 Bellelli aims to acquire an existing yard in south Texas to assemble equipment.
"We gained relevant experience from our work in Pakistan where we managed to reduce all interconnections between the various equipment skids, i.e. piping and cabling. We did a study on how to put all the packages closer together, minimizing space between the skids. We are proposing the same philosophy to the Brazilian market, where we are currently participating in six tenders…we can also propose very lightweight solutions that are easier to install on the decks of the FPSOs, cutting erection times."
In anticipation of winning an order now or in the future, Bellelli aims to acquire an existing yard in South Texas for process equipment assembly that would ultimately serve the South American and Gulf of Mexico markets. The new facility should be in operation by the end of February 2013.
"Our next step is to fulfill local content requirements. By the end of this year we will establish Bellelli Engineering in Brazil, probably in Rio de Janeiro, to perform cutting-edge process engineering, with a view to becoming a leading player in the Brazilian market."