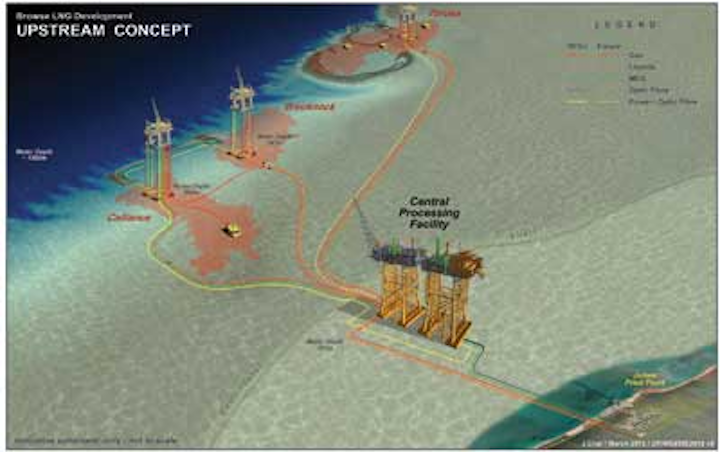 Wendy Laursen
Contributing Editor
GeoScience Australia's Australian Gas Resource Assessment 2012 estimates Australia's gas resources (excluding shale gas) to be 392 tcf - around 184 years of gas at current production rates. Estimated Browse basin reserves exceed 34 tcf and are expected to grow beyond 40 tcf. Other developments in that basin include Shell's Prelude and Inpex's Ichthys projects. Prelude and nearby Concerto have around 3 tcf of liquids-rich gas, and the Prelude FLNG project hopes to demonstrate a way to develop some of Australia's stranded offshore gas reserves which are estimated around 140 tcf countrywide.
By 2017, based on proposed and committed new projects, Australia's LNG production capacity will quadruple, and this would make Australia the world's largest LNG producer.
"While global economic uncertainty remains a threat to ongoing investment, our trading partners continue to show confidence in Australia's capacity to meet their energy demands," says Australia's Minister for Resources and Energy Martin Ferguson.
"Japan remains our biggest trading partner and accounts for 70% of our LNG exports, and post-Fukushima Japan's appetite for LNG is likely to increase. But China is fast making up ground, with demand for LNG growing by almost a third last year, and some analysts predicting another 30% rise this year."
Even though the rate of increase in China's demand is likely to slow in the longer term, it remains on track to be one of the world's dominant LNG importers by 2030. India also shows impressive potential as a major LNG importer, with import capacity projected to triple by 2015.
"Around this time Australia's first export contract with India from the Gorgon project will be commencing," said Ferguson. "Markets on our doorstep such as Singapore, Thailand, Cambodia, and Vietnam are also growing in significance. These four markets combined are projected to import 25 MM metric tons (27.56 MM tons) of LNG by 2017."
The creation of major industry hubs such as Onslow, Gorgon, Burrup Peninsula, Darwin, Gladstone, and potentially Browse will provide ample room for LNG trains tied to new or existing projects. Further growth of Australia's offshore gas processing industry is not necessarily constrained by access to shore. Shell's Prelude project aims to show that floating LNG is a viable alternative to onshore infrastructure.
Browse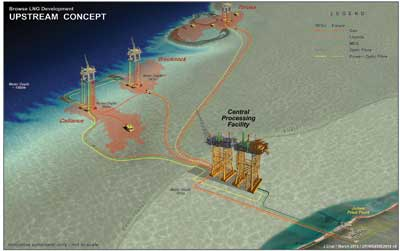 Browse consists of three fields, Brecknock, Calliance, and Torosa. Dry tree units supported by TLPs will be installed in each field with subsea tiebacks. The gas and condensate will be piped 50 to 140 km (13 to 87 mi) to a central processing facility in shallower water 300 km (186 mi) from shore.
Woodside currently operates five of the six of the LNG trains they have in Australia as well as four gas platforms and four FPSOs that together are producing over 800,000 boe/d. Final investment decision on Browse LNG development is expected in the first half of 2013, and this would add a further three trains to the company's operations.
Browse consists of three fields, Brecknock, Calliance, and Torosa, about 425 km (264 mi) north of Broome. "The core value of Browse has been demonstrated through the offer for equity sale and LNG agreements from a subsidiary of Japan Australia LNG (MIMI) on May 1. This $2-billion offer is a strong endorsement of the value of the Browse LNG development," said Michael Hession, Senior VP for Browse. MIMI will be taking an estimated 14.7% while Woodside will retain 31.3% plus operatorship.
Browse is a greenfield development which requires construction and installation of all offshore and onshore production and storage facilities.
"Our plan is to develop the Brecknock and Calliance fields first, followed by the staged development of Torosa," said Hession.
Dry tree units supported by TLPs will be installed in each field with subsea tiebacks. These deepwater platforms will be unmanned and controlled by fiber-optic links to a central control facility. Each platform can support up to 80 people for maintenance. The gas and condensate will be piped 50 to 140 km (13 to 87 mi) to a central processing facility in shallower water 300 km (186 mi) from shore. This facility will be a dual platform design that separates the processing equipment from the accommodation and utilities for greater safety. From here there will be 350 km (217 mi) of 42-in. export pipeline to James Price Point on the northwest coast of Western Australia.
Woodside also aims to optimize lump-sum contracts to increase cost certainty.
Pluto
Woodside's A$15-billion ($15.36-billion) Pluto LNG development went onstream this past March. Pluto now has an overall system utilization of 80% of design capacity in the first two months of operation. The Greater Pluto fields are estimated to contain 5.5 tcf of proved plus possible dry gas reserves and an additional 680 bcf of contingent resources.
The initial phase of the project consists of an offshore platform in 85 m (279 ft) of water connected to five subsea wells. The wells are big bore with 7-in. expandable sand screens. The wells connect to a riser platform via 27 km (17 mi) of dual 20-in. pipelines. Gas is piped through a 180 km (112 mi) trunkline to the onshore facility, between the North West Shelf Project and Dampier Port on the Burrup Peninsula. Woodside intends to secure a fourth ship for Pluto next year on a time charter of up to 20 years.
North Rankin
Fugro Seacore designed, built, and operated two large pile top drills for Heerema Marine Contractors for pile installation on the North West Shelf Project's North Rankin B substructure. North Rankin B is one of Australia's largest offshore platforms, measuring 100 m (328 ft) long by 50 m (164 ft) wide weighing 24,000 metric tons (26,455 tons) and it has been installed alongside the existing North Rankin A platform, connected by two new 100-m bridges. It is part of Woodside's North Rankin Redevelopment Project, an A$5-billion ($5.12-billion) investment announced in 2008 for the North Rankin and Perseus gas fields. The project remains on schedule for completion in 2013.
Exploration continues for Woodside. The company, as operator and 55% equity partner in a JV with Shell for three outer Canning permits, is mobilizing to acquire over 11,000 sq km (4,247 sq mi) of 3D seismic data in the Outer Canning area of Western Australia. This will be the largest single seismic survey ever conducted by Woodside and also the largest ever for Western Australia.
Gorgon
Based on modeling by Acil Tasman, Gorgon will boost Australia's gross domestic product by around A$64 billion ($65.5 billion), purchase about A$33 billion ($33.78 billion) of local goods and services, and create about 3,500 direct and indirect jobs throughout its first 30 years.
However, Chevron has announced a detailed review of the costs and timing of the $43-billion project. The review will be finished toward the end of the year, and Chevron's head of Upstream and Gas, George Kirkland, reportedly said that along with a 22% increase in the dollar since the project was approved there had been weather-related delays at Barrow Island, while the Australian Marine Complex at Henderson south of Perth had not been as productive as expected. He said Gorgon's schedule was also under review, but the company still believed it could achieve a late 2014 start date.
Wheatstone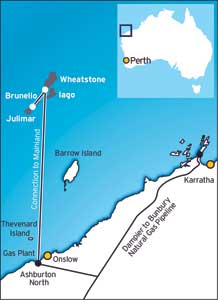 Wheatstone upstream includes the design, construction, installation, and commissioning of the offshore platform 225 km (140 mi) off the Western Australian coast, in about 70 m (230 ft) of water. The platform will connect with the onshore plant at Ashburton North.
The Wheatstone Project is at Ashburton North, 12 km (7.5 mi) west of Onslow on the Pilbara coast. Chevron is the operator in joint venture with Australian subsidiaries of Apache, KUFPEC, Shell, and Kyushu Electric. Final investment decision (FID) was made in September 2011.
"Wheatstone is unique in that it introduces to Australia the concept of a world-class natural gas hub. This hub will lay the infrastructure foundation – not just for Chevron – but for third parties to supply their LNG," says Wheatstone Project General Manager Brian Smith.
The upstream part of the project includes the design, construction, installation, and commissioning of the offshore platform. The platform will sit 225 km (140 mi) off the Western Australian coast, in about 70 m (230 ft) of water and with a steel gravity-based sub-structure 100 m high. The platform's total deck area will be the equivalent of two-and-a-half soccer fields and it will be home to approximately 50 people during normal operations with the capacity to hold more than 100 people. The platform will connect with the onshore plant at Ashburton North via a 225- km trunkline. Micro-tunnelling will bring the trunkline to shore, minimizing environmental impact. About 200,000 metric tons (220,462 tons) of line pipe is required for the trunkline and it will be Australia's largest in terms of diameter.
More than 80% of Chevron's equity LNG from Wheatstone is now covered under long-term off-take agreements with customers in Asia and this is anticipated to increase to 85-90% before start up.
Ichthys
Inpex and Total made the FID on the $34-billion Ichthys LNG project in January. In July, Total announced acquisition of an additional 6% interest in the project, bringing its total to 30%. The entire annual production of LNG (8.4 MM tons per annum) has already been sold for 15 years. Total, through its gas trading subsidiary, will purchase 0.9 million tons of this per year. First production is expected by the end of 2016.
Ichthys consists of the development of the Ichthys gas and condensate field offshore North West Australia (in 260 m, or 853 ft of water) and the construction of an 889-km (552-mi) gas transmission pipeline together with an onshore LNG plant near Darwin in the Northern Territory. The offshore facilities will consist of a subsea multi-well development connected to a central processing facility for gas treatment and an FPSO for condensates. The processing facility and the FPSO both will be among the largest in the world.
Onshore installations will consist of two LNG trains with a capacity of 4.2 MM tons per year each and facilities for the extraction and the export of LPGs and condensate. In addition to its LNG production, the Ichthys LNG project is expected to generate 1.6 MM tons per year of LPGs and 100,000 b/d of condensate at peak.
McDermott has awarded INTECSEA the engineering for Ichthys covering project management and design engineering of the flowlines, riser systems, subsea structures, umbilicals, and control system. The work is expected to be completed in the first half of 2013.
Other contract awards include:
Central processing facility – Samsung Heavy Industries
Subsea production system – General Electric
Gas export pipeline – Mitsui-Europipe, Sumitomo, Nippon Steel-Metal One (pipe manufacture), Mitsui-Bredero Shaw (pipe concrete coating), and Saipem (pipelay).
Local businesses in Northern Territory have won more than A$700 million ($717 million) in construction contracts and Australian companies are likely to benefit from billions of dollars in contracts during the five-year construction phase.
Prelude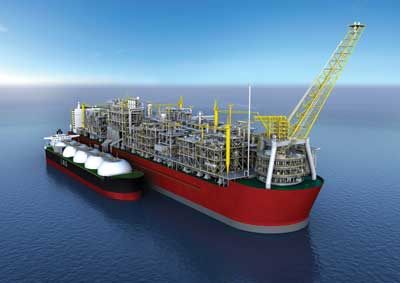 Shell's Prelude FLNG facility is anticipated to be the largest floating structure ever built. It will be 488 m (1,601 ft) long and 74 m (243 ft) wide, and when fully loaded will weigh around 600,000 metric tons (661,387 tons) - roughly six times as much as the largest aircraft carrier. The vessel will be permanently moored in 250-m (820-ft) deep water.
Shell reports that the Prelude FLNG Project continues to progress. Since FID in May 2011, the company is working on detailed design and has started construction. Technip won a contract which includes:
The project management, fabrication, transport, and installation by reel of 12-in. corrosion-resistant alloy clad rigid flowlines
The onshore fabrication of PLETs, flowline appurtenances, and rigid spools
The transport and installation of the subsea equipment including manifolds, umbilical termination assemblies, rigid spools, and flying leads
The management of key interfaces with the hook-up and commissioning of the FLNG facility with timely transport, installation, and handover of the flexible risers and umbilical.
The contract represents a key milestone for Technip, achieving the first reel-pipelay project in the region for the newbuild vessel, theDeep Energy.
Wood Group PSN has an A$10-million ($10.25- million) contract from Shell to build the computerized maintenance management system for the FLNG. The system will be delivered by contract teams in Perth and Aberdeen, and will be designed to optimize maintenance, reliability, and productivity. It will provide Shell with the data, reporting tools, and strategies required to execute asset maintenance and inspection plans.
The FLNG facility is anticipated to be the largest floating structure ever built. It will be 488 m (1,601 ft) long and 74 m (243 ft) wide, and when fully loaded will weigh around 600,000 metric tons (661,387 tons) – roughly six times as much as the largest aircraft carrier. Some 260,000 metric tons (286,600 tons) of that weight will be steel.
Once constructed, the vessel will be towed to location and permanently moored by four groups of mooring chains in 250-m (820-ft) deep water. Each mooring chain will be held to the seafloor by suction piles the size of a small house, and the FLNG facility has been designed to withstand severe weather, even a Category 5 cyclone. Shell said that safety of the FLNG facility has been paramount during its design, and its safety is on a par with modern offshore oil and gas facilities.
It is expected to stay moored on location for 25 years and to produce at least 3.6 MM metric tons (4 MM tons) of LNG per years as well as LPG and condensate for export. According to independent analysis by ACIL Tasman, over the 25-year life of the project the Prelude development will create around 350 direct and 650 indirect local jobs, add more than $45 billion to Australia's GDP and spend $12 billion on Australian goods and services. Recent news on Prelude includes Shell's agreement to sell 32.5% participating interest separately to Inpex (17.5%), KOGAS (10%), and CPC (5%), with divestment expected later in 2012.
Caldita and Barossa
Santos has agreed with ConocoPhillips and SK E&S (SK), an affiliate of South Korean conglomerate SK Group, to progress the development of the Caldita and Barossa gas discoveries in the Timor Sea. Prior to the agreement, Santos held 40% in both discoveries, with operator ConocoPhillips holding the remaining 60%. Now SK will earn a 37.5% interest through a proportionate reduction by Santos and ConocoPhillips. ConocoPhillips will remain operator of both permits.
SK will fund the first $260 million of a three-well appraisal program, expected to begin in 2013. Following completion of the appraisal program, SK will have the option to increase its interest to 49.5% in exchange for a further payment of $60 million to Santos and ConocoPhillips, shared according to their original interests in the permits.
SK will fund up to $90 million of pre-FEED and FEED (front-end engineering design) activities expected to begin in 2014. SK will make FID and first LNG cargo payments of up to $110 million to Santos and ConocoPhillips upon meeting certain milestones.
Santos Vice President Western Australia and Northern Territory John Anderson said various development concepts for Caldita and Barossa would be assessed during pre-FEED.
"We will look at the option of floating LNG as well as the possibility of a tieback development to our existing LNG plant at Darwin, either as an expansion of those facilities, the back-filling of Bayu Undan when it comes off plateau, or a combination of both," he said.
Bonaparte
Santos has a 40% equity in Bonaparte with GDF Suez holding 60% and acting as operator. The concept selection is done with plans for a floating LNG solution, and concept definition is under way. FEED is expected to be complete in 2013, FID made in 2014, and first LNG in 2018.
Santos is preparing for Crown drilling in the second half of 2012. This acreage is in Browse basin adjacent to the Ichthys and Prelude. Santos is operator with 30% and is also processing 3D seismic data on the nearby Burnside discovery. Appraisal well drilling is scheduled for 2013. Santos has a 13.5% equity in PNG LNG with first LNG expected in 2014. The Hides Deep prospect currently is under evaluation as part of planned expansion.
Balnaves
The Balnaves development is adjacent to the large reservoirs of the Brunello gas field approximately 180 km (112 mi) west northwest of Dampier in Western Australia. The oil field was discovered by Apache in 2009 during exploration and appraisal drilling in the Julimar/Brunello complex. Apache is responsible for operating Balnaves including drilling the wells and installing all subsea facilities for tieback to the FPSOArmada Claire.
Operating in water depths of approximately 135 m (443 ft), the project will have four subsea wells connected to a single manifold. A disconnectable riser turret mooring system will connect the FPSO to the subsea facilities. Oil from two production wells will go through the manifold and flexible flowlines and risers to the FPSO for separation and treatment. Produced water will be reinjected into the reservoir via a water injection well and produced gas will be compressed on board the FPSO and reinjected to an overlaying reservoir via a gas injection well. Reinjected gas will be available for future production through the Apache-operated Julimar Development Project that feeds into the Chevron-operated Wheatstone Project.
The FPSOArmada Claire servicing Balnaves is owned by Bumi Armada and will be leased to Apache for the duration of the project. Specifically designed with topside facilities for oil and gas separation, stabilization, and dehydration, the vessel will feature a disconnectable riser turret mooring system to connect the FPSO to the subsea equipment. Apache says that with joint venture partner KUFPEC they have unlocked the potential of this relatively small and isolated reservoir through innovative and cost effective development strategies.
Apache has awarded the Balnaves subsea installation contract worth approximately A$60 million ($61.6 million) to Technip. The contract includes the project management, design, engineering, and installation of 7 km (4 mi) of flexible flowlines and risers, 3 km (2 mi) of umbilicals, manifolds, spools, flying leads and jumpers, and a mooring system and riser column. Technip's operating center in Perth will execute the contract which is scheduled to be completed during the second half of 2013. Technip's newbuild multi-purpose installation and construction vesselDeep Orient, will be used when operations start in 2013.
Cash-Maple
PTTEP is to further appraise the gas-condensate Cash-Maple field in the Timor Sea in 2012 with the drilling of Maple-2. The Cash-2 well was drilled in 2011 on the large Cash-Maple structure 600 km (373 mi) west of Darwin, and flowed 27 and 30 MMcf/d of natural gas from Triassic and Jurassic zones, respectively.
PTTEP is in concept select of the development options for Cash-Maple in 2012. The options include a possible FLNG. This study will be integrated with the results of the Maple-2 appraisal well.
Kipper Tuna Turrum
Off the Victorian coast in Bass Strait, ExxonMobil Australia's A$4-billion ($4.1-billion) Kipper Tuna Turrum Project is one of the largest domestic gas developments on the eastern seaboard of Australia. Major contracts that have been awarded include Vetco Gray Australia, subsea equipment; Aker Solutions, umbilical supply; McDermott Industries (Aust), – Marlin B fabrication and offshore installation; and Production Services Network (PSN), retrofit modifications.
Kipper holds approximately 620 bcf of recoverable gas and 30 MMbbl of condensate/LPG. It is in 100 m (328 ft) of water, approximately 45 km (28 mi) off the Gippsland coast of Victoria. Kipper field is being developed via subsea facilities tied back to the existing West Tuna platform. These facilities include two subsea wells, four coolers, and a manifold. Produced gas and condensate will be transported via a new looped pipeline laid on the seabed to West Tuna. A new pipeline from West Tuna to Marlin and another from Marlin to Snapper are in place for Kipper production and development of the Tuna gas cap. Piping construction activities for tie-in of the Snapper A pipeline riser to platform facilities began in 2Q 2012.
The Kipper venture participants include Esso Australia Resources (32.5% and operator), BHP Billiton Petroleum (Bass Strait) (32.5%), and Santos (35%).
Turrum field holds approximately 1 tcf of gas and 110 MMbbl of oil and gas liquids. A new platform, Marlin B, has been constructed and linked by a bridge to the existing Marlin A platform in Bass Strait. Hook-up of the Marlin B platform is under way and should be completed by year end. This is the first platform installed in Bass Strait in over a decade. The platform will process additional oil production and gas which will be piped back to existing facilities at Longford. The Turrum development is part of the Gippsland Basin Joint Venture, in which Esso Australia Resources and BHP Billiton Petroleum (Bass Strait) each have a 50% interest.
As part of the Kipper Tuna Turrum development, the Tuna reservoir, which has been producing oil for many years, will be further developed to produce gas and associated liquids by converting existing West Tuna facilities, and using new pipelines to deliver production into the existing gas system. Work on the riser access tower at West Tuna is complete and activity continues to connect the new equipment to the existing Bass Strait infrastructure.
Geographe
SapuraClough Offshore has won the subsea installation contract for the Origin Otway Phase 3 development. The field will be developed and operated by Origin Energy Resources together with its joint venture partners Toyota Tsusho (Australasia) and Benaris International. The scope of work involves project management, installation engineering, procurement, fabrication, installation, and pre-commissioning associated to Geographe, located 55 km (34 mi) offshore Port Campbell, Victoria.
Ceduna
In January 2011, BP was awarded the right to explore four deepwater offshore blocks in the Ceduna sub-basin within the Great Australian Bight, off the coast of South Australia. Blocks EPP 37, EPP 38, EPP 39, and EPP 40 cover 24,000 sq km (9,266 sq mi). BP's primary commitments consist of a 3D marine seismic survey and the drilling of four exploration wells.
During 2011, BP applied for the regulatory approvals for the seismic survey, which included the submission of an Environment Plan as required under the Offshore Petroleum and Greenhouse Gas Storage (Environment) Regulations 2009, and a referral to the Federal Environment Minister in accordance with the Environment Protection and Biodiversity Conservation Act 1999. Additional approval was required from the Governor-General because part of the survey overlaps the Benthic Protection Zone of the Great Australian Bight Marine Park. Final approval was given by the Governor-General in early September.
Exploration
The Australian government has released its 2012 Offshore Petroleum Exploration Acreage Release comprising 27 areas across nine sedimentary basins off the coasts of the Northern Territory, Western Australia, South Australia, Victoria, and Tasmania. It encompasses large frontier basins as well as smaller blocks in more mature areas.