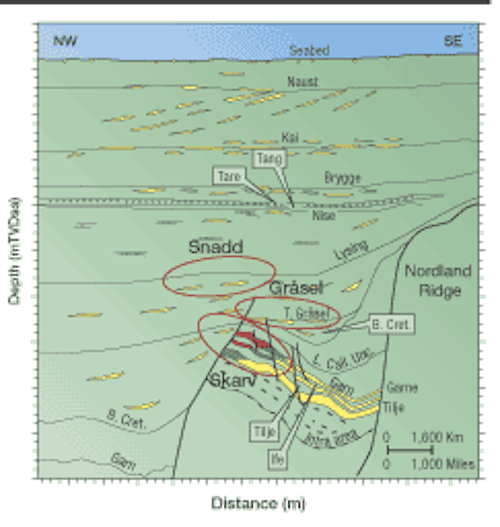 The development of the Skarv oil and gas field in the Norwegian Sea is being shaped as BP Norge and the Skarv lic-ense partners evaluate a number of poss-ible concepts. Contingent on capacity in the Åsgard Transport System to take Skarv gas, the final choice should be made in September or October.
If the partnership (operator BP 30%, Enterprise 25%, ExxonMobil 15%, and Statoil 30%) selects one of the stand-alone concepts under consideration, it anticipates that the production facility will also serve as a hub for future developments in the area.
Stand-alone solutions account for three of the four concepts currently being studied. They are:
Subsea facilities tied back 45 km to Heidrun
A newbuild FPSO
A newbuild semisubmersible production unit with floating storage unit
A leased FPSO.
Each concept is being evaluated to determine technical feasibility, the life-time costs it offers, project schedule, and how it meets health, safety, and environmental expectations.
Development engineer Tarek Hassa-nein points out that there are uncertainties to be resolved before the company will be in a position to select the concept. The major unknown at present concerns gas export, for which BP plans to use the ATS, which delivers gas to the Karst plant on Norway's west coast. Here new access terms are being drawn up as part of the GasLed II arrangements for reorganizing ownership and terms of use for Norway's gas transport network. The new terms are intended to allow equal access to all shippers.
The outcome of this gas export issue will also influence the development decision of whether to produce the oil and gas reservoirs together from day one or the oil reservoirs first, followed by the gas at a later stage.
The process of concept selection is being supported by pre-front-end engineering and design (FEED) work being carried out by Aker Kværner. BP intends to let a FEED contract in 4Q 2002. The prequalification of contractors for the main FEED contract had already started before mid year, and BP expected to invite bids for this work ahead of concept selection. The Norwegian company Alpha Miljørådgivning has been contracted to prepare an environmental impact assessment for the project.
The plan for development and operation is scheduled to be submitted to the authorities early next year. Approval should follow in 2Q 2003, when BP expects to award the main contracts. Start-up is expected to take place in late 2005 or early 2006. However, Hassanein points out that clarification on access to the ATS and Karst facilities will have to be received soon if this schedule is to be adhered to.
The schedule reflects the timing for a development based on a newbuild FPSO. It could take somewhat longer if the choice falls on a semisubmersible platform or a long-distance tie-back. Under all options, Skarv liquids will be exported by shuttle tanker. In the case of the subsea tie-back, this will take place from Heidrun and for the stand-alone concepts, from Skarv itself.
At an early stage in the appraisal of Skarv, BP expressed its preference for an FPSO solution if this was justified by the volume of reserves. Following the latest appraisal well earlier this year, the company is now working with a recoverable reserves range of 260-560 MMboe, of which one-quarter is liquids.
This resource base suggests that a stand-alone concept can probably be justified, providing gas export rates are not constrained. The capital expenditure for the two newbuild stand-alone and the subsea tie-back is estimated at NKr 12-15 billion, with a 40% degree of accuracy.
Skarv is located about 3,400 m below sea level, in water depths varying from 350 to 450 m. The bulk of the reserves sit in a good quality reservoir with good production characteristics, though there are parts located in more complex conditions that will present challenges for production, according to Grete Block Vagle, who has responsibility for subsurface engineering. Pressures, at 5,300-5,400 psi, and temperatures, at 100-150° C, are normal.
In addition to Skarv, which contains most of the oil and gas reserves, there are a number of other reservoirs being considered for the development:
Snadd, a more complex reservoir containing gas and condensate
Graasel, which has been drilled and contains oil, but has proved difficult to map
The Tilje formation, which contains oil and gas in a poor quality reservoir.
There is upside potential in both Graasel, which overlies Skarv, and the Tilje formation, which underlies it, says Block Vagle.
All these reserves lie within 30 km of a central host location. Plans are for two drilling centers on the central structure and one to the south, such that most wells will be within 10 km of the host facility. The base-case number of wells is 13-16, comprising four to five oil producers, six to eight gas producers, two injectors, and a waste well. Drilling is expected to start in 2004.
BP will focus more closely on evaluating the upside potential once production gets under way, carrying out a staged appraisal of the various finds. For development purposes, however, the intention is to produce a project which is economically robust in the light of the proven reserves.
In the longer term, making Skarv a potential hub for further developments in the area would fit in well with BP's ambition to be a major gas player in mid Norway, which is for the most part a gas-prone province. One field that is a clear candidate for tie-back is Statoil's Idun gas field, which lies only 10 km away in block 6507/3.
Skarv is due to come onstream about the time a significant gas supply/demand gap is forecast to start emerging in the UK. This will be one obvious marketing focus for BP, which is already strongly positioned in the UK gas market. However, the question of how to deliver gas to this market would arise, given that direct links from Norway are currently limited to the Vesterled pipeline. Meanwhile Karst is well connected to Continental Europe, with links to Germany, Belgium, and France.